Guerilla fighter Çekdar Amed appeals to his family
HPG fighter Çekdar Amed explains that the AKP/MHP government is abusing his family for its special war against the Kurdish movement. The families should not sit in front of the HDP headquarters in Amed but should stand behind their children, he says.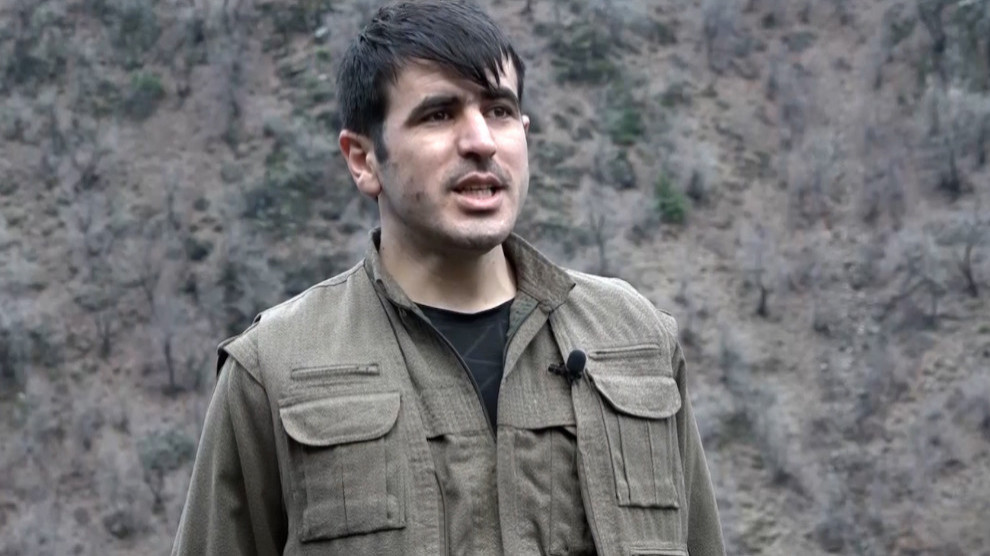 Since September, parents have been sitting in front of the headquarters of the Peoples' Democratic Party (HDP) in Amed (Diyarbakir), claiming that their children have been forcibly taken to the Kurdish guerrilla army in the mountains. Guerrilla fighter Çekdar Amed spoke to ANF on the issue. His family is also among the group that has been sitting in front of the HDP building in Amed for months on the orders of the Turkish government and organized by the secret service MIT and the police. The state has instrumentalized his family for the special war waged in Kurdistan by abusing their religious feelings, Çekdar Amed says: "What my family is doing is not right, but I know that they have been betrayed by the AKP. It must stop this immediately."
"Our parents should be proud of us"
The Turkish state could not defeat the guerrillas despite its highly equipped war apparatus and therefore relied on dirty methods of psychological warfare, Çekdar Amed tells: "I was not manipulated and taken to the mountains. The reason for my participation in the guerrilla are the massacres in Kurdistan. I joined the guerrilla out of my own free will and in awareness of my Kurdish identity. We are in the mountains in Kurdistan because of the denial and annihilation policy of the colonialist Turkish state. Our families should be proud of us."
The HPG fighter points out that very critical and important developments are taking place: "Our parents and especially our mothers should not stand against their children, but be on their side and follow their struggle. The Saturday Mothers have been fighting for freedom and justice for years, their persistent struggle should be seen as a perspective".
Çekdar Amed recalls the cruel actions of the AKP/MHP government in Kurdistan and says: "The people of Kurdistan are oppressed with fascist methods. They are wanted to be exterminated. The government is anti-Kurdish without question. We know that it stops at no social value, we have experienced it. It even goes so far as to destroy our graves. To think otherwise is incomprehensible. It means being made an instrument of its dirty policies. Our mothers are our teachers in life. What they have done for us shows great selflessness. One of the aims of our struggle is to end the pain of our mothers. With our struggle we want to give our mothers a free future. I appeal to all families to fight against the colonialists and join the ranks of those who defend freedom."