Kurdish cinema meets in Istanbul
Many directors have sent their films in solidarity with the festival. Veysi Altay confirmed that some 24-25 director will show their films.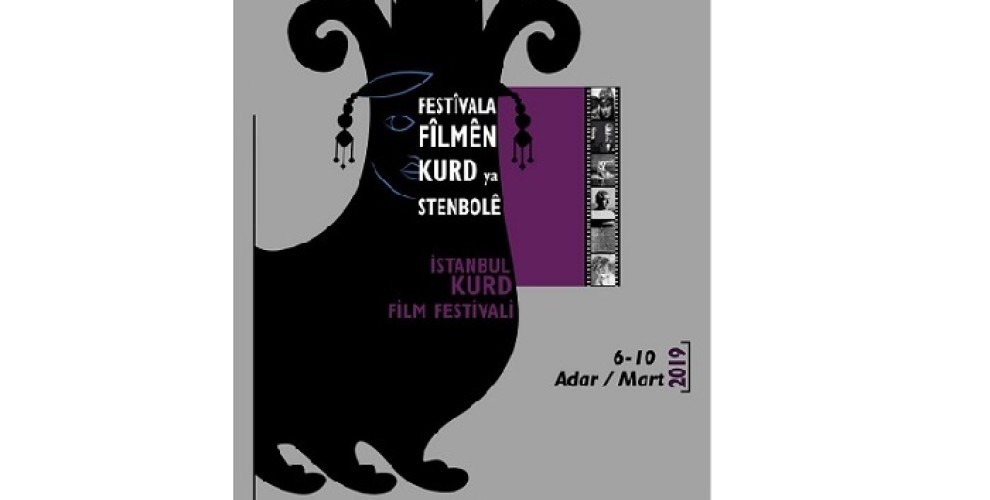 The Istanbul Kurdish Film Festival, which will be held for the first time this year, is being organized by the Mesopotamia Cinema Collective between 6 and 10 March 2019.
The festival will be held at the hall of Collective in Elmadağ, Istanbul.
ANF talked with the director Veysi Altay, one of the organisers and member of the Mesopotamian Cinema Collective about the idea behind the festival and details of the 34 long, short films and documentaries to be screened.
Importance of the First Kurdish Film Festival in Istanbul
Stating that the festival is important because it is the first of its kind in Istanbul, Veysi Altay said that the organisers are very excited to have succeed in putting together the festival which they had wanted for years but had not been able to realise for many reasons.
"Up to know - said Altay - Kurdish films made in Europe or the other parts of Kurdistan were not able to find a place to be screened in Istanbul. Whether for the situation of the festival in Turkey or because of the political stance of some directors, the reality is that Kurdish films were not sent to festivals here and it was very difficult to see them in cinemas here in Istanbul."
Which is why, added Altay, "our first aim is to bring these films to the Istanbul audience."
Watching and discussing about Kurdish cinema
Altay noted that the scope of the festival will be to cover all four parts of Kurdistan, Europe and many parts of the world where Kurds live and work.
They are films either made by Kurdish filmmakers or performed by Kurdish actors.
Altay said that a total of 34 films will be screened at the festival (long, short films and documentaries) and in addition, - added the Kurdish director - "there will be panels on Kurdish cinema. In this festival Kurdish cinema will be seen and discussed. It is important to discuss the past, present, the future, the relationship with colonialism, the language and the style of Kurdish cinema. Our aim is to contribute to the production of Kurdish cinema."
Altay added: "Our main aim as a collective is to bring Kurdish cinema to the public. A cinema which cannot find its place in the film distribution industry and capitalist relations.
There are a lot of Kurdish films that have been directly or indirectly censored, not shown, and it is our priority to bring them to the audience."
A festival with the audience in mind
Altay said that Istanbul is one of the cities where Kurds live the most, but Kurds cannot watched their own films directly.
Generally speaking, Altay said, it is not possible to find many Kurdish films because they are either considered too political or not appropriate. In fact, said the director, Kurdish filmmakers have witnessed the crimes of the State and have documented them, something which clearly the State is not keen to show.
"Those Kurdish films that the state felt closer to them - said Altay - may have been seen in festivals, but movies with a truly political attitude were not shown. In that respect, we are going to make a festival where these films can finally meet the audience."
Altay underlined that in fact there are festivals and Kurdish film days organised in other cities, like Amed, Van, Batman and in Europe. "You have to think of this festival as their continuation."
Veysi Altay stated that this was a beginning: "Surely there will be shortcomings, our program will not be enough for many people but we think that this first step is important. I hope many Kurds and other peoples who are interested in Kurdish cinema as well as filmmakers will follow this festival. We're expecting the audience to reclaim this as their festival. We need audiences that feed both films and directors and us with their criticism."
Films from the four parts of Kurdistan
Altay stated that they chose the films they considered to be the most suitable for the process. "We didn't have much time to select films as the festival is in March and this is the first year. The following years we will prepare a proper application form and incoming films will be selected by a panel."
Many directors have sent their films in solidarity with the festival. Veysi Altay confirmed that some 24-25 director will show their films and listed some of those to be screened.
* Ender Özkahraman will be at the festival with his feature film "Bir Yareke Zor" ("A Difficult Decision").
* Diyarbakır director Ali Kemal Çınar will present the film 'Di Navberê De".
* Özcan Alper will present his animation called "Kavil" ("Between the ruins").
* From Rojhilat director Kaveh Moeinfar will bring the film "Jîna bê jiyan" ("Life without life").
* Sahim Omar Kalifa will be presenting award winner "Zagros"
* "Bîr" (The Well) is a film telling the story of the Saturday Mothers and the disappeared.
* Hüseyin Tabak will present his "Legend of the Ugly King"
* Haşim Aydemir will present his "14 July".
* Hussein Hasan will present his "Reşeba".
* Ali Güler will present his "Şeva Xîzê" ("Night of the Sand")
* Ardîn Diren will be at the festival with "Every house is a school".
* In addition, the film produced and realised by the Rojava Film Commune will also be screened.