"Making films is not a crime, we defend peace"
The trial of documentarists Demirel and Mavioğlu aims at criminalising cinema and journalism.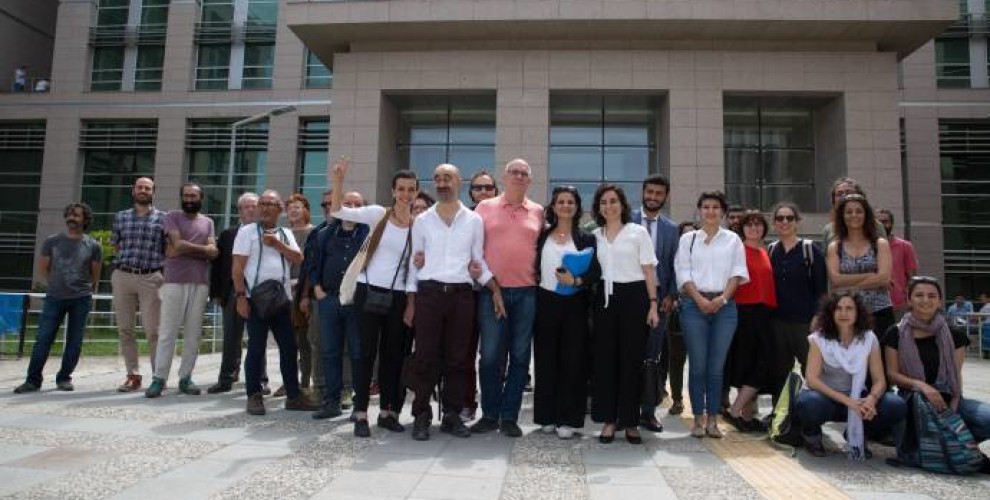 Film directors Çayan Demirel and Ertuğrul Mavioğlu stated in Court that making film cannot be a crime and that they will continue to defend cinema and peace.
The two directors are on trial in Batman, facing a 5 years sentence for their documentary "Bakur" (North). They are accused of "making propaganda for an illegal organization".
In 2013, PKK Leader Abdullah Öcalan made a historic call to guerrillas asking them to withdraw beyond the North Kurdistan (South East Turkey) borders as a move to favour peace negotiations.
"Bakur" tells of the 2013 Solution Process
Çayan Demirel and Ertuğrul Mavioğlu addressed this historic call and the process which follows in their documentary, "Bakur".
The second hearing of the trial at Batman Heavy Penal Court No.2, saw the participation of HDP (Peoples' Democratic Party) deputy Ayşe Acar Başaran, HDP Batman Provincial President Berivan Helen Işık, academics Sibel Özbudun and Ahmet Haşim Köse, writer Temel Demirel.
The lawyers argued that in fact the hearing should be held in Istanbul, but the Court rejected this request saying that the film opening was actually held in Batman.
Journalism is not a crime
Ertuğrul Mavioğlu said in his defence that he had been working as a journalist for 33 years and that he has always been interested in cinema.
Mavioğlu recalled that he had some 20 cases opened against him because of his journalistic profession. "Do I have a criminal personality? - he asked - No, of course, I did not steal anything, I haven't pickpocket nor robbed anyone".
Mavioğlu added that the majority of these cases against him were actually downgraded or resulted in acquittal. "Journalism means to reveal the truth and I never left this line of work, so doing journalism and serving my profession properly cannot be considered a crime".
Recalling that it is the first time that a case is opened about a work of cinema, Mavioğlu said that the documentary "Bakur" is about the solution process opened in 2013.
Making film is not a crime
Interestingly the film has been shown in Batman on 6 May 2015, at the Yılmaz Güney Cinema, the same which was burned on 30 January 2017 after the "AKP appointed trustee" which has forcibly replaced the legally elected HDP mayors.
The other director of the documentary, Çayan Demirel, backed his friend's defence and added: "I am a director, my job is making films, and this is what I did. This cannot be a crime".
The Court adjourned the trial to 23 October.
Mavioğlu said after the hearing: "Journalism is not a crime, making films is not a crime: with "Bakur" we were defending peace not death, and peace is what we will continue to defend".