MED-DER calls on the Kurdish people to focus on their mother tongue
The Mesopotamia Language, Culture and Research Association said that "Education in the mother tongue should be the basic demand of the Kurds."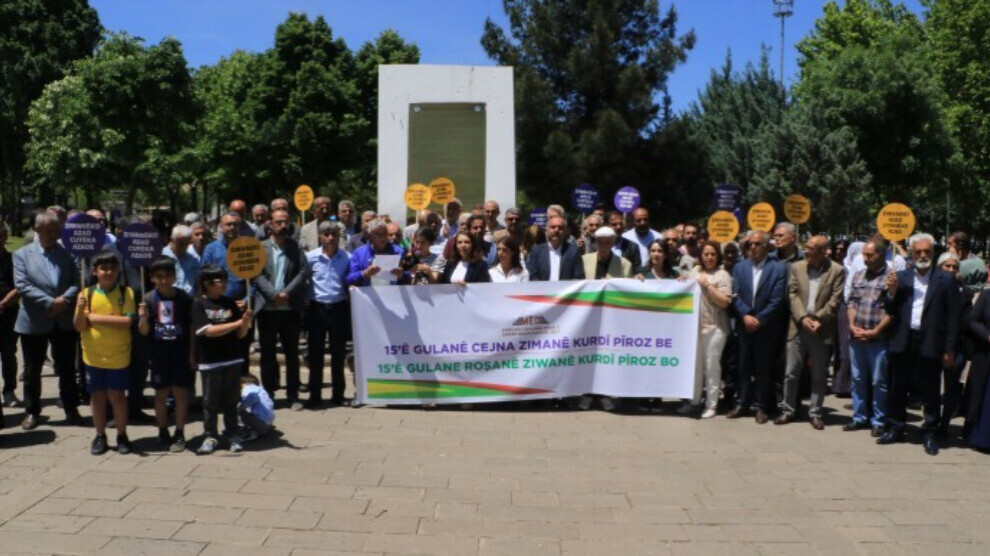 The Mesopotamia Language, Culture and Research Association (MED-DER) made a statement in front of the Human Rights Monument in Koşuyolu Park in Rezan (Bağlar) district to mark the May 15 Kurdish Language Day.
The Democratic Society Congress (DTK), the Aid, Solidarity, Unity and Culture Association with Families that Lost Their Relatives in the Cradle of Civilizations (MEBYA-DER), the Peoples' Democratic Party (HDP), the Democratic Regions Party (DBP), the Green Left Party Amed provincial co-spokesperson Abbas Şahin and Green Left Party deputies also attended the press briefing.
MED-DER Co-Chairs Remzi Azizoğlu and Şükran Yakut read out the statement in Kurmancî and Kirmançki dialects of the Kurdish language.
Yakut spoke about the history of the May 15 Kurdish Language Day. He underlined that the Kurds did not back away despite all the attacks directed against them.
Yakut said: "The Kurds have never backed away from their identity, language and culture. The Kurdish question and the problems over Kurdish culture and language have gradually increased. The state is aware of the power of the Kurdish people, and thus escalates its attacks."
Yakut warned that an unused language cannot develop. He said: "The state policy concerning the Kurdish language is clear. The state policy is based on racism. However, the Kurdish people should focus on their language regardless of their political goals. Women, men, intellectuals, writers and politicians should be responsible for the development of language. Kurdish intellectuals and academics should publish their work in Kurdish. They should also use their language in daily life and speech. No matter what, the Kurds must protect their language and culture. Education in the mother tongue should be the basic demand of the Kurds. Our language is our being. Happy May 15 Kurdish Language Day."
Speaking after, DTK Co-Chair Berdan Öztürk said: "Language is identity. Every language must be defended. Kurdish is a very ancient language. Trustee mayors appointed by the government attacked our language first. An attack on the Kurdish language is an attack on humanity. Kurdish should be an official language. The Kurds have been fighting in these lands for hundreds of years. If language dies, history and identity die. Therefore, we must protect our language everywhere."