Mountain Cinema, filming the fight for freedom
"Nothing is an obstacle to the Kurdistan Freedom Struggle and its guerrilla. Humanity is recording these days and I believe that the greatest gain for the later periods of history will be the resistance of these times.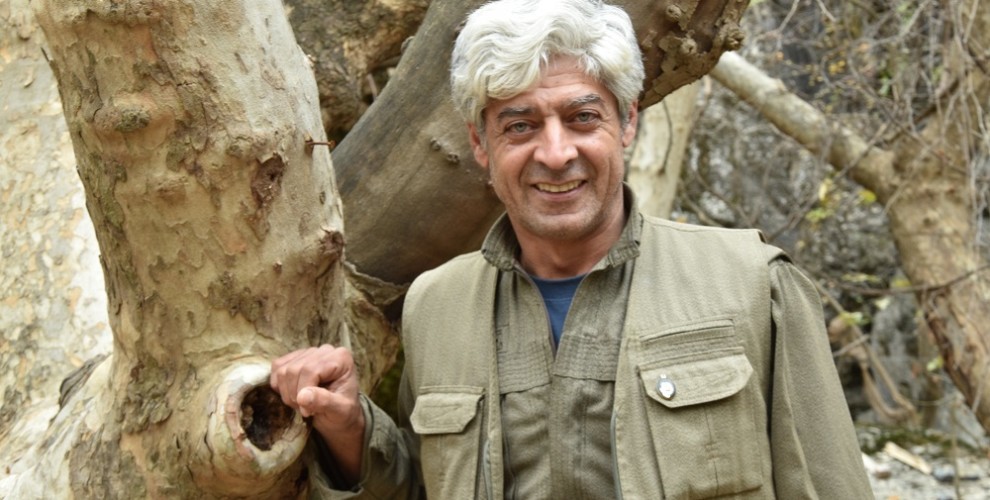 TEV-ÇAND Sine Çiya (Mountain Cinema) member Emin Engizek talked about the latest developments in mountain cinema.
Engizek told ANF about the first theater play realised by the freedom movement to the film Bêrîtan and the new films from Xelil Dağ.
When and how did you become interested in cinema and acting?
As children, we were influenced by Turkish cinema and we performed plays by distributing roles among the neighborhoods.
Our heroes were usually the popular names of the period such as Kadir İnanır and Tarık Akan. However, the most important role was always that played by Yılmaz Güney. We wouldn't give that role to everyone. Like a reward, we used to perform a play with a friend every day. I've always wanted to be an actor ever since.
In our region, the level of interest in art was also high. Because of the coexistence of different cultures and peoples, art was at the forefront in Adıyaman. Naturally, this fed our curiosity.
If I could not be an actor, I would fantasize that I would become a football player. Years have passed, after the end of the school I worked as a clerk in the National Education Directorate of Cizre and then I heard of the MKM (Mesopotamia Cultural Centre).
Despite having a job, I decided to go to the MKM and just dedicate myself to art. I didn't like the civil servant life anyway. When I was about to leave and make preparations to enter the MKM, I changed my mind and decided to raise my life more at once. So in 1993 I joined the guerrilla ranks. After being a guerilla in Botan for 6 years, I withdrew from the North and moved to the South area in 1999 following Leader Apo's call.
In the southern area, the Freedom Movement was taking important steps in the field of culture. One of them was the establishment of the PKK Culture Committee. With the establishment of the Culture Committee in 2000, I started to take my place in the committee. So many years ago, I met the mountain thanks to the art that I nourished in my childhood dreams.
What was it that you were doing in the Culture Committee? What talent were you chosen for?
Anyone who knows the guerrilla knows well that we have a lot of moral activities. So this is important for us. In the guerrilla, joy, morale, energy to common sharing is what we call moral activities. For this reason, no matter who, there are always friends singing in these events, playing sketches or theater, or contributing to the sharing by telling his / her memories. As for me, I usually perform in theater in these moral activities. Friends are very fond of my plays, so when the Culture Committee asked for a name proposal, they suggested me in the company. That's how I began.
What did you do first after you joined the Committee?
Our first work was theater. This work lasted about 5 years. It continued from 2000 to 2004. We performed theater plays and we toured the mountains. In the Media Defense Zones I'd say we visited almost all areas presenting theater plays to friends.
Our first theater play was a two-act play called Zilamê Tazî. If I remember correctly, it was the work of a Lebanese writer and we adapted the play to Kurdish. This play was about the Palestinian popular resistance. The interest of friends in the theater increased our interest. Because of our early studies, we were dealing with the work with great commitment. So we were doing this work with great pleasure.
In addition to the guerrilla, we also performed for the public. Especially in Mosul, Maxmur, Behdinan, Soran.
At that time, our theater work was carried out within the work of Martyr Sefkan Academy. We had created an academy and we continued this professionally. In fact, if we didn't have some negative situations, our culture and art work would have gained much more momentum.
I have stated that the establishment of the Mountain Theater was in the year 2000. But when we came to 2001, there was a war between us and the Southern forces. A war, called "şerê xiyanetê" broke out under the leadership of the colonialist fascist Turkish state. For this reason, we, too, moved into fighting position. First of all, we are freedom fighters. This war caused our cultural activities to stop for almost a year. After the war ended, the group reunited and we started to work from where we left off.
I would like to commemorate Hêvî and Yekta comrades who were great players. Both friends had carried out a very large and wide work. They were the pioneers. When we were trying to get the group together, they had already prepared a play. Until they fell martyrs, they carried out this work to the best and left a great legacy for their successors.
What was it like to be involved in culture and art after joining the ranks of the Freedom guerrilla?
When I was a kid, I told whoever asked me that I wanted to be an actor. If you pay attention you will see that most of the actors are not Kurds and performers in other languages apparently have anything to do with our culture. Of course here I tell you that Yılmaz Güney must be put in a separate place.
Even some actors like Cüneyt Arkın acted as a syringe for the ideology of Turkism and injected Turkishness to us with that syringe.
Now we were the descendants of a people living in such a cultural degeneration. With the formation of the PKK movement, the Kurdish people could finally take a breath of fresh air and embraced it with a breakthrough in the cultural arena. As such, the emotions in me were very strong. Not only me, but all of the friends who participated in this work have almost the same feelings.
For example, our theater group alone consisted of 45 friends. And we had a band with it, also made up of around 45 friends. No friends were forced to do this work. On a voluntary basis, they all joined with great seriousness and professionalism. Being a fighter, means being a fighter for the people and the pioneer of the work in every sense. The weapon in your hand is sometimes a Kalashnikov, sometimes a saz-guitar, sometimes a camera, and sometimes a theater curtain.
I want to share this story. The year was 2001. Winter was hitting on us. We didn't have a place where we could carry out our artistic work. We had prepared a play for November 27 but we needed to find a place where to perform it. Our friend Hêvî was a builder as a civilian. We immediately started to build a hall. We have raised our hall under the snow and on November 27 it was ready and we were able to perform our play in that hall. Without wishes and perseverance, it would not have possible to achieve this.
Xelil Dağ
How did you meet Xelil Dağ? Where and how did the first cinema work in the Freedom Movement began?
While doing our work in the Musul district, I heard about Xelil Dağ. I wanted to go and meet him. He wanted to meet me the same way. Xelil was in HPG at that time. But he was interested in cinema. He was a friend with great dreams. I met him in 2001. We had long conversations. He wanted to write, photograph and film every place where the guerrilla had set foot. Planning before the martyrdom. Starting from Botan to Mount Ararat to make the film of the guerrilla.
In fact, his martyrdom happened in 2008, but this work had actually started before. Of course I made some film work with Xelil. Our first film was Tîrêj in 2002. With this film, Xelil talked about the Kurdish people freedom fighters and the ways in which with Leader Apo's philosophy allowed to best introduce these people to the world. He was extremely confident in his work and knew what he was doing. He also knew how effective cinema was, as a propaganda tool. I think he has accomplished its goal. His movies were impressive. He made many films. Tîrêj, Eynika Bejnê, Dema Jin Hezbike and Bêrîtan…
Can you tell us some of the unknown aspects of the film Bêrîtan?
Like I said, we made a lot of movies. But Bêrîtan received the greatest interest among all these films. So we actually made a big success with this film.
I'm not just talking about friends, it has managed to impress all kind of people. The DVD of the movie was circulating. Although it was secretly smuggled because of prohibitions in the North, I believe it became a guest in the homes of almost all the Kurds. It was watched with great admiration in the south. It was a great tribute to Bêrîtan, who fell a martyr in the South war of '92. This turned into a film. Although the film was released in 2006, it is still being watched as it was in the early days.
For example, even now, wherever I go, they call me 'Huseyin' [the role he played in the film]. I don't doubt it has a good place in people's memory. Everybody found a piece of themselves in this film. One of the most important aspects of this film is that we have done most of the shots in the main places where war actually took place in order to make history alive.
The South War of '92 was intense in the Xakûrkê area, and Bêrîtan fell a martyr on the battlefield. The same hills, the same paths, and even the rocky cliffs Bêrîtan threw herself from are in the film.
The second important event, at the time the film was shot, was that Bêrîtan's body had not been recovered yet. After the martyrdom eventually we were told were the body was and we could recover it and buried it at the Xakûrkê martyr graveyard. We also filmed it and put the scene in the film.
The PKK entered its 41st year of struggle. What is the level reached by cinema in these 40 years? Is it enough?
40 years, and 40 years very very full. In 40 years we could have filmed dozens of movies. The PKK, if we evaluate it correctly, is a struggle of big arguments. There have been bloody wars, resistance and massacres. Each one of them will make for a movie. The level we have reached in 40 years… I think is the pride of existing, the truth of being a reality, I can say. We are talking about a struggle that has returned from the brink of extinction, has flanked on the edge of the cliff and has reached a level that is to determine the fate of almost the entire Middle East by undertaking bigger projects today.
We are the filmmakers of this struggle. We are carrying out our work despite the inadequacies, pressures, the war. We are fighting a very violent war with the North and the South, but we continue to shoot. What more can you say!
If you ask the most famous director, the shortest answer would be "this is madness". The PKK is the party of those who rebel against slavery, while Sine Çiya is the mirror of those rebels.
We are satisfied with the point we have reached, but we are revolutionaries, we do not sit on our hands. We have our leadership, which attaches great importance to culture and art and expects great developments in this regard. Despite his prison conditions in Imrali, Leader Apo evaluated cinema and gave his perspectives at the slightest opportunity, just like in any other important subjects. Leader Apo addressed the need for the PKK's novel, poetry, film. For this reason, we have set more goals in front of us. Our movement also gives great support and incentives.
Do you have any new projects?
Xelil early martyrdom pulled us back a bit in cinema. It delayed us. Xelil friend had previously trained friends but Xelil was different. I told you, he's the master of this business. After his martyrdom we tried to put up a unit. Although we made a few films, we have not reached the level of Bêrîtan. Of course, this also turned into experience. For example, we now have new projects. We are carrying out several works at the same time.
Xelil Dağ started the resistance cinema which is now seen from the world cinema as glamorous. How do you evaluate this? Do you have demands?
Yes, we see this great interest. In the past there was interests coming from Turkish directors and actors belonging to revolutionary-democratic circles. This has now spread to world cinema. The militants fighting against reaction and exploitation following Apo's philosophy earned a great victory all over the world. For example, the whole world has admired the struggle in Northern Syria and Rojava. For this reason, films, documentaries were prepared, written and visual media organizations worked very intensely. The most recent film is a documentary by a Portuguese director, Binxet. And there is a film, Girls of the Sun where Golshifteh Farahani acts.
In fact, the Girls of the Sun have been awarded important prizes and has shown once again Kurdish guerrillas. Because the Kurdistan guerrilla fights against global reaction in the name of world progress. Everyone supports this fight; must participate. Again, there are foreign producers and actors.
What is of particular interest is that under many technical pressure, we are very surprised to be able to do our work without disruption.
Again, our life measurements are high. That's why we have people coming to us with different demands. However, what we want from them, is the right to their film. With this struggle, the Kurdish people deserve to be correctly identified and reflected correctly. This is a right that has been achieved with great prices.
You filmed Bêrîtan in Xakûrkê and lived in this area. But Xakûrkê is now under occupation, and so are Afrin and Kobanê. We are curious about your feelings as a revolutionary filmmaker ...
True, there are intense attacks launched by the enemy on Xakûrkê area. However, there is a tremendous guerrilla resistance against these attacks.
For example, Axîn Meşkan, who was martyred in 2016, was fighting just like Bêrîtan to her last bullet, but she throws herself off the cliff in order not to fall into the hands of the enemy when her shells run out.
Interestingly, it has similarities to the Southern war of '92 as a space and as an operation alliance. Against this, there is a posture similar to that of Bêrîtan comrade. Unfortunately, history repeats itself. Now the enemy will use as much technique as he wants. He doesn't have an army to fight. He's got all his hopes on planes, helicopters, tanks, balls.
In the face of this, there are the will of the fighters like Axîn. It's obvious who's going to lose. In battle, will is always the ultimate truth.
It is a crime against humanity, a genocide. The fascist Turkish state has committed the crime of genocide. Everyone must oppose and condemn this.
Does this war intensity not interfere with your work?
The war is right next to us, but we do all our work. Nothing is an obstacle to the Kurdistan Freedom Struggle and its guerrilla. Humanity is recording these days and I believe that the greatest gain for the later periods of history will be the resistance of these times.