Music Group Koma Hevra enters its fifth year of activity
HEDEP Youth Assembly Music Group Koma Hevra entered its fifth year of activity.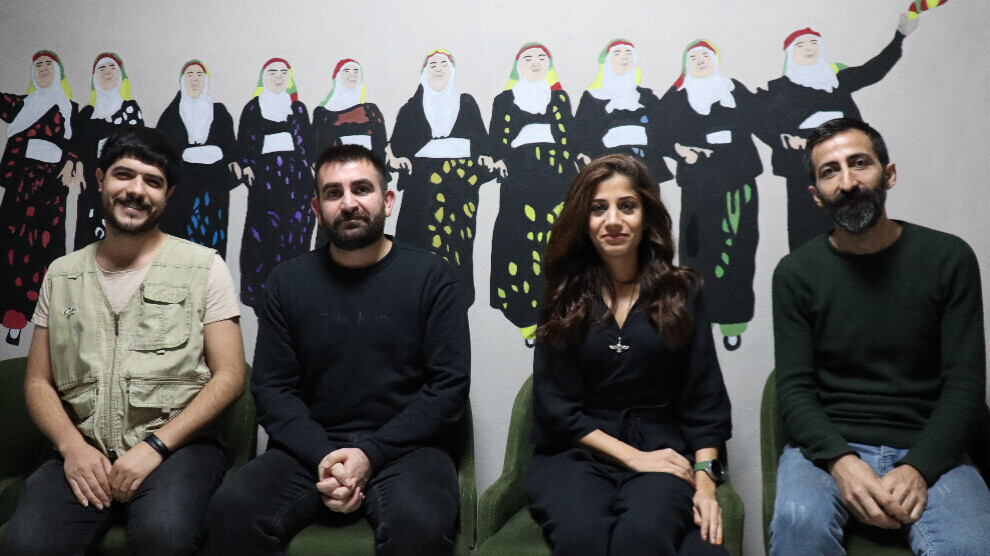 Koma Hevra is preparing to enter its 5th year of activity. The group, founded by young people, is an indication that political Kurdish music has never died.
Koma Hevra, founded by HDP Youth Assembly members in 2019, has managed to revive both the revolutionary music tradition and the group tradition and integrate them with the public. The band, which faced a lot of pressure in this process, had two concerts banned in the last 2 months, and the band's percussionist was detained during a house raid.

Continuing their work despite the pressures they experience, Koma Hevra sees itself as a cultural commune beyond being a music group and is considering opening a cultural center and teaching revolutionary art and Kurdish art to young people. Another project of Hevra is to create a female music group named Hevra Jin.
Hevra's new songs dedicated to Saturday Mothers and Peace Mothers were released on Saturday.
Koma Hevra members Yusuf Keleş, Baran Sünbül, Gencay Morkoç and Zeynep Doğan told ANF about the past five years, their future plans, projects, the pressures they experienced and their thoughts on Kurdish music.
Hevra was founded with sacrifice
Stating that Hevra was founded on 4 April 2019, Yusuf Keleş said that the idea of Hevra matured over time and explained the establishment process as follows: "Hevra was founded on 4 April 2019. In the beginning, we had some music work. We started with erbane, baglama and voice lessons. We organized the lessons with the Youth Council. After a while, we decided that we were ready to start. We made many sacrifices to set up the group."
Adding that Hevra is also a criticism of the individualization that has emerged recently in Kurdish music, Keleş stated that, especially in the 2000s, the bands were put in a corner to give way to soloist performances and continued: "When there is unity, when there is Hevra, better works are produced. Kurdish music began to shift backwards from the idea of bands in the late 1990s and early 2000s. Especially after the 2010s, almost all of our art and music began to be individualized. We aimed for a music group that could reflect the idea of collective creativity. That's how we progressed until today. We base all our criticisms and approaches on unity."
Hevra is not just a music band, it is a cultural community
Speaking about their decision to make political music, Keleş said: "We are young people who have grown up in a very political environment. I think that the Kurdish people have been living in a political environment in which they suffered the banning of their language since birth. That's why the art, the song produced reflects what we are. It reflects the politics within us, the revolutionary spirit within us, the politics within us. That's why it's our preference to have political songs.
Hevra should be seen not just as a musical group, but as a cultural, communal work."
Keleş said: "Frankly, Hevra provided unity with society by allowing mothers and families to let their children get addicted to an instrument instead of going out and getting addicted to drugs.
To date, especially in recent times, there has been no musical group of patriotic youth. Since Hevra is the first of these, we receive positive feedback everywhere we go. In some places, they start cultural and artistic activities after we leave. There are positive results. Since Hevra is not just a music group, but a commune, all friends can contribute as they wish."
Baran Sünbül, another member of the group, explained why Hevra was founded. "Kurdish music has many advantages stemming from the cultural richness of Kurdistan. Because there is an ancient culture that has been accumulated since 5 thousand years ago. Since we live in a geography where civilization has developed, enormous production can be achieved just by picking the flowers around the Tigris and Euphrates, so to speak. But there are also disadvantages. Because Kurdistan's geography is fertile, it has become a place of constant oppression, cruelty and fascism, a battlefield of empires, and this continues today."
Kurdish artists must be revolutionaries
Sünbül said: "Especially in cases where war processes or fascism prevails, the fields of culture and arts are most affected. Therefore, since fascism never stopped in Kurdistan, the Kurdish artist should never compromise his revolutionary personality and revolutionary stance. A Kurdish artist must be a revolutionary. A non-revolutionary Kurdish artist cannot accurately represent Kurdish culture."
Hevra Jin Project
Zeynep Doğan, who is the newest member of the group and has been working for about 3 months, said that Hevra has a project to establish a women's group and is working on that. "Music has always been in my life, but I had no idea of taking part in a group. I learned that Hevra would give a course and I joined it. As we came together, the band's perspective on music attracted my attention. I joined the group because it is a group that accurately reflects our culture, cares about the ideology we adopt, and continues its work in this line. I am currently taking erbane and singing lessons. I especially want to advance in the erbane field and provide advanced training. I am in touch with young friends, especially young women friends, and work together with women in establishing Hevra Jin."