Rojava made Kurdish language revival a reality
Almost 53 thousand students are being educated through Kurdish in Kobane Canton of Rojava, northern Syria.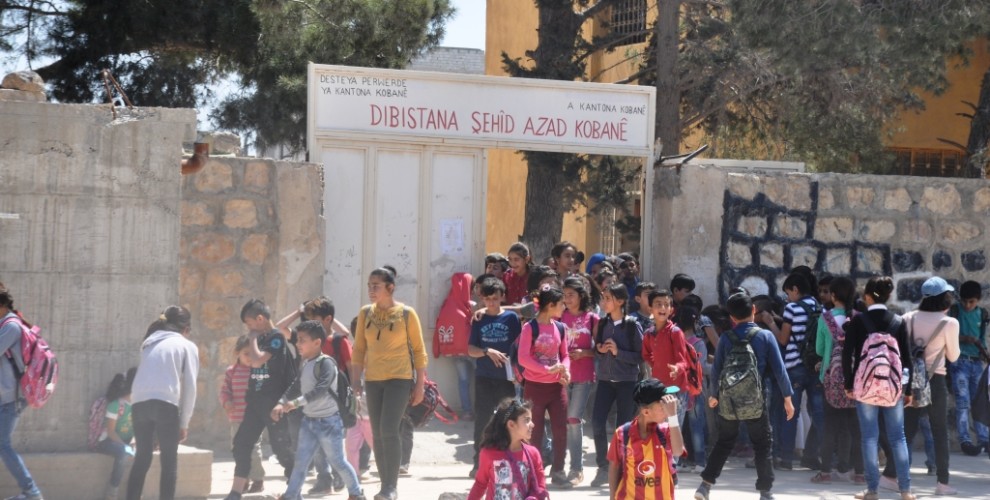 Since 2015, after the Rojava Revolution, people begun to enjoy living in a democratic environment.
A crucial transformation brought about by the Revolution was the establishment on education councils in the region which have been working non stop to set up a completely new, progressive and innovative education system, based on the education in Kurdish.
The education council has worked to prepare a new curriculum in Kurdish and has produced a variety of education materials to cover until the 12th grade in the education system.
A new renaissance for Kurdish language in Rojava
The Kurdish language, which has not been able to develop as a writing language throughout history due to the prohibition and policies of denial it has always been subjected to, has found new and historical opportunities to develop in Rojava.
Now, indeed, Kurmanci, which is the most spoken of the Kurdish dialects, has found a new lifeline in Rojava where it could be structured and actually became a vehicular language throughout the education system. Such an opportunity was enjoyed before in South Kurdistan by Sorani, to a certain extent.
The Kurdish language, which had been subjected to almost oblivion by the repression and pressure brought about by the policies of assimilation and denial implemented in Kurdistan, since its fragmentation under the colonial rule of the nation states, is now enjoying a renaissance period in Rojava.
Knowledge of Kurdish language greatly improved
The use of Kurdish as a written language as well as a spoken language for everyday life, has greatly improved since it has become a vehicular language from primary school to university.
The establishment of summer schools outside of the traditional school season is a great opportunity to further develop the Kurdish language and improve the level of reading for everyone.
According to Kobanê Canton Education Committee, this year, 52 thousand and 622 hundred students have successfully finished their schools. The Education Committee is also organizing a course for Kurdish teachers in the summer to improve the Kurdish education.
Parents shared their satisfaction at seeing pupils being educated in their parents' native language.
Parents happy to see kids educated in mother tongue
Nehîda Mihemed Eli, reminding that the Baath regime forced students to learn and speak only Arabic and Arabic culture for years, said: "Our children are now studying in their mother tongue. This makes us happy for our children".
Her words were echoed by those of Fatma Hesen. Fatma said that they made great progress because their children were educated in the families' mother tongue. "The Baath - she said - always praised their politics, their languages ​​and cultures in all education materials, but now our children are learning and developing their own cultures and languages".