Submission deadline for Hüseyin Çelebi Literature Competition extended
The Hüseyin Çelebi Poetry and Short Story Competition organized by the Kurdish student associations YXK and JYK will take place in October. The submission deadline for self-written stories and poems has been extended until 9 September.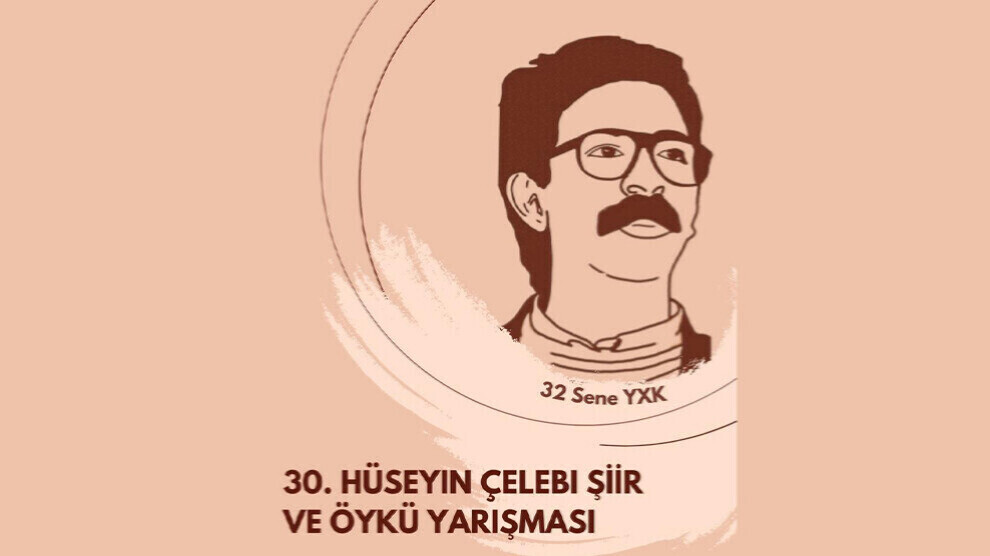 The Hüseyin Çelebi Poetry and Short Story Competition has become an annual tradition of the Kurdistan Students Union (YXK) and Women Students from Kurdistan (JXK) since 1993. This year, the event will take place on 8 October, with the venue to be announced in the coming weeks.
According to the Kurdish student associations, this year's literary competition will be dedicated to the memory of Kurdish patriot Rıfat Çelebi, father of Hüseyin Çelebi, a founding member of YXK and leading cadre of the PKK, who fell in Heftanin in 1992. Rıfat Çelebi passed away in May.
According to the organisers, the deadline for self-written works has been extended until 9 September. Those who would like to take part in the competition can send their own texts to huseyince[email protected] or to P.O. Box 10 15 32 in 52015 Aachen.
In their call for participation, the YXK/JXK stated the following conditions:
Stories and poems in the Kurdish languages Kurmancî, Dimilî and Soranî, German and Turkish are eligible.
The works submitted for the competition must not have been published beforehand.
A maximum of two poems and one story may be submitted per participant.
Participants should include a short curriculum vitae detailing the genesis of their work.
In addition, this year there is an offer to exhibit self-painted pictures.
Background
Rıfat Çelebi came from Dersim and came to Germany as a "guest worker". He was closely connected to the Kurdish freedom movement and organised the first Kurdish solidarity demonstration in Hamburg in the 1970s. In the 1990s he was elected to the Kurdistan National Congress (KNK) and actively helped to build up the Kurdish Red Crescent organisation Heyva Sor a Kurdistanê. He helped organise Newroz events and Kurdish demonstrations in Bavaria and was also one of the few people in Germany who had meetings with Abdullah Öcalan. He died in Nuremberg on 21 May, 2021 at the age of 86.
Hüseyin Çelebi was Rıfat Çelebi's son. He was born on 22 September 1967 to a Turkish mother and Kurdish father in Hamburg, where he grew up until the age of 18. His first political activities began in 1974 when he took part in a demonstration against the deportation of 169 Kurds by the then Turkish Prime Minister Ecevit to the Saddam regime in Iraq. All 169 Kurds were executed after the deportation. After dropping out of his studies, Hüseyin Çelebi devoted himself entirely to political work. He worked above all to achieve more publicity for the Kurdish question in Germany and Austria. Among other things, he was a co-founder of the student association YXK and the Kurdistan Report magazine.
In February 1988, he and 20 other Kurdish politicians were arrested by the German government on charges of terrorism. Even while in prison, he did not stop fighting for a just solution to the Kurdish question. In prison, he exchanged ideas with other political prisoners. His correspondence with the RAF prisoner Christa Eckes was published as a book in 2021. He decided to join the guerrilla struggle and went to Kurdistan in the summer of 1991. In mid-October 1992, he was martyred in an attack by local collaborators and the Turkish army in the Heftanîn region of southern Kurdistan (northern Iraq).