Trustee of Batman has Cegerxwîn bust torn down
The trustee of Batman had a bust of the Kurdish poet and writer Cegerxwîn demolished. The HDP protests against the targeted elimination of Kurdish art, culture, history and language by the "one-man regime".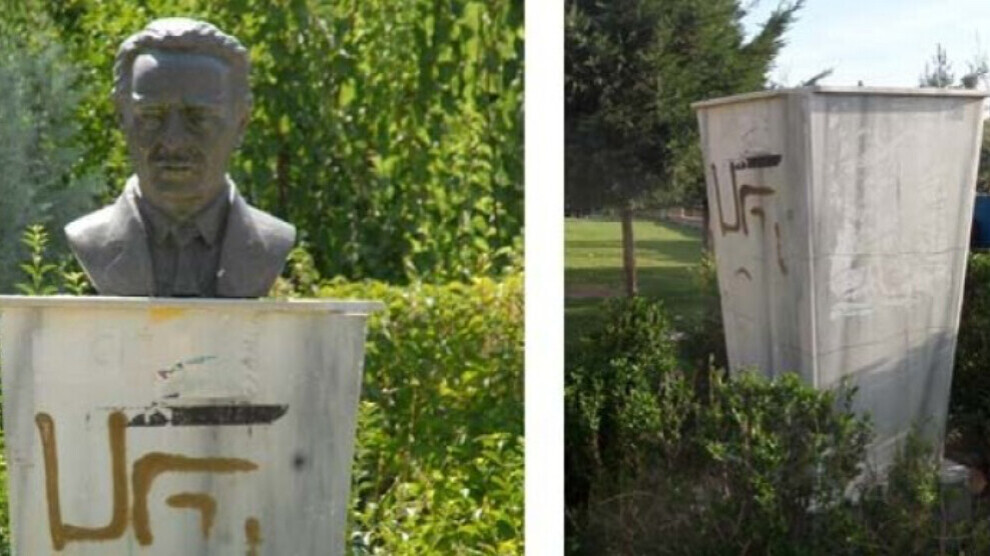 The trustee of the northern Kurdish province of Batman had a bust of the Kurdish poet and writer Cegerxwîn demolished. The bust had been erected in the 'Kine Em' park in 2007 by the then municipality. Almost all Kurdish municipalities and cities in Turkey are under the rule of state-appointed trustees, while the elected co-mayors have been suspended by the Ministry of Interior and most of them have been imprisoned. The monument to the great poet Cegerxwîn had already been removed from its location by unknown persons in 2014.
The HDP association in Batman protested against demolition in front of its headquarters in the province. The deposed mayors Songül Korkmaz and Mehmet Demir took part in the protest, as well as activists from the Free Women's Movement (TJA) and the Peace Mothers Initiative. Songül Korkmaz explained that the trustee follows a fascist understanding of the nation state based on the paradigm of "one language, one religion, one nation". The HDP, on the other hand, sees multilingualism and cultural diversity as wealth, she noted. Korkmaz referred to many similar measures in other Kurdish localities and the bans on concerts by Kurdish music groups.
"The trustee is a fascist regime that wants to erase Kurdish culture, history, art and language from social memory and to make Kurdish intellectuals and pioneers be forgotten," said the deposed HDP mayor, demanding the immediate reinstallation of the Cegerxwîn bust.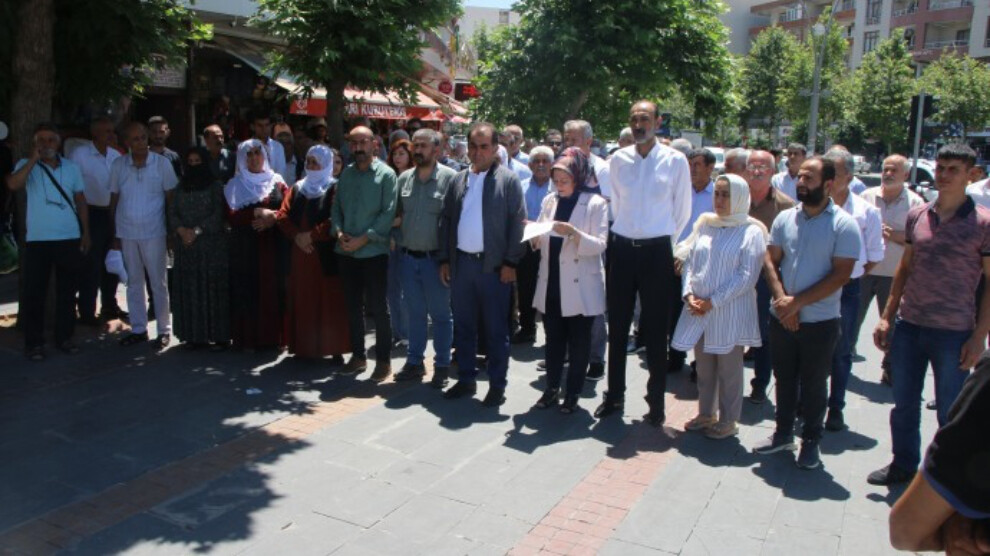 Who was Cegerxwîn?
Cegerxwîn, whose civil name is Şehmus Hasan, was born in 1903 in the village of Hesarê (Hisar) in Northern Kurdistan. At that time, the village belonged to Mardin. Today it is a town in Batman. In 1914, Cegerxwîn fled with his family from the fighting of the First World War to Dêrik in northern Syria. Little is known about the six years of his early life, including his time in Dêrik. Neither is it reported in works such as Mehmed Uzun's Anthology of Kurdish Literature or Qenadê Kurdo's Literary History of the Kurds. However, the years there must have been very formative for his sense of justice and freedom. Through his work as a farm labourer and shepherd, Cegerxwîn soon came into conflict with the agahs and mullahs. He tried to get by as a dispossessed day labourer in agriculture, wanted to study and eat. But it was no use. He could no longer make a living there. Of his time in Dêrik, Cegerxwîn himself said: "Dêrik is a source of culture. Had I not gone to Dêrik, and had it not been for the beauties of Dêrik's nature and history, I think I would never have become a poet."
Cegerxwîn separated from the village and Aghas and moved from village to village, reciting poetry. It is said that he ended up in Amûdê at the end of the First World War. There, the dissolution of the Ottoman Empire took him by surprise. The mandate powers drew new borders and so he was cut off from the place of his birth for the time being.
At the age of eighteen, he attended a madrasah (Koranic school) and was instructed in religion for almost nine years. In Amed (Diyarbakir), his teachers were respected scholars such as Meleyê Serî Jêkirî and Seydayê Mele Iskender (1898-1928) of the famous Botan tribe. His companion became the literary figure Mele Abdurrahmanê Sorikî. During this time, Cegerxwîn began to write poems that dealt with the harsh reality of life in Kurdistan. In them, he reflected on the feudal exploitation by the Aghas, who, as large landowners, were also lords over the people of their estates. At that time, he was already carrying forward the ideas of Kurdish national liberation as well as the values of Kurdish tradition, history and art with his poetry.
The Kurdish uprising of Şêx Said (Sheikh Said) in 1925 was followed by harsh repression and persecution. Many sheikhs and spiritual scholars of the area joined the uprising and dragged their students into it. After the bloody suppression, Cegerxwîn's teacher, Mele Iskender, was arrested in 1926, fell ill with tuberculosis and died of it. Cegerxwîn's friend Mele Sorikî was able to escape. He himself was also able to save himself. First, he fled to Cizîrê, later to Qamişlo in the Syrian part of Kurdistan called "Little South". There he was able to publish his first poems in the Hawar magazine. This was run by Celadet Bedîrxan, who, together with his brother, had published the first Kurdish newspaper ever in Cairo in 1898 and from 1927 tried to unite the Kurdish intellectuals in Xoybûn society. Since then, Şehmus Hasan Hesarî has used the pseudonym Cegerxwîn, which means bleeding heart/inside.
After the Second World War, Cegerxwîn founded the Movement for Kurdish Freedom and Unity (Civata Azadî û Yekîtiya Kurd) in Cizîrê with other Kurdish intellectuals, which later became the Turkey branch of the Kurdistan Democratic Party (PDK-T), in which it nevertheless retained its independence. From 1949 to 1957, Cegerxwîn was a member of the Syrian Communist Party, in which Kurds traditionally held a disproportionate number of leading positions.
In Syria, Cegerxwîn was therefore persecuted and fled to Baghdad in 1958, where he became a member of the teaching staff of the Faculty of Kurdish Language and Literature at the university there in 1959. He was able to publish his first dictionary of Kurdish in Latin script and worked in Mullah Mistefa Barzanî's KDP. He only stayed there for three years and then returned to Qamişlo because of the increasing repression. But even there, he was arrested, tortured and interrogated several times. After separating from Barzanî's KDP, he founded the Kurdish Democratic Party (Syria) with a few like-minded people, which he remained associated with until his death. In 1970, he fled to Lebanon, from where he emigrated to Sweden in 1979 at the age of 76.
Cegerxwîn died in Sweden on 22 October 1984, leaving behind a work of great significance for all Kurds. His coffin was brought to Qamişlo and buried in the garden of his old house with the participation of almost a hundred thousand Kurds, Assyrians, Arabs and Armenians.
On Cegerxwîn's work
Since during the years of his life in Kurdistan and the Middle East, his "rebellious" poetry was feared and ostracised by all the rulers of the states in which Kurds live, most of his books were published in Europe, especially in his last exile, in Sweden, where six volumes of poetry alone were published, as well as books on Kurdish history and folklore. The Cegerxwîn Foundation was also founded there in the early 2000s. As a director, his son Keyo Hassan, who died in 2020, coordinated the work on various projects. Thus, further Kurdish and even a Turkish publication could be realised in Turkey. It was not until the early 1990s that Cegerxwín's books could be published and distributed in Turkey. Initially, however, they were only published in Istanbul, while they were still banned in Northern Kurdistan.
Cegerxwîn was widely read in the 1960s and 1970s in the former Soviet Union, especially in the republics where Kurds live - Georgia, Azerbaijan and Armenia. The writer par excellence of the Kurds of Azerbaijan, Dr. Shamil Esgerov, for example, who also produced the only Kurdish-Azerbaijani dictionary to date, wrote his dissertation in 1969 on "The Poetry of the Contemporary Poet Cegerxwîn". And the Kurdish literary figure Ordixanê Celil published his work "The Patriotic Poetry of Cegerxîn" in Armenia in 1966.