Why was the movie 'Ji Bo Azadiyê' banned in Sulaymaniyah Film Festival?
Assistant director of the movie Ji Bo Azadiyê, Diyar Hiso said that banning the movie, which was scheduled to be screened at the 5th International Film Festival in Sulaymaniyah, would undermine Kurdish culture, and added that the decision was political.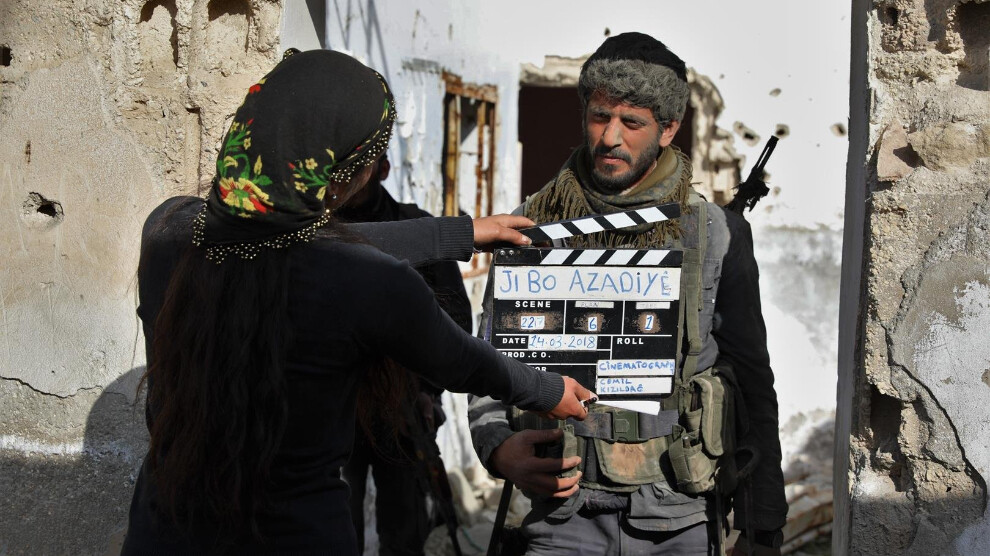 The screening of the movie "Ji Bo Azadiyê (For Freedom)", which was invited to the 5th International Film Festival in Sulaymaniyah, was banned at the last minute.
Following the ban on the film which is about the resistance in Sur (Amed), the producers, the Rojava Film Commune, announced that they had also pulled their films 'Dema Dirîreşkan' (Blackberry Time) and 'Ronak' from the festival.
Assistant director Diyar Hiso spoke to ANHA about the ban decision.  "It is not convincing that the organizing committee of the festival cancelled the movie on the grounds that it was produced in 2019. Because the committee already knew this. Moreover, there is no regulation that says that earlier productions cannot be shown at the festival," he said.
Hiso and his colleagues believe that the ban decision was taken because of external pressures, and thus decided to pull the other two movies they produced from the festival.
Banned for political reasons
Hiso underlined that the festival should be a free cultural platform. "The screening of the movie Ji Bo Azadiyê has been banned for the second time in Sulaymaniyah. In 2019, the screening of the film was banned on the grounds that it could disrupt public peace and stability in the city. It is necessary to ask the question: "Why should the resistance of Kurdish youths against the Turkish state in Amed city disrupt the security of Sulaymaniyah?"
Hiso added: "They know that the movie will have an impact on the public. It has been banned for political reasons. The movie is about the resistance for self-government. The will of the Kurdish people against the Turkish state and the tremendous resistance displayed for this will…"
Confidence in festival broken
Hiso warned that this decision would also harm the future of cinema. "Confidence in festivals has been broken. Those who banned a movie of the Rojava Film Commune may soon ban movies by other producers. The conditions of participation in the festival should remain transparent, and if they keep banning movies they do not see fit for the festival, no one will have confidence and trust in the festival," he noted.
Hiso maintained that the decision will also affect the cultural activities of the Kurdish people and criticized the festival committee, saying that the ban decision serves the enemies of Kurdistan.
Hiso demanded an official explanation of the ban decision.