Environmentalists demand closure of poison-spreading Kapakler Gold Mine in Erzincan
Nature and life defenders demanded the closure of the poison-spreading Kapakler Gold Mine site in Iliç, Erzincan with a protest in Kadıköy.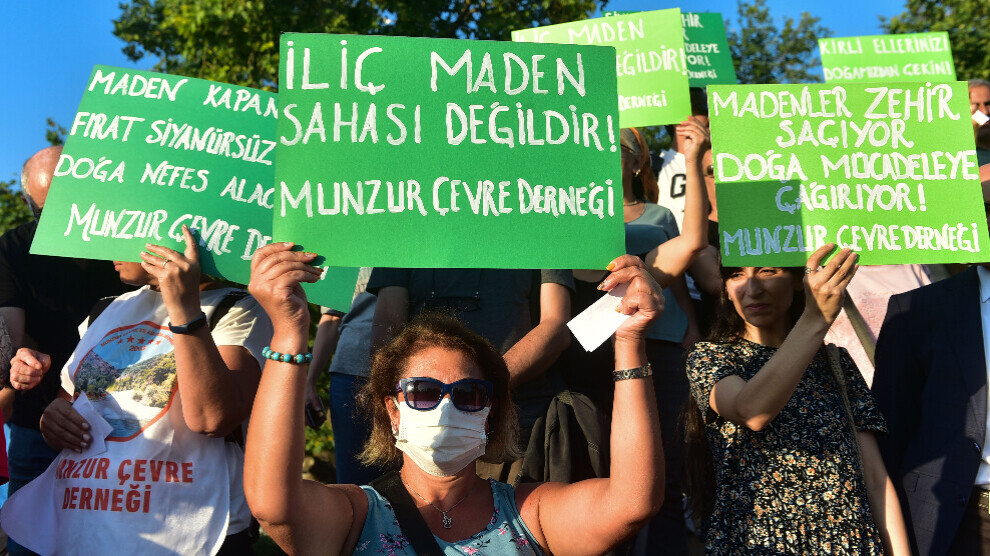 Protests against the natural massacre that occurred after the explosion of the cyanide pipes used in the Kapakler Gold Mine in Iliç, Erzincan are growing. American and Canadian Anagold Madencilik and Çalık Holding are partners of the mine.
Environmentalists organized a demonstration in Kadıköy Pier Square. "Ilic is Turkey's Chernobyl. The mining site should be closed immediately", said the protesters. Hüsne Gölbaşı read a press statement signed by 90 environmentalist organizations.
Gölbaşı said: "Death flows into the Mesopotamian basin in the ancient Euphrates river. The cradle of civilizations has been condemned to breathe poison for years despite the struggle of environmentalist groups."
Emphasizing that what happened in the Kapakler Gold Mine, where the leakage of the waste pool has become continuous in the last two months, is not an accident, but an attack on nature and living spaces, Gölbaşı said: "Exploitation mining, which is destroying our country, and the political power that made it possible, are causing irreparable damage to our environment. Companies whose hypocrisy knows no bounds are passing on insoluble problems to future generations in order to make a profit. Even more painfully, it is the government policies that make this possible."
Reminding that this attitude, which has become a chronic problem, has ended with disasters in Bergama, Kütahya and Gümüşhane in the past, Gölbaşı pointed out that the same reckless attitude has caused the poisoning of workers and residents in Manisa-Muradiye recently. He said that after the destruction of nature, the amount of gold to be extracted will not be worth anything: "When we take away the right of future generations to live in a clean and healthy environment and exterminate the species of life in the region, will the gold we extract be able to bring them back?"
Gölbaşı listed the demands of the environmentalists as follows:
Rejection of the application for field expansion,
Closure of the Kapakler Gold Mine,
End of cyanide and non-cyanide gold mining all over our country.
The organisations that signed the statement are: Kemaliye and Villages Environment Platform, Divriği Cultural Association, Divriği Life and Nature Platform, Bakırtepe Environment Platform, Malatya Environment Platform, Munzur Environment Association, Ecology Union.