HDP protests deforestation on Mount Namaz in Şırnak
Members of the Peoples' Democratic Party (HDP) have protested the destruction of trees by state officials and village guards in Şırnak province, south-eastern Turkey.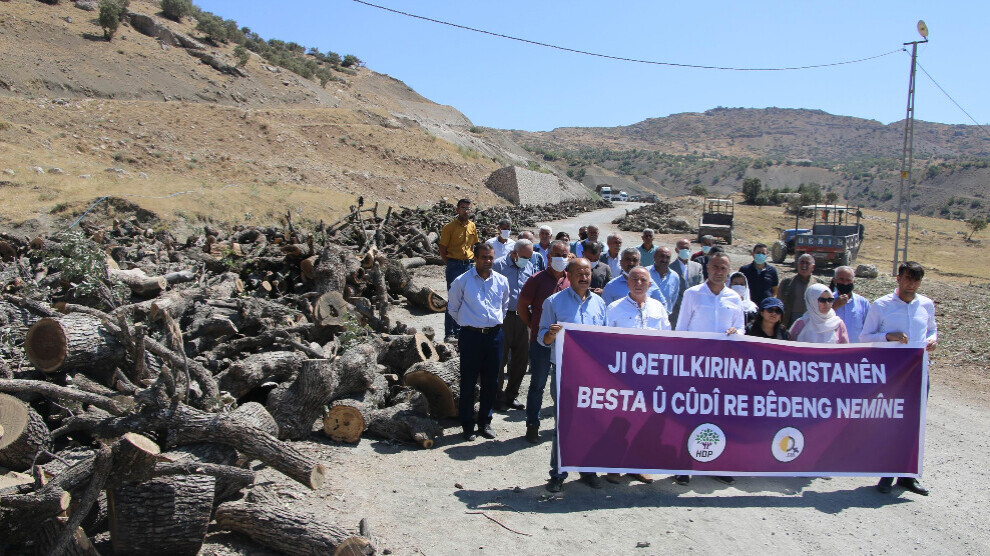 Turkish troops continue to cut down trees in the Besta and Mount Namaz regions in Şırnak countryside. The cutting of tons of trees by the village guards has sparked reactions.
The HDP Şırnak Provincial Organization on Friday made a statement in Kenîsarke area located on the skirts of Mount Namaz where tree cutting continues. HDP Şırnak Deputy Hasan Özgüneş, members of the Free Women's Movement (TJA) and numerous party members attended the event, and a banner reading "Do not remain silent towards ecocide in Besta and Cudi" was displayed.
'STATE OFFICIALS CARRY OUT A MASSACRE''
HDP MP Özgüneş defined the cutting of trees as a "massacre". He noted that some of the land where deforestation takes place is public property. "The state is cutting down our trees and destroying our nature in order to get income by persecuting the landowners and collaborating with some state officials. The state-led deforestation continues in Cudi, south of Şırnak."
Özgüneş pointed out that wildfires continue alongside deforestation. "In western parts of Turkey, fires are started by hired arsonists on the seacoasts, and new areas are created for private and government sectors. In order to hide this from the public, they put the blame on the PKK and want to evade responsibility. They are profiteers, they only care about money. They do not care about the country or the citizens."
The deputy emphasized that public opinion does not concern itself with the destruction of nature in the south-eastern cities of Turkey. "When it comes to Kurdistan, state officials turn a blind eye to the region. We will show our reaction to the plundering of our nature. We call out to the AKP government:  You can't eliminate the Free Kurd. You can't eradicate the values ​​of the Free Kurd. You want to annihilate the Kurds by destroying their living space. However, the Kurdish people stand tall."
The HDP MP also reacted to the governor. "Are you on your conscience while the village guards carry out ecocide? What do you want to leave to next generations by destroying nature? Why don't you stop it?". Özgüneş called for an end to the destruction of trees.