Mining destroys Turkey's nature and people's life
In just 7 years, more than 77,000 hectares of forestland have been opened to mining, and 766 new mining tenders will be made. HDP Izmir MP Murat Çepni said the country is being destroyed by mining.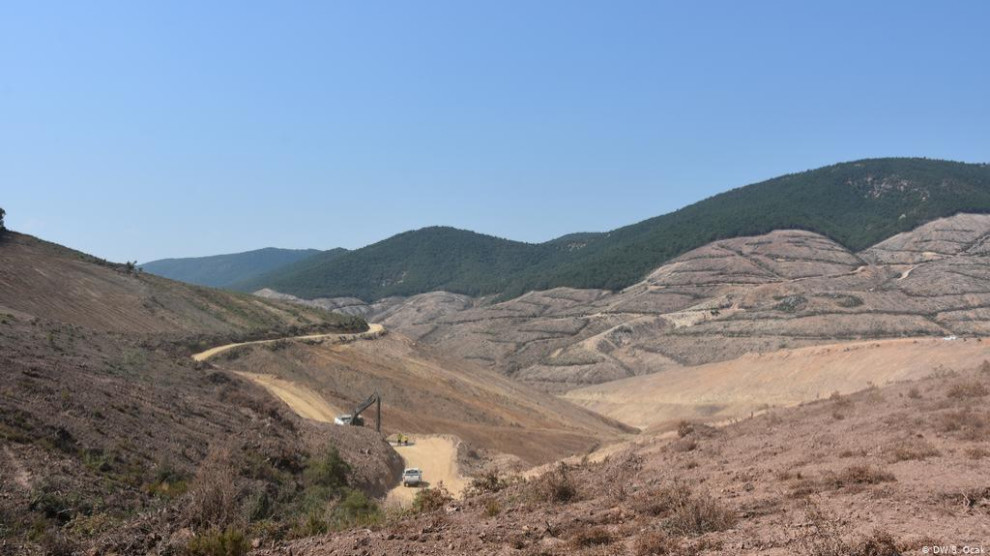 Tender work for mining exploration and operation in 766 fields in 68 provinces was started in August by the General Directorate of Mining and Petroleum Affairs (MAPEG). The Mining Act No. 5177 of 2004 allowed the expansion of mining in Turkey. Today, mineral exploration works, involved especially areas from Artvin to Kaz Mountains, from Fatsa to Munzur Valley, and target forests and nature.
The Mining Act No. 3213 was substantially amended in 2004. Within the scope of this amendment, mining activities started in forest areas. With the Mining Activities Permit Regulation coming into force in 2005, the consequences of the law change were better seen. With the amendment made in 2004, mines were opened to foreign-owned and domestic companies in return for 2 percent tax. In the case of the activities of the state's share in Turkey it increased 1 percent by pulling incentives. According to what the Ministry of Energy and Natural Resources announced the total of mining licenses given in Turkey in 2019, 118 were given to different foreign companies, out of a total of 593 mining licenses.
The biggest damages of these activities were experienced in forest areas. According to the data of the General Directorate of Forestry, between 2012 and 2018, 65,883 hectares of forest were opened to mining activities.
In 2019, this number increased to 77,281 with 11,398 hectares of forestland opened to mining activities. According to the data by TEMA Foundation, 41% of the 1,294,335 hectares have been allocated to active license areas. 57% of these licenses are in operation while 43% are in exploration license status. Again, according to the TEMA's figures, 80% of the forest area has been determined as an area where mining can be done.
Mining Activities do not only affect forests in this context. Direct water resources have also become vulnerable with these regulations. Following the amendment of the Mining Law, the Water Pollution Control Regulation was completely amended on 31 December 2004. With the regulation change, the absolute protection area was reduced from 300 meters to 100 meters. This enabled mining activity at a distance of 1 km to drinking and utility water. A new change was made with the lawsuit filed against this amendment and the ruling of the Council of State. The 100 meters have been increased to 300, but the short range protection area has been reduced from 900 meters to 700 meters. With the change made, "loss" has been compensated in different ways.
HDP Izmir MP Murat Çepni, spoke to ANF about the new 766 mining tenders and the latest situation in Kaz Mountains. He said that the destruction caused by mining activities in general involved both living areas and nature. "Today, - he said - 766 new mining fields mean the destruction of both living areas and nature. In Kurdistan mining means the forced evacuation of villages, in the West it means giving Cengiz Construction a present, as was the case with Kaz Mountains. In this sense, Turkey is being transformed into a mining country."
Cepni added: "For example, in this new tender, almost the entire Munzur Valley, including Dersim, was declared a mine field. This means the destruction of Dersim's political and historical culture. On the other hand, the destruction of agricultural land causes people to migrate from the villages. It also causes the loss of many water resources, which means that a country that is already poor in water becomes even poorer. And then there is the destruction caused by the dust from mining. In fact, these projects have no profit to anyone but companies."
As to Kaz Mountains, Çepni said: "There is a permanent vigil in the Kaz Mountains organised by ecology organizations and many other institutions. Despite the decision to stop the project, the company there continued to occupy the area. Of course, this is the case at the moment. What will happen in the future remains to be seen."
PROVINCES TO BE OPENED FOR MINING TENDER
The provinces to be opened to mining tenders are: Amed, Adana, Adıyaman, Afyonkarahisar, Amasya, Ankara, Antalya, Artvin, Aydın, Balıkesir, Bilecik, Bingöl, Bitlis, Bolu, Burdur, Çanakkale, Çankırı, Çorum, Dersim, Denizli, Edirne, Elazig Erzincan, Erzurum, Eskişehir, Gaziantep, Giresun, Gümüşhane, Hakkari, Hatay, Isparta, Mersin, İzmir, Kars, Kastamonu, Kayseri, Kırklareli, Kırşehir, Konya, Kütahya, Malatya, Manisa, Maraş, Mardin, Muğla, Muş, Nevsehir, Niğde, Ordu, Rize, Sakarya, Siirt, Sivas, Tekirdağ, Tokat, Trabzon, Urfa, Uşak, Van, Yozgat, Aksaray, Bayburt, Karaman, Kırıkkale, Batman, Şırnak, Osmaniye.