Olives planted to condemn Turkish destruction of Afrin nature
The campaign lasted 7 days and was promoted by intellectuals and artists who planted olive tree saplings in Jazira and Euphrates regions.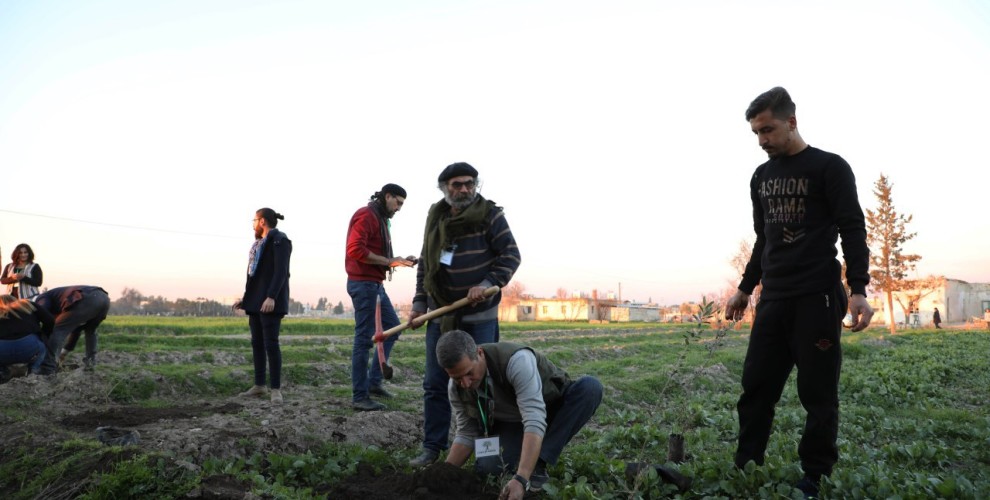 The Rojava Kurdistan Intellectuals Union (HRRK), Jazira Region Intellectuals Union, Syrian Writers Union and the Euphrates Region Intellectuals Union, launched a campaign on 5 February to plant olive saplings. 
The campaign was promoted to remember once again the devastation of nature in Afrin carried out by the occupying Turkish army and its mercenary allies. 
The campaign lasted 7 days and tree saplings were planted in the regions of Jazira and Euphrates.
The campaign ended with a press conference in Qamishlo. 
The press conference was attended by a large number of intellectuals and the final press release was read by Zuber Zênal, member of the Syrian Kurdish Writers Union, and by the head of the Rojava Intellectuals Union, Welîd Bekir.
The statement recalled that the campaign began 5 February with a press conference in Kobanê at the Free Woman Square. The campaign then reached Serêkaniyê on 7 February, Amûdê on the 10, Girkê Legê, Rimêlan, Çil Axa and Tirbespiyê on the 11, to end in Qamishlo. 
Olive trees were planted in every stop of the campaign.