Öcalan's lawyers call on the CPT to release report on latest visit to Imrali
Lawyers of Kurdish leader Abdullah Öcalan have submitted another application to the CPT, calling for the release of its report on its last visit to İmralı in September last year.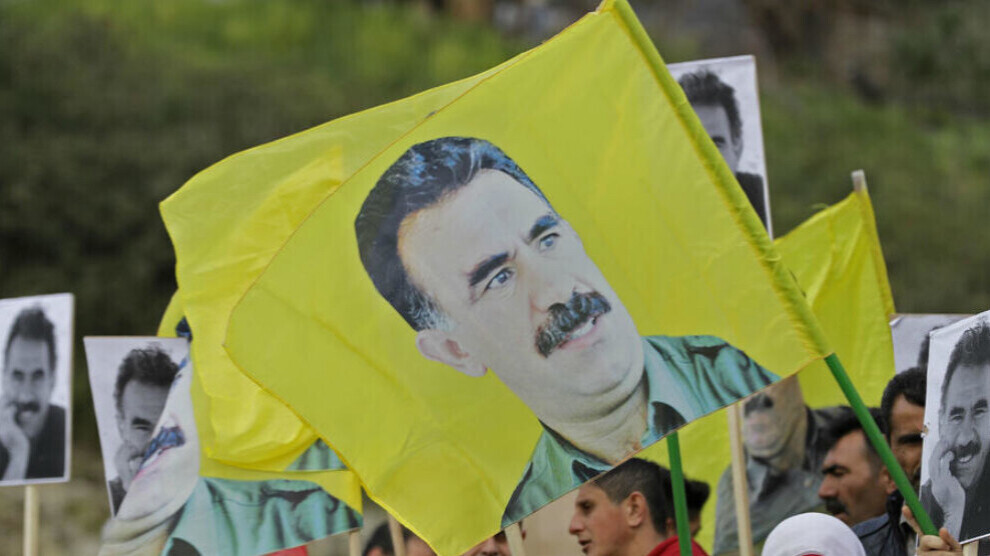 No news has been heard for more than 21 months from Kurdish leader Abdullah Öcalan and his fellow prisoners Ömer Hayri Konar, Veysi Aktaş and Hamili Yıldırım, who are held under heavy isolation conditions in Imralı F Type High Security Prison.
According to the Mezopotamya Agency (MA), lawyers from Asrın Law Office, which represents Öcalan and his fellow prisoners on Imrali, have submitted a new application to the Council of Europe Committee for the Prevention of Torture (CPT), urging it to release the report on its visit to İmralı between September 20-29.
In their application, lawyers pointed out that the Imrali prisoners were denied visits from family members and lawyers, as well as the rights to telephone, letter and communication, and had their right to defense and fair trial blocked, which are secured by the European Convention on Human Rights (ECHR).
Remarking that the 'incommunicado' situation on Imrali has worsened, lawyers stated that regular applications have been submitted to the Bursa Chief Public Prosecutor's Office and the Imralı Type F High Security Closed Prison Directorate. 32 applications for lawyer visits and 14 applications for family visits have been submitted to both authorities in the last three months and all have been left unanswered, they noted.
Lawyers of Öcalan recalled that 350 lawyers from 22 different countries had applied to the Turkish Ministry of Justice on September 14, and 756 lawyers from the Middle East on September 19. These applications also went unanswered by the Turkish authorities.
The application by Asrın Law Office reminded of the disciplinary penalties given to Öcalan in May, September and January, stating that the reason for the bans was not communicated to the lawyers, who were responded to only after the expiration of the reclamation period.
"In this way, lawyers are deliberately excluded from the disciplinary investigation, trial and decision stages, and the 59th article of the European Prison Rules, which stipulates that 'prisoners charged with disciplinary offences shall be allowed to defend themselves in person or through legal assistance when the interests of justice so require' is rendered de facto dysfunctional," stated the lawyers in their application to the CPT.
Remarking that objections against disciplinary actions are quickly rejected by courts without justification, lawyers drew attention to the Committee's 2020 report, which determined that disciplinary actions preventing family contact were unlawful.
"It should be recalled that your Committee clearly determined in its 2013 report that the denial of lawyer visits, going on since July 27, 2011, was based on a political decision that was against both domestic legislation and international law. It was recommended that this situation was unacceptable and that lawyer visits should be enabled. Yet, nothing has changed in the attitude of the authorities and courts since then," said the application letter, which noted that the CPT has not published any statement or report on its last visit to Imrali, nor has it expressed any opinion despite the initiatives taken to this end.
"For this reason, it is essential for your committee to present the report of its last visit to the public as soon as possible, both as a necessity and in consideration of the incommunicado conditions. As was determined in the reports of your committee, the 'Incommunicado' detention state means that there is no communication with the outside world, including with family members, friends and lawyers.  It is incomprehensible that your committee does not resort to operating the procedures regulated in Article 10/2 of the European Convention for the Prevention of Torture, which is a coercive measure to eliminate the 'incommunicado' state. Failure to carry out the procedures raises serious doubts regarding the attitude of your committee. The state of affairs leads to the conclusion and opinion that your last visit was not taken seriously by the Turkish state, government, public authorities and courts, nor did it cause any effect-changes or go beyond formality.
The state, government officials and courts, which responded to your last visit by imposing a disciplinary penalty and banning lawyer visits, almost gave your committee the message that, 'Your routine visits, reports, findings and recommendations are of no importance to us, we will continue to do what we know.' The time has come for you to respond effectively to such an unlawful, inhuman, frivolous and arbitrary approach."
The lawyers listed their demands from the CPT as follows:
"*To urgently publish the report and findings on its last visit to Imrali,
* To ensure lawyer visits immediately and on a regular basis, and to put an end to their obstruction by unlawful court decisions,
* To ensure visits by family members and tutelars on a regular basis, and to put an end to their obstruction by unlawful court decisions and disciplinary penalties,
* To ensure that applicants are granted the right to regular phone calls with their families and relatives in parallel with the establishment of visitation rights,
* To ensure that all obstacles to communication with the outside world and their lawyers by letter, telegraph and fax are eliminated,
* To ensure that the de facto or illegal practices related to the denial of newspapers, magazines and books are stopped,
 * To take coercive measures to eliminate torture, inhuman and ill-treatment conditions and incommunicado and to ensure that the procedures set out in the 10/2 Convention article are followed immediately."