Öcalan: Everything depends on your struggle
Kurdish leader Abdullah Öcalan said in a meeting with his brother: "Everything depends on your struggle. If you do nothing, the isolation and bloodshed will continue. Nobody will come and solve the problem for you."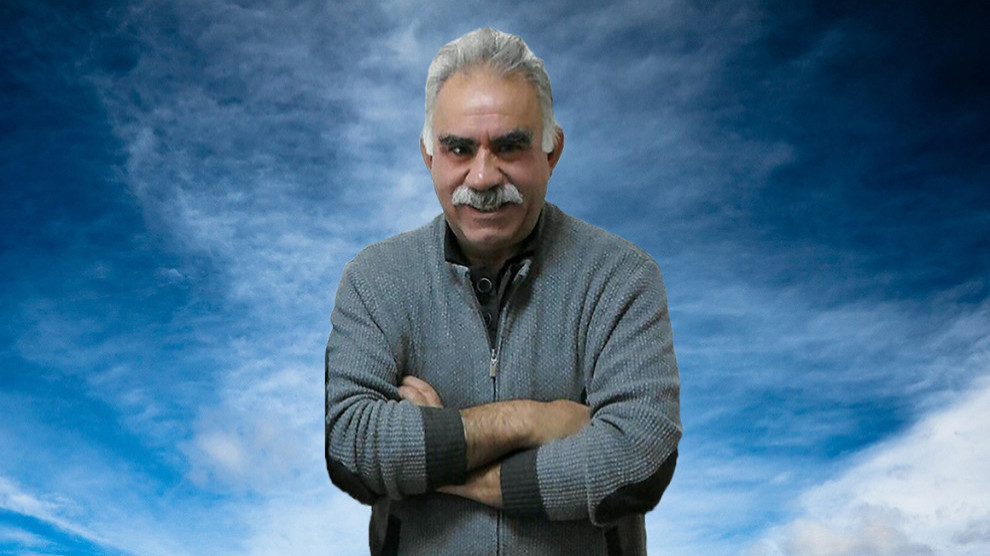 Abdullah Öcalan was able to meet his brother Mehmet Öcalan on March 3rd. His fellow prisoners Ömer Hayri Konar and Veysi Aktaş also received visits from their relatives. The fourth prisoner Hamili Yıldırım did not get a visit because the family member was ill.
Mehmet Öcalan spoke to the Mezopotamya news agency (MA) about the meeting with his elder brother on the prison island Imrali and said the following:
"For about eight months no meeting could take place. Every two weeks, we submit requests for visits to the Chief Prosecutor's Office in Bursa through our lawyers. However, we do not receive a reply or various reasons [for the refusal] are given. After the fire on the island, our application was accepted.
Inhumane searches
On Monday (March 2nd) we were informed and told through the lawyers that we would be taken to the island. This is how we came. Me and the brothers and sisters of Ömer Hayri Konar and Veysi Aktaş went to the island. We were searched at the police station in Gemlik. It wasn't normal, but let's say normal. The search was carried out in a very humiliating way. As a human being, I don't accept that. It's immoral and not good for Turkey or the state. I am a 69-year-old man. It's the same with the others. Even if I were young, it shouldn't be like this. When we entered the island, the second search came. I believe it's called a second liaison office. As far as I can tell, it is in the hands of the gendarmerie (military police). A very nasty search was made. This is not a situation that a person can accept. One cannot bear it. But we have accepted it inevitably. At the second search, everyone was there. Officers, soldiers with black sunglasses and everyone was armed. It resembled an atmosphere of a state of emergency. Everyone was there. We had to endure a very bad search. This group came with us from the moment we left the boat until the second search point. Everywhere was swarming with soldiers and guards. We accepted this search compulsorily. Otherwise, as they know, nobody would accept such a search. It was inhuman.
After this search we entered the prison. There was no intensive search in the prison. A normal search was conducted. First the other two were taken away, I was kept outside for the time being. I waited about ten minutes. Then I was called. At this search point I was asked several times to pass the x-ray screening. This was harassment. I said, "Even if I go through it a hundred times, it'll beep. Afterwards we moved for the visit. I was the first one called into the visiting room. There was the old table. It's a big table. They said to me, "Sit down. But I didn't sit down, I knew the chairman would come soon. I waited a few minutes. As they went in and out, I knew the chairman was coming. He came in and said, without shaking my hand: 'I've been informed. You probably have a fever. You have a cold.' That's why we didn't shake hands. He sat on the south side of the table and I sat on the north side. The chairman said to the guard, "We can probably talk for an hour and a half, right? But he didn't say anything. We finally started talking.
He asked about the opinion of the people
The chairman asked: 'Why have you come, on what grounds have you come? I said, "They said there was a fire going on here. The people and the institutions have taken democratic action. I suppose that's why they let us come here. He said, "Yes, but it didn't affect us. Then he said, 'I'm going to ask you some things. You'll tell me the summary.' Anyway, it was mainly the chairman who spoke. He asked what the people outside think about the solution of the Kurdish question and the problems in the Middle East and what they think who can solve these problems. He wanted me to answer without comments.
A three-legged table does not fall down
I said: 'Eighty to ninety percent of our people in the Middle East and the region say that if this problem is to be solved, only Leader Öcalan can solve it'. He said, "Yes, I know that too. This is our issue. We have to be strong to solve the problem in the Middle East. Then he went into details. He went into detail about Rojava and the democratic institutions in Turkey. He also said, "I guess the HDP congress took place. And I said, "Yes, they held a congress. The turnout was very big. A lot of people came to the congress from abroad as well. The congress went very well.' The chairman said this in particular: 'I now explain to you this. If you cannot be a force in the region, look, in Turkey there is a table with two legs. In your association there are also left movements. There are mainly the Kurds. There are also other peoples. You have to be a pillar too. You have to be a force there. If the table has three legs, it will not fall down. A two-legged table is always doomed to collapse no matter how hard the system tries to protect it. Therefore, our formation, the Kurds, is the third leg which is created by growth.'
"They should serve the people"
For half of the conversation he commented on the democratic institutions. The chairman said: 'The persons, the personalities must not serve themselves, they must serve the institutions and the people'. He sent his best regards to the newspaper. He said: 'Strengthen the media. Contribute to it. I send very, very many greetings to my friends in the media. They should strengthen both the magazines and the TV stations.'
"All must fight for this people"
I said that the HDP held its congress, participation was high and the protocol was strong. He sent greetings to the old and new co-chairs and wished them success. He said: 'I assume that the party (HDP) is the strongest institution among democratic institutions. The party is strengthened through labor. It becomes stronger as it works. It does not get stronger with slogans. You see my situation, don't you? I've been working for fifty years. Whoever is in the institutions for his family, for himself, for his relatives and uses the values, when I hear that, I never forgive it. This people have paid a very high price. Everyone should fight for this people. Not only for the Kurds, there are many peoples here. If all peoples unite, you can become a force. That's the way to find a solution. At this age, I am working day and night. I am looking for solutions. I do nothing for myself. But we made a promise to this people. This people have paid such a high price. For 50 years, we've worked. There are values. We have paid a very high price. If you become united and strong, you can solve the big problem. No one will come and solve the problem for you. You are the main power of solution. The Party is not the property of personalities. Not even of persons.' Through this evaluation, I understood that he was watching the party very closely.
Rojava in the whole of Syria
He made comments on Syria. There are Arab tribes in Rojava. The chairman said: 'Give them all my greetings and my respect. Also give my greetings and respect to the staff in the institutions there. Those who work in Rojava are very valuable. I congratulate them on their work. They are doing a sacred work. I wish them success. Turkey is sometimes on America's side and sometimes on Russia's. That's no solution. It can't be a way out. The solution, the way out is this: The entities in Rojava must be a force within the whole of Syria in an even broader sense. That is necessary for the unity of Syria. The formation in Rojava is for the unity of Syria. If the formations there, the Kurds, Arabs, Armenians, Christians, do not represent a force, they cannot guarantee the unity of Syria tomorrow. The strategy in Syria is very right. I extend my respect and greetings to all those who labor and work hard there, without distinction.
"You must be a force to solve problems"
Regarding a solution, the chairman said: 'If you become a force, you can solve everything.' I said to him: 'The repression continues in an intensive form. You say that something should be done outside, but in Turkey this possibility no longer exists. The chairman said: 'You can still do the following: You have to strengthen your institutions. If you work well, you can achieve results. Work well, what does that mean? Service not to individuals, but to society, to the people. This is how the struggle works. You know me well, Mehmet. Look, you know how I fought. I even fought against my mother. I fought against her when I was seven years old. You know that very well.' I said, "Yes, I know. That's how you did it.' The chairman said: 'Everything goes with fighting, with the right fight. You have to be a force to solve these problems. You can solve the problems in the Middle East and - let's call it by name - the Kurdish question in this way. If you are not a force, nobody will solve the problem. We are talking about a table; the table in Turkey is a two-legged one. You have to become the third leg. What's that? With strength. If you do that, it will. It will work if you work. Yes, a table is needed and that goes with serving the people and working.'
"You all have a part to do"
The chairman knows us. I haven't said anything. Yes, perhaps his body, his physical existence is on Imrali Island, but in his mind he is with us. He knows what we do and how we work. Let me give you just one example. He said to me: 'You too can do something in your surroundings in Urfa. All of you have a task. It is not possible to retreat and sit down. You too can do work and services there. You will do it and so will your friends. There are these villages and our friends. There are these Turkmen. Give them all my greetings.
Everyone should do what they can
The chairman said: 'I salute all those who are fighting against isolation in Rojava, Bashur, Rojhilat and Europe. Where there are Kurds who have fought against isolation, I congratulate them for their struggle. My health is very good. I know how to live. You see me, how am I doing?' As far as I could see, he was doing well. His health and morale were good, too. He said, "I wish you success. I said, "Will there be another meeting? He didn't answer my question. He said, 'Everything depends on your struggle. If you make progress, everything will be resolved. But if you don't, it will go on. Both the isolation will continue and the bloodshed will continue. ...so let everyone do what they can."