Öcalan in Rome: An Italian internationalist remembers
21 years ago when Abdullah Öcalan stayed in Rome for a few weeks, thousands of Kurds came to the Italian capital. An internationalist remembers the atmosphere of that time, which no prison can destroy.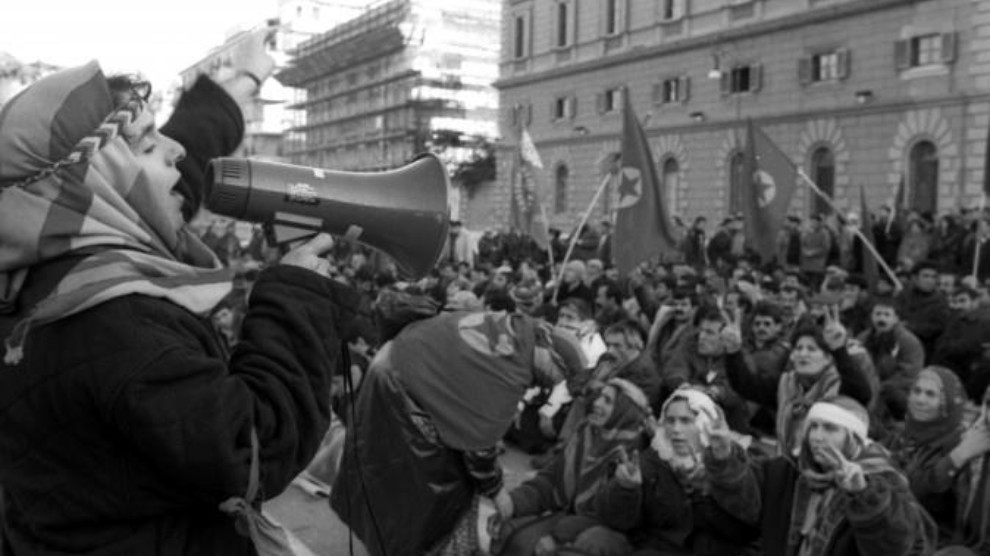 Abdullah Öcalan stayed in Rome for a few weeks 21 years ago after he left Syria on 9 October 1998. From Syria, Öcalan flew via Cyprus to Greece and Moscow. On 12 November he travelled on to Italy, accompanied by an Italian Member of Parliament, where he was arrested on the basis of a German arrest warrant. During this period, thousands of Kurds living in Europe travelled to the Italian capital.
After the German Government waived an extradition request on 23 November, Öcalan was released from house arrest in December 1998 and left Rome in January. On 15 February 1999, after leaving the Greek embassy in Nairobi (Kenya), he was abducted to Turkey in an international secret service coup.
Italian artist Chiara Mu was in Rome at the time and remembers the days in "Piazza Ocalan":
On the occasion of the 21st anniversary of the arrest of Abdullah Ocalan, which happened in Nairobi, Kenya on February 15th 1999, I would love to share with you what the word "Ocalan" means to me; it is in fact a word besides being a name. I am an Italian artist who was politically active in Italy in the Nineties and I was in Rome when "Apo", as Ocalan is called, arrived on November 12th 1998, after travelling away from Syria and looking for a country willing to host him as political refugee. The Italian government back then was led by the only left-wing prime minister (Massimo Dalema) we have had since World War II and there was a legitimate possibility for Ocalan to obtain the status he needed. He was held in the military hospital Celio in Rome until January 16th 1999. Within this time, consistent political pressures from the EU, USA and Turkey forced the Italian government to push Ocalan away, although only the Italian judiciary could declare him a political refugee, as it did in the end but too late; he was already away and unfortunately captured.
I recall driving recklessly in the evenings, trying to avoid the typical traffic jam of the city centre and finding a not-so-legal parking spot to squeeze in my very old Ford car in the square in front of the Celio Hospital. The very first day I saw that huge square occupied by tents, cars, vans with foreign licence plates and people, so many people, coming mainly from Germany and other parts of Europe to support Apo, I was amazed. No one expected that human avalanche of Kurdish people, made of women and men of all ages, wearing colourful scarves, looking at everyone with bright, open eyes and singing, dancing, making tea, talking to each other and to anyone willing to listen, making sure that the square was truly never asleep. I spent many nights in that square, renamed by Roman activists Piazza Ocalan (Ocalan Square) and later known as Piazza Kurdistan. I used to come out of work and run there, to see how things were, to spend time together in front of the fire during long and cold nights, helping when was needed, bringing food, participating in this extraordinary time made of a joyful collective effort to tell a man that his struggle was clearly not only his own, that his struggle signified theirs, in the name of that freedom and independence they never had before.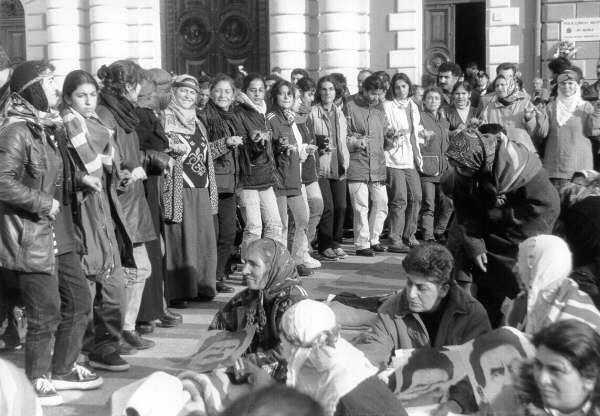 As an internationalist activist, I was accustomed to take part in mass protest to support different causes which I found close to my political thinking, such as the Palestinian fight for recognition and the Chiapas Revolution in Mexico. My political involvement with this emergency was a perfectly rational act; I felt I had to be there to be true to my ideas and myself. But what happened in Piazza Ocalan was a different matter which I discovered only by experiencing it. I had the personal chance, my first time, to connect with very different people from my culture and my personal history; I was gifted by this event to appreciate diversity and otherness as a feeling. I was enchanted by the dignity and the openness that the Kurds displayed in being there, so far away from home and for so long, embracing their leader and themselves without giving up to despair or anger.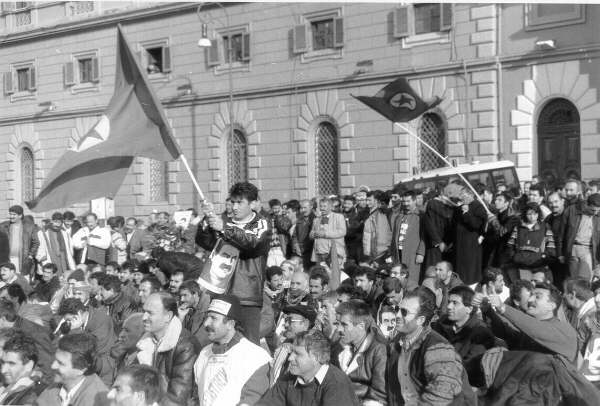 After the New Year's celebrations, things became more difficult; it was clear that the Italian government was not able to face the International front against Ocalan's stay, plenty started to go back to Germany and the City Council applied pressure on the remaining Kurds to vacate the square. The political organization I was part of (C.S.O.A. Snia), together with others, mediated with the Police; we offered to host the few hundreds Kurds that didn't want to leave until Apo's situation was clear. We welcomed them into the building (a disused ex-fabric complex) that we occupied as our headquarters. We had huge indoor and outdoor spaces to fill; we made endless beds on the floor inside, organized tents for fires and gatherings outside, we made lots of tea for the Ramadan days and we made sure everyone was safe. We constantly surveilled the area, keeping fascists and police out of the way. We protected and defended each of them, feeling that ours was indeed a very little contribution to such a huge fight.
I recall the day Ocalan left Italy and the night after, when we put the last of our Kurdish friends on the buses to go back to their homes. I recall crying while looking at them moving away, disappearing after the traffic lights, during another endless, cold night.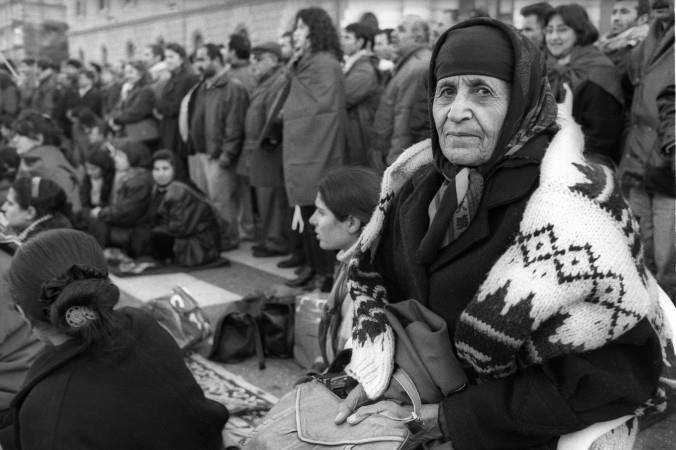 When Ocalan was captured in Kenya, I was part of the mass protest that happened a few days after, which started with the bombing of the closed office of the Turkish Airlines in the main Roman square where we gathered (Piazza della Repubblica). I was there, my friends were there, I didn't physically do it but I was involved in witnessing and supporting this act together with my comrades. I saw policemen pointing their guns at protesters; I was, like everyone there, very, very angry with the Italian government and the International community. Many were arrested in the days after, carrying on for a long time this sense of despair and anger and above all, of absolute helplessness. "Ocalan" for me is a word that contains all the ones I used in writing this memory. Above all, it means a permanent, long embrace; the same that holds Kurdish people's hearts with the hope and the freedom that no prison can diminish and delete, and that grows day by day with the sharing of their truth.
Source: Komun Academy
Photo Credit: Simona Granati