A political prisoner's letter to humanity: "Where is your voice?"
Murat Türk, a former guerrilla fighter from Kurdistan, was arrested in 1995 and sentenced to life in prison by a Turkish court. For two months, he has been on hunger strike to protest the prison isolation of the Kurdish representative Abdullah Öcalan.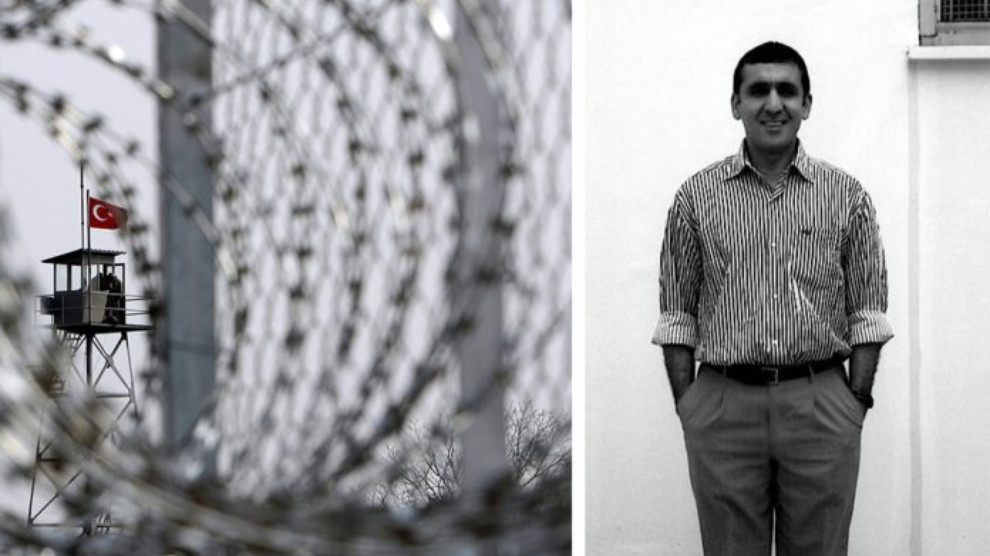 Murat Türk, born 1976 in Amed (Diyarbakır), is a former guerrilla fighter from Kurdistan. 24 years ago, he was imprisoned by the Turkish state. Ever since, he has dedicated his life to literature. Murat Türk spent his childhood and youth in the Bağlar neighbourhood, a bastion of Kurdish resistance against the Turkish state. In 1992, he joined the armed Kurdish liberation struggle and went to the mountains. He was arrested in 1995 and sentenced to life in prison by a Turkish court. His brother Cemal Türk (nom-de-guerre Xebat) joined the guerrilla after his imprisonment and fell in the Qandil mountains in 2000.
Murat Türk's first novel 'The time of blackberries' was written in the high security prison of Bolu and was published first in Turkish in 2012 an then in the Kurdish dialects Kurmancî and Soranî and later also in German. In 2015, the second part of this trilogy was published in Turkish. His short stories and articles have been published in many newspapers and magazines. Three of his short stories received awards. They are part of his book Köprüdeki Düşman (The enemy on the bridge), written in the Turkish language and published in 2013.
Today, Murat Türk is jailed in the T-type jail of Ödemiş (province Izmir). For two months, he has been on hunger strike to protest the prison isolation of the Kurdish representative Abdullah Öcalan. Started by the Peoples' Democratic Party MP Leyla Güven in November 2018, more than 7000 people inside and outside Turkish prisons have joined the ongoing hunger strike movement.
In counties where democracy permits a variety of forms to express one's demands, hunger strikes are often stigmatized.  The mass hunger strike protest against the isolation however illustrates that there is no longer any room for free political activity in Turkey. In particular in Turkish prisons, the hunger strike ought to be understood as a last act of protest after the prisoners have exhausted all other means of making themselves heard.
The following letter by Murat Türk, titled "Where is your voice?" describes the background of the ongoing hunger strike and criticizes the dominant ignorance towards this movement. The letter first appeared in the daily newspaper Yeni Özgür Politika.
Where is your voice?
Our words address your souls, which have transformed into dark caves.
Is not life itself a matter of meaning?
Artists, writers, intellectuals, academics, journalists, democrats all those, who carry a conscience…
Our words address you!
Why is your conscience so relaxed?
Where is your voice?
Those of you, who live in spaces that have been opened with revolutionary sacrifices, who live with the opportunities that were created with the sacrifices of the march for freedom, why are you so blind, deaf, and mute?
Our words are not for the silence of attitudes that base themselves on simple drives. They do not address those, who have nothing better to do than to turn their time into lust and pleasure with their sinister-turned consciences.
Our call is made for those with souls in which the fire of freedom is burning, for those, who are full of life joy and meaningful ambitions for humanity.
Ever since Leyla Güven has started her hunger strike, you have sat down for your meals at least 500 times. The hunger strike has long surpassed its critical phase. I write these lines now in the presence of Serhat Güzel, Mehmet Kaplan and Uğur Çiçek. These three friends of ours, whose hearts are full of love for humanity, have been fighting for freedom since their childhood. They have never done anything for themselves. They have not demanded anything for themselves. Whenever they ate, they did so to fight more strongly. Now they have been on hunger strike for four months, for 120 days. They starve in order to enable a better life for us. For your dignity, for your rest. For society to live in peace and fraternity.
Not only Uğur, Serhat and Mehmet, but the most beautiful, selfless, humanist and modest children of this society are dedicated to your happiness with love. Can you feel it?
Without any concerns, without blinking an eye, their bodies are now dissolving.
Listen to this cry that pierces the conscience!
Listen, raise your voice, let the echo grow! May freedom come true for all of us!
Are the ears of your hearts deaf?
If the hunger strike were to end now, you will have only prevented deaths from occurring. But because you have arrived late, you will not be able to prevent the fact that an entire revolutionary generation will be confronted with disease and disability for a lifetime.
It no longer suffices to stand up only in the mind. Do not suffocate your voice, your future.
How could your conscience be so clean?
Did the meaning of humanity die in your souls?
Where is your voice?
Why did you lose your voice?
Hundreds of revolutionaries have been on hunger strike for months. Only by way of daily special treatment, they manage, albeit through struggle, to get up on their feet. How many meal tables have you laid in the past months? How many bites have you taken into your bodies?
None of our friends started the hunger strike to deliver themselves to death. On the contrary, they started this action in order to break the absolute nullity, the dark and cold silence that is imposed on our society, and to resurrect the souls at the verge of death, who are struggling for survival. These prisoners are the human beings with the widest idealist universe. Their spiritual depth has the greatest dimensions. Second by second, they melt away for freedom and purity, in order for people to live with dignity and happiness.
Where is your voice?
When someone loses their aim for freedom and more generally their idealist values, he or she goes silent.
To fight and to lend one's voice to those, who resist, is the most wonderful among the acts that give beauty to a person.
Resistance is a stance that even exceeds worship. Resistance means to light the torch of freedom in the souls of those, for whom the cave turned into a grave.
Even if you remain silent now, your silence and this current phase have created an enormously resisting, revolutionary generation. This generation is ready to feel every pain of yours – even the thorn that pokes your fingertips- like a bullet in their own hearts.
This should make all of you happy!
SOURCE: KOMUN ACADEMY