Demos in Sweden against the Turkish invasion
The attempt by AKP-MHP fascism to invade Rojava is met with reaction in Sweden.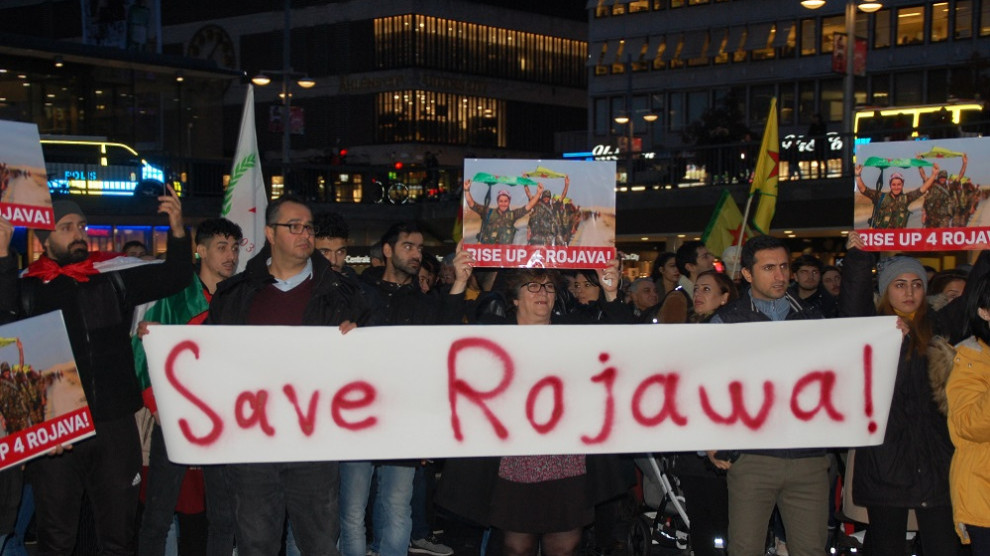 On Wednesday evening, thousands of people flocked to the squares in Stockholm and Malmö, condemning the Turkish state. 
STOCKHOLM
Kurds and their friends continued their uninterrupted actions for 3 days in Sergelstorg Square in the city center on Wednesday evening.
Kurds from the four parts of Kurdistan joined the demonstration.
Girin Kasırga, co-chair of the Stockholm Democratic Kurdish Community Center, recalled that thousands of YPG / YPJ guerrillas lost their lives during the resistance against the occupation of ISIS mercenaries in Rojava.
"They fought and defeated ISIS to provide a better future for the people of Rojava. We will not let the Turkish state darken our future."
Senadik Öner from the Stockholm Democratic Kurdish Cultural Center said in his speech in Kurdish: "Today is the day of unity, the day of fighting against our enemies together: There is a heavy war in Kurdistan. Our people are dying. We're facing a fierce enemy. Regardless of which party and organization, all Kurds must come together and resist the invaders."
MALMÖ
A demonstration was held in Malmo city center.
Speaking on behalf of the Rojava Committee, Natali Hansson said that the Turkish state started the invasion to prevent Kurds from gaining status and to support the ISIS gangs that were about to disappear.
Recalling that ISIS mercenaries in Syria and Iraq were defeated thanks to the Kurdish fighting them, Hansson accused the US and Western countries of betraying the Kurds.
BORLÄNGE 
A protest march was held in Borlänge. In the speeches made during the action, while calling for solidarity with the Kurds, activists called on Turkey to end the attacks.