Harutunoyan: Turkey's goal is the annihilation of the Armenians
Turkey supports Azerbaijan because it wants to wipe out the Armenians. It is not stopped because the great powers are pursuing their own interests, says Anna Harutunoyan, a Ukrainian journalist living in Armenia.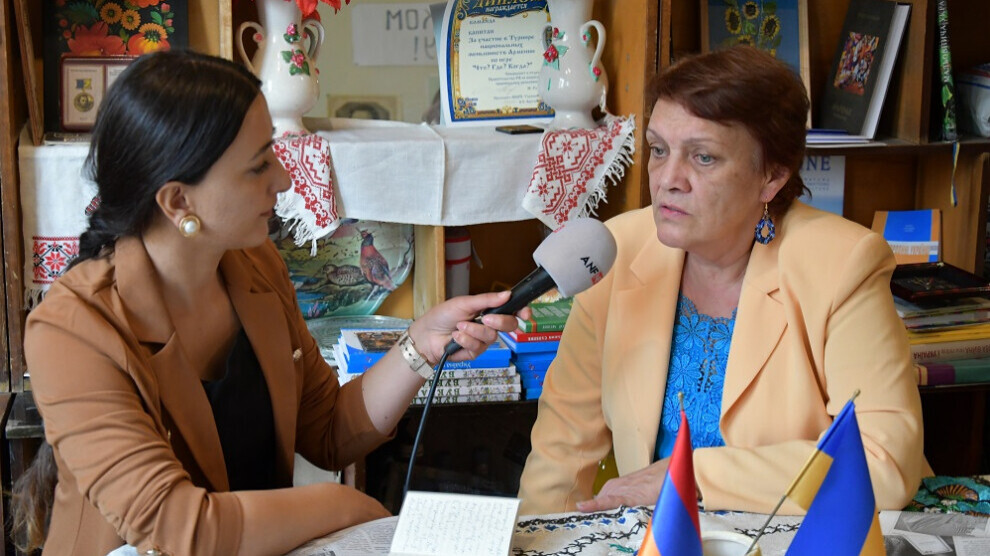 The fighting in Nagorno-Karabakh (Artsakh), which began with the attack of Azerbaijan on September 27th, supported by Turkey, continues. Stepanakert, the capital of the Republic of Artsakh, has been bombed for days. Anna Harutunoyan is an editor of the Dinevpirov newspaper and chairwoman of the Ukrainian National Association in Armenia. She spoke to ANF about the war between Azerbaijan and Armenia.
Armenia is a wall between Turkey and the Muslim states in the Caucasus, says the journalist and continues: "This situation prevents the implementation of the Turkish state's plans in the Caucasus. The aim of this war, which Turkey is supporting with jihadist mercenaries, is the annihilation of the people of Armenia and domination in the Caucasus. The long duration of this war shows that the big states are also involved. Because they were involved in the planning of the war, they have not yet shown the necessary attitude."
Jihadists in Azerbaijan: A big mistake
Anna Harutunoyan points out that Azerbaijan is attacking Armenia with Turkey's jihadist mercenaries: "There is a difference between the armies of two countries waging war against each other and the use of mercenary groups. The use of jihadists reveals an illegal practice. In my opinion, Azerbaijan made a big mistake when ISIS jihadists were brought into the country to be used in the war against Armenia. These jihadists will become a plague to the whole region. They have a dirty mentality, their aim is looting and massacres."
Harutunoyan points out that: "Russia remains silent on the attack on Artsakh. This shows that Artsakh is not part of the territory of Armenia. Yes, a referendum was held in Artsakh, but it was not recognized at the international level. Therefore, the problem in Artsakh has not been solved until today, there has been war and chaos for years. Russia, because of its own interests, is silent about the attacks of the Turkish state, but in my opinion this situation is not permanent. Russia knows Erdogan's intentions and what he seeks to do. The President of Ukraine has declared his support to Azerbaijan, but we know that every state pursues its own interests. As Ukrainian people living in Armenia, we do not share the views of the President of Ukraine. We support the people of Armenia. This war must be stopped, the problems must be solved through dialogue".
The journalist stresses that the Turkish president Erdogan wants to control the entire population of the region: "Erdogan should know that these people live here for centuries and have a history. They cannot be simply destroyed. The Turkish state has created enemies everywhere. On one side it attacks Armenians and Kurds, on the other side Libya and Syria. With these attacks it wants to establish itself in the region. We also support the demands of the Kurdish people for their rights. Because the Turkish state has been attacking the Kurdish people for years, oppressing them and committing massacres."
RELATED NEWS: