HPG: Seven soldiers killed in heavy fighting in Muş
At least seven soldiers were killed in clashes between Kurdish guerrillas and Turkish military units in Muş. Guerrilla commander Aso Ferzad was martyred and a guerrilla fighter was taken prisoner.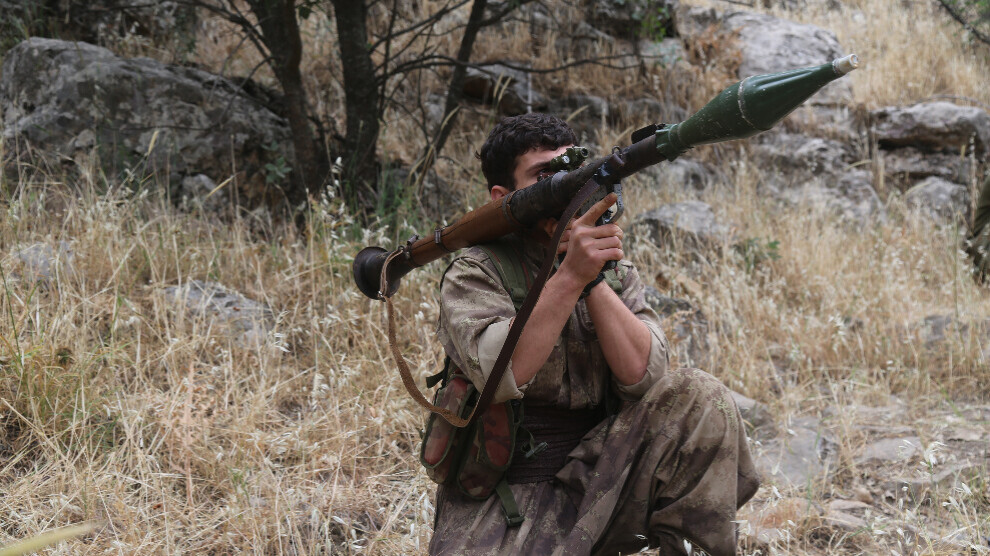 According to the People's Defence Forces (HPG), at least seven Turkish soldiers were killed in fighting in the northern Kurdish province of Muş. The clash occurred on 18 November during a military operation in a rural area in the district of Varto. Guerrilla commander Aso Ferzad was martyred in the course of the clashes and another HPG member was taken prisoner.
The personal data of the fallen guerrilla fighter is:
Nom de Guerre: Aso Ferzad
First-Last Name: Seyîd Perendek
Birthplace: Rewanser
Mother's-Father's Name: Tuba – Ali Muhammed
Date and Place of Martyrdom:  18 November 2022 / Muş

According to HPG, Aso Ferzad was born in the eastern Kurdish town of Rewanser near Kermanshah to a family deeply connected to the Kurdish resistance. "The fact that his family belonged to the Caf tribal federation, which entrusted many of its sons and daughters to the ranks of the liberation struggle, played an essential role in the maturation of his consciousness of patriotism from an early age," the HPG wrote in an obituary for Aso Ferzad. "The social culture of Caf and its attachment to Kurdistan played a very significant role in shaping our friend's aspirations for a responsible approach to his family, his environment and his homeland. Comrade Aso despised the colonial states' policy of assimilation and resettlement. He realized early on that without the struggle against it, there could be no achievements for our people and saw it as his own legacy of resistance to lead the struggle of those who came before him. Aso Ferzad followed the path already walked by the martyrs, and which he already knew from the many epics written by our heroines and heroes."

Aso Ferzad joined the guerrilla ranks in the mountains in 2012. He gained his first practical experience in combat in Qandil, and later spent time in almost all regions of the Medya Defence Zones. He completed several ideological and military training programmes and developed into an accomplished and exceptionally disciplined guerrilla fighter early on. "He masterfully succeeded in applying modern-day guerrilla tactics," according to the HPG. He went to Northern Kurdistan as a commander and took a leading part in numerous guerrilla operations and offensives against the Turkish army. "Comrade Aso was one with the spirit of national unity and resisted the enemy on all fronts of Kurdistan from the south to the north. He will always be remembered as a companion who carried on the legacy of the dignified flag of Qazî Mihemed and Qasimlo. Now it is up to us to carry this flag to victory," HPG stressed.
The HPG expressed their condolences to the relatives of the commander Ferzad as well as to Kurdish society, adding, "We promise to defend the free life that the fallen gave us and to realise our common ideal of a free Kurdistan."
The HPG statement also gave details of the current war in the guerrilla-held Medya Defense Zones in southern Kurdistan (northern Iraq). The guerrillas struck the Turkish occupation troops with heavy weapons twice on Sunday in the resistance area of Çemço in Zap. The action by mobile guerrilla teams left at least two soldiers dead. A similar action by guerrillas took place at Girê Cûdî in Metîna at about the same time. It is not known whether enemy troops suffered casualties as a result of the action.
On the other hand, HPG reported continued air and ground attacks by the Turkish army in guerrilla areas. On 4 December, HPG recorded one attack with prohibited bombs in Çemço and five air strikes with fighter jets at Girê Cûdî and in the Şehîd Bêrîtan area in Xakurke. A total of 28 bombardments by combat helicopters were recorded in Saca, Şehîd Fedakar, Kurojahro and Girê Amêdî. Dozens of attacks with tanks, howitzers and heavy weapons were carried out in the areas of Çemço, Sîda, Girê FM and Girê Amêdî.