MIT networks reveal Turkish activities in northern Syria
Cell members captured during by Internal Security Forces made confessions, revealing that Turkey's intelligence service MIT instructed numerous crimes including assassination, bombing attacks, smuggling and counterfeiting in North-East Syria.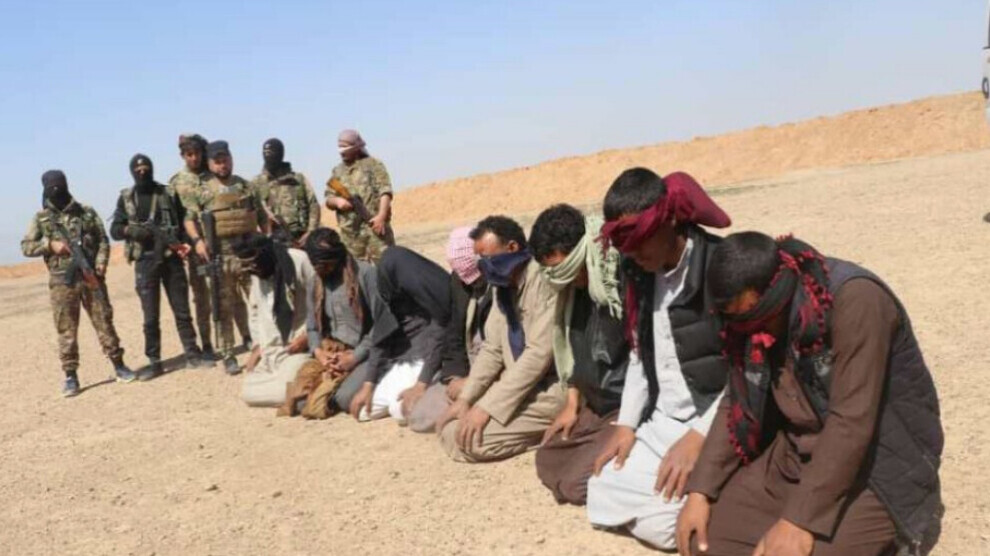 The Turkish state does not only carry out invasion attacks to achieve its irredentist goals in North and East Syria. It also organizes assassinations against important figures in the region through the cell structures it has established by recruiting FSA-ISIS-MIT members. These cells target the institutions and infrastructure facilities of the Autonomous Administration. MIT also involves in fake currency transfers and smuggling. The resources and ammunition required for all these crimes are gathered in occupied regions such as Serêkaniyê (ar: Ras al-Ain) and Girê Spî (Tal Abyad).
Individuals named Ebu Ömer and Emel Muhammed Ali İsa convey the instructions of the MIT-ISIS organizing centre established in the areas under the Turkish occupation to the cells in North and East Syria. Financial support to the cells, which use Turkish phone numbers, is carried out through Turkish wire companies. ANF ​​ obtained the confessions of the captured ISIS-MIT members.
Ahmed Abdulhamid Al Merdud: I was born in the Bukemal region of Syria. I joined ISIS in 2017. After receiving Sharia and military training, I took charge in a mosque. Then we moved to Baxoz, Bisera, and then to Raqqa. A MİT employee named Abdullah Ahmed El Cuma, whom I knew from Bukemal, offered me to work on behalf of the FSA. He was working in a cell affiliated with the MIT and FSA.
Abdullah Ahmed Al Cuma: I am from the Bukemal region of Syria. Mohammed Al Cuma asked me to work with a cell called Cindul Firat. He asked me to take pictures of military points and vehicles. I was getting paid for what I did. They asked me to kill military fighters and commanders. Muhammad El Cemi (Muhammed El Rixati), who stayed in Turkey, gave instructions to me.
Hasan Ali Muhammed: I am from Ain Issa. A MIT employee named Emel found me. Together, we were smuggling mines from Serêkaniyê and Girê Spî to the cells. I was taking the mines brought by Emel to Raqqa. I was also taking Emel to Raqqa illegally. Emel was seeing her husband Serhan in Raqqa.
Nadir Muhammed Saruh Halil: Emel asked me to join groups affiliated with the Turkish state. My first task was to distribute fake 100 dollars at Emel's request. My second task concerned the mines that Emel brought. My third mission was murder. At some point, we were in a house and Emel asked me to bring her a drink. There was a man inside when I brought the drink. I saw him for the first time. When I approached to tell them that we were late, I saw them lying side by side. I thought that they had sexual intercourse. Then I realized that Emel had stabbed the man. Later, Abu Omar called and congratulated me, saying that he organized the actions. As my fourth mission, they asked me to place a bomb at a gas station. On my fifth mission, I sent a mine and silencer to the ruins behind the house of a MIT member named Salih. They sent me money and a cell phone from the regions under Turkish control for my activities.
Serhan İsa Avni: I was involved in the MIT-ISIS cell activities through my wife Emel Muhammed Ali İsa. We were taking the instructions from Abu Omar. Emel brought me a gun in a black bag and asked me to take it to an address in Raqqa. They gave me $300 for doing that. I brought ammunition, including mines, several times. They asked me if I knew someone reliable. I said that I had my nephew, Ala Ibrahim Hasani. I called Ala and explained what was requested. I told him that I would go to Girê Spi in a few days. If a package came, Ala would receive it. When I went to Deir ez-Zor, they contacted Ala and sent 3 mines. My wife Emel was constantly traveling to and from the regions under Turkish control. The centre in Girê Spî-Serêkaniyê was providing instructions for us.
Ala Ibrahim Hasani: I am from Raqqa. My task in the cell was the transfer of mines and ammunition. My uncle Serhan Isa incorporated me into the cell. Serhan Isa is a member of the Turkish intelligence. He met a man named Abu Omar. A woman called me and said that "we have something for you from your uncle."  When I went to the address that the woman gave me, I was given 3 mines in a bag. The name of the person who brought the mines was Hasan Ali Muhammed. Abu Omar was calling me with his Turkish phone number and giving instructions. I was taking pictures of the mines I was taking and sending them to Abu Omar.