Murat Karayilan: The PKK cannot be crushed
Murat Karayilan, a member of the PKK Executive Committee, said that the PKK cannot be crushed.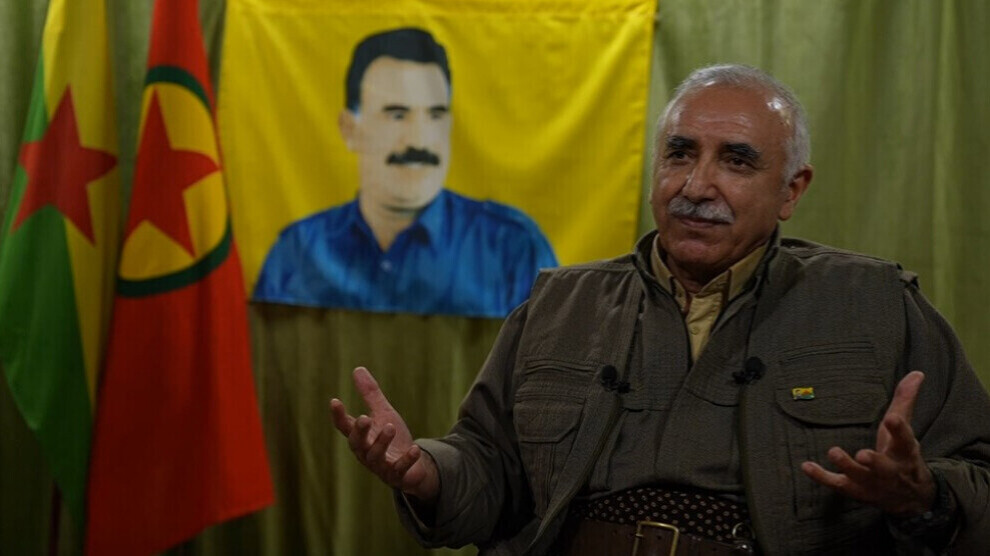 We publish here the second part of the interview with Murat Karayilan, a member of the PKK Executive Committee. Part one can be read here.
What is your comment on the role of the KDP? A foreign power occupies the country and the KDP participates in this occupation. What can you say about that?
The KDP should be asked this question, because we don't really understand it either. It shouldn't have been like this. When the Turkish state created this concept, it was not a hidden concept, it was very open about what they wanted to do. The Turkish state said we have a survival problem, it's a war for existence and non-existence for us, and that's how it started. Our aim in this process was to react as a whole; all Kurdish forces together in the form of a common policy. It was less about a common struggle and more about a common position and mutual protection. In 2013 a meeting was held on our initiative, a step was taken for a Kurdish National Congress, but then this effort was stopped. We wanted to discuss it again, and our movement met with many forces. Two further talks took place with the KDP. I was present at the two meetings in 2015 and 2016. As already mentioned, Turkey has developed a new concept. Turkey's new strategy is dangerous for the Kurdish people. We said that we should be partners and that there are only simple problems between us. If problems arise between us in Rojava, in Shengal and wherever, our delegations can sit down and discuss them. We agreed on that at the meeting. Then the delegation should have been convened, but no date was set. We realized that when the KDP met with us, they also met with Turkey. In this process, too, it became clear that the KDP had chosen to trade with Turkey and not with us. This has led to a split in Kurdish politics. We do not want this situation to deteriorate further and continue for many years to come.
The Turkish state also liquidates collaborators
I want to underline five points here. First: the KDP representatives should know that the Turkish state relied on Kurdish collaborators in the fight against the Kurds in both the Ottoman and Republican eras and subsequently liquidated them. In Dersim, for example, some tribes resisted while other tribes sided with the state. But when the resistance was broken, all were exiled. The Turkish state eliminates the Kurds who work with it after its job is done. For this reason, no matter how much the Barzani family is now collaborating, Turkey will one day also be against them. This is the first fact.
Second: If there were no PKK, the Turkish state would not take any Kurds seriously. That too is a fact. The Turkish state would not have established any relations with Başûr [South Kurdistan]. In the past there were no relationships, it only started with our appearance. Then Rêber Apo was captured and the Turkish state said that the PKK was finished. As a result, the relationships were gradually reduced and made a red line. As our struggle intensified again, the Turkish state resumed relations with the KDP and the Başûr movements and officially abolished the red line. That's a fact. Now he is occupying Başûr and it is clear that this occupation is with the consent of the KDP. No one can remove the Turkish state from the places where it is currently based. Because the Turkish state has a different style. He never leaves the place he enters. And that endangers the future and the status of Southern Kurdistan. 30,000 soldiers of the Turkish army are now stationed in Bashur. We say that this policy endangers the future of the population of South Kurdistan. It even poses a threat to Iraq.
Thirdly, there were big massacres in Bakur [North Kurdistan] as well as once in Bashur. We have been fighting this state for 50 years. So far we have suffered more than 40,000 casualties and there are over 10,000 prisoners. Our chair, Rêber Apo is currently in Imrali prison. With our resistance we want to get the Turkish state to find a solution. The situation is clear. If the Turkish state really wants to be friends with the Kurds outside its borders, with the Kurds of Başûr, it must first recognize the identity of the Kurds living within its borders. As long as the Turkish state denies the Kurds within its borders, it cannot be friends with the Kurds outside. That's a fact. We want to find a solution, but the contribution that the KDP is making to the Turkish state is also blocking the way to a solution for Bakur. In other words, the KDP prevents us from weakening the state and forcing a solution. She helps the state in every matter. It helps the state to crush the guerrillas. If the state destroys the guerrillas, it will commit genocide across Kurdistan. The KDP makes a mistake. What does it mean to provide so much support with logistics, intelligence, encirclement, road closures and everything else? We didn't expect that much, so the KDP should explain itself.
The PKK cannot be crushed
Fourth, everyone should know that the PKK cannot be crushed. The PKK is an ideological movement. This ideology has spread to millions of people. Millions of Kurdish women and youth, as well as Kurdistan's neighbours, from Arab to Turkish people, defend this idea. We don't know why the KDP is countering millions of people. Will the enmity against millions be forgotten? It will not be forgotten. There was a war among us Kurds before, from 1992 to the 2000s. We wanted to close this chapter and have made great efforts to ensure that Kurds never go to war against Kurds again. That was the decision of our leadership and our movement. The PKK is an idea, the PKK is politics, the PKK is society, it has millions of people. Why is the KDP making enemies? What is their interest in it? What agreement has they reached with Turkey? We really don't understand. We should also point out that the KDP will not gain anything from this, but it will suffer.
Fifth: We are in the 21st century. The world has evolved and problems are solved in dialogue. The Turkish state and the other occupying powers in Kurdistan say that the Kurds are not a nation, they are tribes who fight each other and do not make common policies in the interests of the people. Isn't our mutual approach shameful for Kurdish politics? Isn't it a shame that the US is mediating so that the ENKS and the Autonomous Administration can come together in Rojava? Don't we have minds of our own? There are many embarrassing and shameful situations right now and we want to change that. These kinds of policies may have worked for the KDP in the 1980s and 1990s, they may have been a basis for recovery, but no longer. The year is 2022 and we are in the digital age. The world now knows everything. How long can governments survive that stand against society and rely only on money and military might? The KDP should turn back, because in order to survive in this country we must have a common strategy as a nation.
What can be done in this situation? What should the public do?
We are at war and the situation is critical. We don't like to talk like that, but our people and friends should know that the situation is critical. It's not about who has how much power and who doesn't. It is about the gains of the Kurdish people in this historic and fragile process. We have a cruel enemy in front of us who wants to play off the Kurdish forces against each other in front of everyone. This is incompatible with the interests of the Kurdish people.
We have no expectations of any state or power and are only attached to our people. I therefore call on all Kurds to take responsibility for this situation. The resistance in Zap, Avaşîn and Metîna affects all Kurds and people from all parts of Kurdistan are fighting there. If we defeat the enemy there, all Kurds will become stronger, and this is especially true for Başûr. This resistance must be supported, and those who do not support it should not oppose it and denounce it to the enemy.
If I weren't a Kurd, if I were an impartial person, I would support those who are fighting all of this with their own means. We are wronged. People should have a conscience, a certain honour.
Is there anything you would like to say to end this conversation?
We are going through an extraordinary phase and the next three months in particular are very important for the guerrilla war. Because the enemy wants results, and we want results as well. We need support for this. It is not for nothing that we speak of a struggle for existence, a war of to be or not to be. That's the reality. Therefore, everyone in this process should do what they can. Young people should join the guerrillas, women, patriots, everyone should do their job. This period is a very important time in the history of our struggle and we want to win in the process. We believe in ourselves and if we stick to the previous ways and methods, we will be successful. Five months of resistance made victory inevitable. But of course nothing comes by itself. We need to make more effort and get more involved in this process. If that's the case, I believe we will have great victories during this time. With this in mind, I wish everyone every success.