People of Amed worried for soaring cost of living
The people of Amed (Diyarbakir) said that they had suffered from the economic crisis and that those below the poverty line were collecting leftovers in the markets.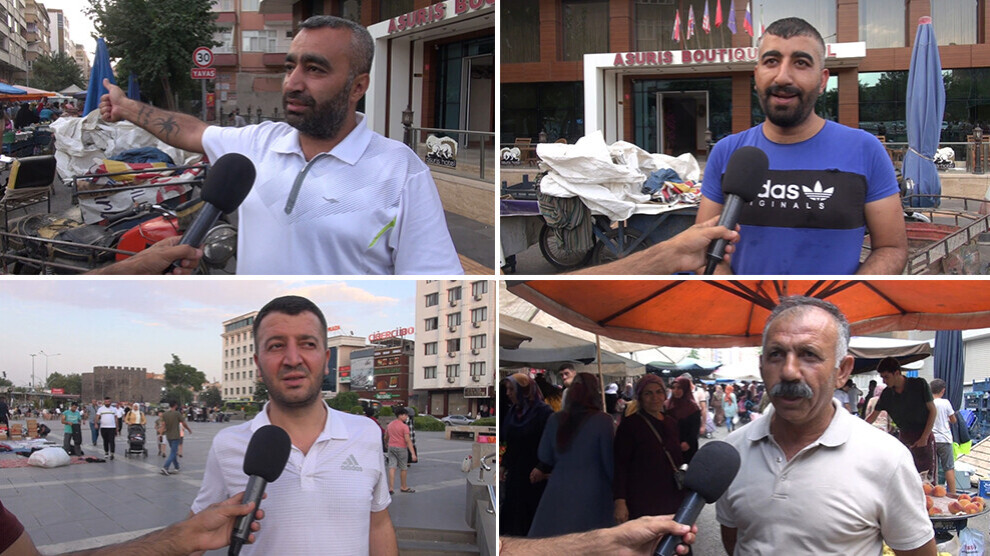 People in Kurdistan and Turkey are going through a major economic crisis due to the policies of the Turkish government. Shopkeepers, public workers, tenants and workers complain about being hit by the soaring cost of living. The AKP-MHP government is deluding public opinion in order to conceal the negative effects of the economic crisis.
People in Amed spoke to ANF about the economic problems they experienced in the market and at home.
EVEN SELLERS IN MARKETS CANNOT BRING VEGETABLES TO HOME
Rıdvan Taş: The economy has gotten worse in recent years. We see people collecting rotten vegetables and fruits from markets. Personally, I am very uncomfortable with this situation. The economic crisis has hit citizens so badly that when İş-Kur (Turkish Employment Agency) wanted to hire 1,350 new workers, 13 thousand people applied. As you can see, people expect sellers to lower prices in the market towards the evening hours. Even sellers cannot bring fruits and vegetables to their own homes.
NO PEACE AT HOME
Veysi Kaplan: We can no longer live as we wish. I am 35 years old. Some time ago, I went to work as a hazelnut collector. After that, I went to a cornfield to work. Since the employer could not pay my wage, he gave me corn in return. Now I'm trying to make money by selling them here on the market. We cannot find peace even at home because of unemployment and lack of money. I believe that the recent surge in divorce cases stems from the economic crisis. Government officials claim that the economy is good, but I don't believe them. People are now collecting garbage.
WE HAVE TO DEFEAT ERDOGAN IN THE NEXT ELECTIONS
Şükrü Üner: We cannot do shopping; the crisis is very serious. People are suffering from it. Tayyip Erdogan sold everything. When there is nothing left to sell, he puts the blame on people. We have to defeat him in the next elections. Let someone else rule the government. A man cannot rule the country; he works for the rich, not the poor. He does nothing but plunder state sources.
THEY EVEN TAX OUR BREATH
Kadir Şeker: Due to the economic crisis, tradesmen cannot sell their products. Consumers only ask for the prices they don't buy. Prices are surging continuously. We're tired now. We are about to close our shop. Because even the breath we take has been taxed. There is no business in my store until noon. We are in a very difficult situation as the government does not provide anything. We even lost hope. Our goal is not to be hungry and not to be needy.