Polls show sharp jump for Sinn Féin as elections near
Sinn Féin could see a breakthrough in the 26 Counties as polls show a sharp jump in support for the party and a corresponding decline in support for the main party of government, Fine Gael.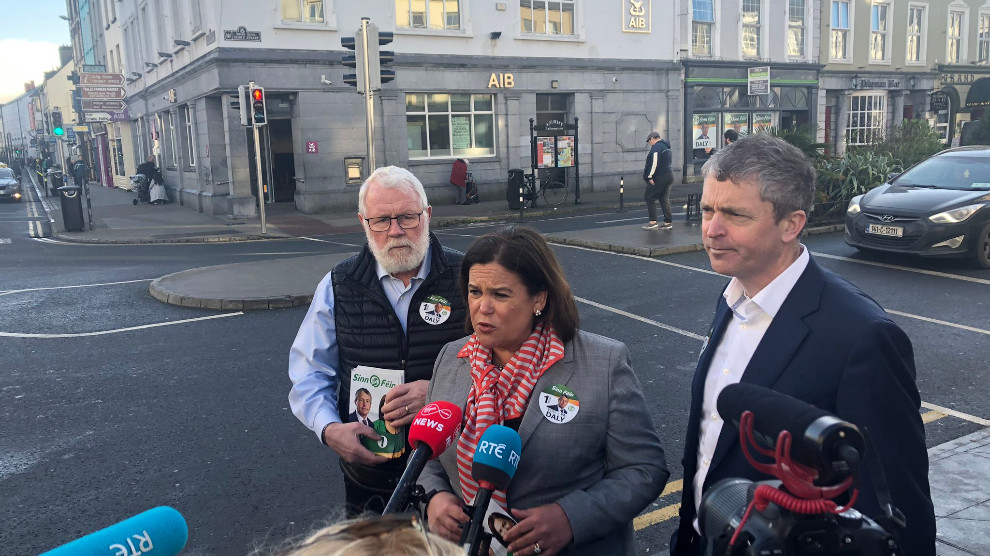 The Irish Times/Ipsos MRBI poll shows support for Sinn Féin, led by Mary Lou McDonald, has jumped by seven points to 21 per cent, a figure which is in line with another poll published for the Sunday Times.
The polls also show Fine Gael down six per cent, putting them behind their 'supply and confidence' allies in government of the past four years, Fianna Fáil.
The elections in the Republic of Ireland will be on Saturday 8 February. 
It has been a successful campaign start for Sinn Féin, who have set out incisive policies on pensions, housing and health, and put forward by the party's most trusted politicians, Pearse Doherty and Eoin O Broin.
There was a strong public welcome for Sinn Féin's call to overturn the hike in the pension age to 67 brought in by previous right-wing governments, who had the goal of reaching 68, the highest in Europe. At a time of immense public wealth for Ireland's elite, the unsupportable policy was exposed by Sinn Féin, and all of the main parties have now been forced to suddenly revise their positions on the issue.
The issue has also brought a tangible boost for Sinn Féin ahead of the election as it captured more than a 20% vote share of the 50-64 age demographic for the first time, according to the Irish Times/Ipsos poll.
Another policy to gain significant attention for the party is a plan for the largest public housing building programme in the history of the 26 County state, with 100,000 new homes, as well as a rent freeze and a rent tax rebate. The party has also vowed to deliver childcare as a public service and as part of a national health service.
When undecided voters are excluded, the state of the parties compared to three months ago, is:
Fianna Fáil – 25% (no change) Fine Gael – 23% (down six) Sinn Féin – 21% (up seven) Labour – 5% (down one) Green Party – 8% (no change) Solidarity-PBP – 2% (up one) Social Democrats 2% (up one) Independents/others – 18% (no change)