Swiss politician Rémy Pagani: The PKK is a resistance movement
Geneva Canton Parliament member Rémy Pagani said that it is hypocrisy for Europe to keep the PKK on the 'terror' list, adding, "This decision means partnership with Erdogan's dirty war against the Kurds."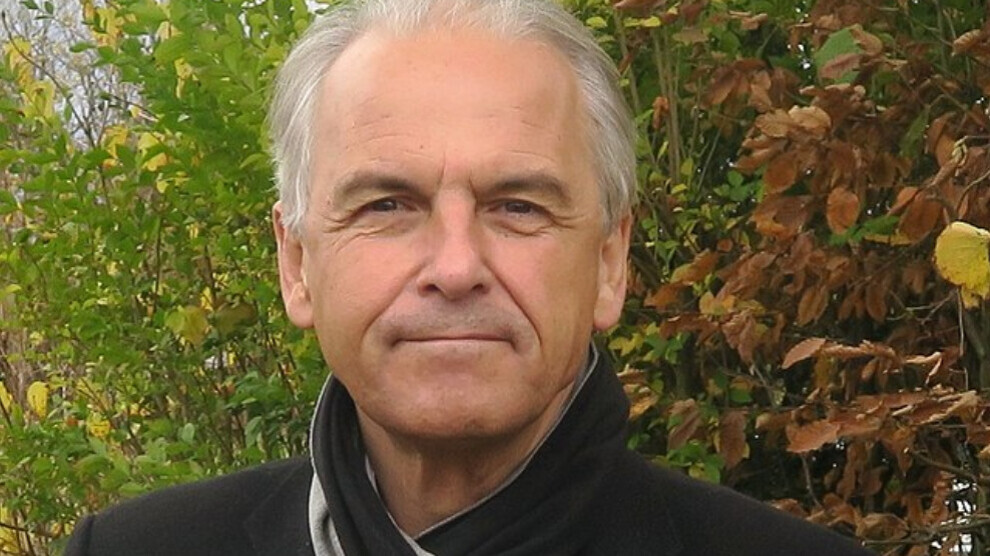 Rémy Pagani, the former mayor of Geneva and a current member of the Geneva Canton Parliament, spoke to journalist Serkan Demirel for Medya Haber.
As a politician, you have been following the Kurdish question closely for a long time. How do you evaluate the Kurdish policy of the Turkish State?
First, I would like to point out that the minority in Turkey is actually the Turks, while the Kurdish people constitute the majority, and at the same time, Turkey's proletariat. Despite this fact, the denial of the Kurds is a big problem, and when the denial of the existence of the Kurdish people led to the emergence of an armed struggle.
As you know, the Turkish state is currently waging a war against the PKK in North Iraq and against the Kurdish people in Rojava. How do you evaluate Turkey's aggressive attitude towards the Kurdish people?
This stance of Turkey is completely wrong. To explain this, I would like to go back a bit and cite the history of Spain, namely the Basque Catalan problem. Currently, Basques and Catalans can speak their own language. We can also cite the case of Switzerland, where are four official languages. Each community in the country has managed to live together by respecting the language and culture of the other circles. While it is possible for different identities to live under equality, the Turkish administration, which constitutes the Turkish bourgeoisie, prefers to fight the Kurds, banning their language, culture and identity.
The Turkish state still arrests hundreds of Kurdish politicians, the democratically elected Kurdish deputies, and puts them in prison. The Kurdish people's most basic right, the right to self-government, is denied. All this is unacceptable and criminal.
On the other hand, we see a democratic system implemented by the PKK, especially in Rojava, which can set an example for Europe as well. It is very important that women are at the centre of this system.
The Turkish state disrespects this democratic system which is implemented under the leadership of the Kurds and is increasing its attacks against the Kurdish people.
'EVERYONE KNOWS ABOUT ERDOĞAN'S PARTNERSHIP WITH ISIS'
As you know, the Kurds fought and defeated ISIS, which posed a huge threat to the world. Yet, Europe and NATO prefer to remain silent about Turkey's plan to invade Rojava today. How do you evaluate the attitude of the international community?
For me, this attitude represents the hypocrisy of the USA, that is, of the West. The West needed the Kurds to eliminate ISIS, which posed a major threat to itself as well. Thanks to the Kurds, this terror threat was eliminated. However, the same West allows Erdogan to attack the Kurds who have been fighting ISIS. This attitude of the West is unacceptable.
Currently, over 10 thousand jihadists are held in Rojava prisons. It is claimed that these prisoners will be released in the event of a Turkish occupation of the region. What would you like to say in this context?
About two years ago, I went to North Iraq, namely Iraqi Kurdistan. I observed that Erdogan made a series of economic agreements with the regional administrators, and he also supports the ISIS remnants in that region. Erdogan's relationship with ISIS is not new anyway, and this is known to everyone. In this sense, Erdogan considers the PKK as an obstacle against himself. Considering Erdogan's policies and his dirty relations in the region, if Turkey invades Rojava, it will release all jihadists over there. Everyone should be aware that these detained jihadists constitute a major fascist force and is dangerous.
I also visited Shengal during my visit to the region. The traces of the massacre carried out by ISIS are still fresh. The people of Shengal fear that there will be further massacres.
So, do the international powers and community not see this danger or are they not aware of it?
Erdogan continues to wage a dirty war against the Kurds by taking advantage of the war in Ukraine and his role in this war.
Erdogan threatens the West by saying, "If you want the grain crisis to be resolved or if you want Sweden to be accepted into NATO, you will not interfere in the war I am waging in the region, especially that against the Kurds, and you will even support it."
Erdogan clearly seeks to destabilize the region and to stay in power by taking advantage of the Ukraine-Russia war for his own expansionist policy.
Considering all this, I believe that Erdogan should leave the power immediately.
'ERDOĞAN REGIME IS A DICTATORSHIP'
Why do you think the Erdogan government should be removed or how do you evaluate this regime?
First, I should point out that the Erdogan regime is a purely dictatorial system. It is a dictatorship that seeks to arrest any member of the opposition.
For instance, why is the former Mayor of Diyarbakır, Gültan Kışanak, in prison? I followed her trial at court. The grounds for her trial and arrest are entirely based on her services as a mayor. I also served as a mayor, and I committed all the crimes she was accused of, here in Geneva. Despite these baseless accusations, Gültan Kışanak is still held in prison. If this isn't a dictatorship, then what is it?
'ERDOĞAN IS A THREAT TO EUROPE AS WELL'
Do you view Erdogan as a threat to Europe as well?
Yes, Erdogan is a real threat to Europe. He is a threat, especially in that he seeks to destabilize Europe. With the Russia-Ukraine war, we saw how Europe came to the brink of a conflict.
Erdogan could do even more dangerous things. He could change his strategy for an instant and support the people who will spread terror in Europe. It is very possible that he does so for his own interests.
What he does currently to get re-elected is an indication of that. For example, he arrests deputies in a way that has never been done in Europe.
For example, Spain arrested the Catalan politicians who initiated the Catalan independence referendum and declaration. This situation affected the whole of Europe, but European countries did not react much.
If NATO member Turkey, namely Erdogan, arrests parliamentarians, people will think that this is normal. We should clearly say that someone like Erdogan should not come to power. And we should take action so that democracy is genuinely respected in Turkey.
Do you think that the stance of NATO and Europe supports Erdogan's policies?
Erdogan manages to manifest his opposition to the destabilization of the Middle East and supports Israel for his own interests. He pits one group against another through hypocritical policies.
Apart from these, Erdogan is a loyal ally of NATO. The military bases of the USA in Turkey demonstrate this. There is also the Cyprus problem. Unfortunately, Erdogan manages to keep his dictatorship in power by taking advantage of all these.
We know that Erdogan mobilized ultra-nationalist Turkish groups against opposition groups in Europe at certain times. For instance, three Kurds were killed in France recently. The Kurds claim that the killings were organized by the Turkish state. What would you like to say about this?
I myself have been subjected to pressure from these groups. Before going to the trials of some trade unionists and politicians in Turkey, Turkish consular officials warned me not to go to Turkey. I went anyway. It is a fact that the ultra-nationalist group called Grey Wolves is acting in a dark way in Europe. Some Turkish authorities do not hide their affiliation with them.
'ERDOĞAN COMMITS A WAR CRIME AGAINST THE KURDS'
If we go back to the war waged by the Turkish state in Kurdistan, the PKK released videos it released proving the Turkish use of chemical weapons against PKK guerrillas. How do you evaluate it?
I read from interviews in the press that Erdogan's army used banned chemical weapons. Moreover, when I went to Iraqi Kurdistan, I had the opportunity to talk to Kurdish fighters. For example, drones detect everything alive in the area and bomb those areas. They also kill civilians in these attacks. Unfortunately, Kurdish fighters do not have weapons to counter drones. In this sense, these attacks by the Turkish state constitute a war crime.
We went to Iraqi Kurdistan to inspect these war crimes of Erdogan on the ground, but unfortunately, they did not allow us to go to the conflict zones.
'PKK IS A RESISTANCE MOVEMENT'
As you know, Europe and many countries keep the PKK on the list of "terrorist" organizations. How do you evaluate this?
This is a two-faced policy and serves the purpose of various power circles. NATO does not want a Kurdish autonomous region in Turkey, as in Iraq. Also, they do not want the Kurds to unite in their divided lands. Therefore, they support Erdogan's war against the Kurds by keeping the PKK on the terror list.
I think that the PKK is a resistance movement and consider it such. Thanks to this resistance that has been going on for decades, the Kurdish lands in Syria were liberated and Rojava was built. Today, a democratic system in which women rise to prominence has been built in Rojava.
'ÖCALAN'S ISOLATION TURNED INTO TORTURE'
As you know, Kurdish Leader Abdullah Öcalan has been kept in severe isolation for a long time. How do you evaluate this?
I condemn the isolation implemented on Mr. Öcalan and I believe that everyone should condemn it. For nearly two years, neither his family nor his lawyers have heard from him. He has been kept under severe conditions for many years.
And with the latest practices, Mr. Öcalan's isolation has turned into torture.
Previously, I visited some prisons in Turkey with delegations. Prisons in Turkey were built as psychological torture centres. You can't see anyone but the guardians. It's like hell. I visited massive prisons in Colombia where 2500 people are held, and I can say that those prisons have more humane conditions than Turkish prisons.
'ÖCALAN SHOULD BE FREE'
What would you like to say about the role of Öcalan in resolving the Kurdish question?
In my opinion, the time will come when we find solutions to the Kurdish question. Erdogan tried to resolve the Kurdish question back then, and there were political talks with Öcalan and the PKK. However, when he realized that the peace process would not be to his benefit, he abandoned his desire for a solution. A solution to armed conflicts around the world has always been found. I believe that the time will come when Mr. Öcalan becomes an actor to resolve the Kurdish question.  
Wouldn't it be very difficult for him to lead such a process under these conditions?
Yes definitely. In the first place, he should be allowed to establish a connection with the outside world and his prison conditions should be improved. He should then be released to lead a peace process as the representative of the PKK.