The Butcher of Raqqa is awaiting trial
The SDF hold Anouar Haddouchi, a Belgian citizen member of ISIS, known for funding the Brussels and Paris massacres and known by the nickname 'The Butcher of Raqqa '. Haddouchi wants to be tried in Belgium.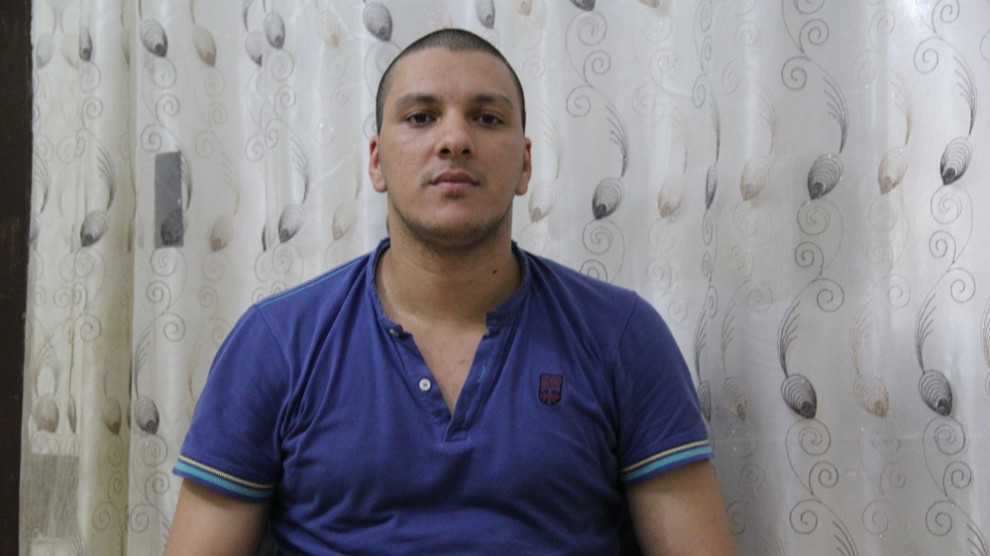 One of the mercenaries captured in Baxoz (Baghouz), the last piece of land occupied by ISIS, was 35-year-old Belgian citizen Anouar Haddouchi.
Haddouchi is in the hands of the Syrian Democratic Forces (SDF) and is known as the 'Butcher of Raqqa'. The terrorist, who has been detained for 7 months, says he wants to be tried in Belgium.
Haddouchi (Abou Souleyman al Belgiki / Abou Abderrahman), whom ANF met in a high-security prison under the control of the Autonomous Administration of North-East Syria, joined ISIS from Belgium in 2014 with his wife and two children.
Haddouchi, who was captured by the Syrian Democratic Forces in Baxoz on 3 March 2019 and has been detained for 7 months, was active in ISIS according to Belgian intelligence reports.
Haddouchi is also known to have a close relationship with Mohamed Abrini, a key figure in the Brussels and Paris massacres and currently imprisoned in Belgium. The same Haddouchi transferred 3,500 euros from his bank account to Mohammed Abrini's account when he was in Raqqa to finance the two massacres, according to information shared by the Belgian Ministry of Finance.
In 2016, the ministry had announced that accounts of Haddouchi and his wife Julie Maes had been frozen.
Influenced by Turkish and Moroccan preachers
Haddouchi grew up in a Muslim family and worked as a taxi driver in Brussels.
He said he had been influenced by Turkish and Moroccan preachers in the mosque he was going to in Brussels. 
In September 2014 he went to Syria with his wife, passing through Turkey.
Repeating a by now known pattern, Haddouchi said: "We went from Brussels to Istanbul, then from there we went to Antep. With the help of the people who welcomed us in Antep, we crossed into Syrian territory. We had no problems crossing the border. Although there were Turkish soldiers along the border, we went to Syria without any problems. The ISIS members, who greeted us on the other side of the border, first took us to a city and then to Jarablus."
Military training in Raqqa
Haddouchi claims that after a short stay in Jarablus, he was taken to Raqqa where he received military training in a camp there. He added that him and his family began to live in Raqqa.
Haddouchi did not give details on where he fought or which roles he had within ISIS, and when he is reminded that he is known as 'the Butcher of Raqqa' he just smiles. 
After the liberation of Raqqa
Haddouchi said that after Raqqa was liberated by the SDF, he first moved to Meyadin and then to the region of Deir Ezzor, but refrained from telling about the massacres he was part of, even though he was captured in Baxoz.
Haddouchi admits that ISIS has carried out many massacres against civilians but said there were carried out under the Shari'ah law. Although he served in ISIS for 5 years he said he regrets to have come to Syria and joined ISIS.
Haddouchi wants to be tried in Belgium
Haddouchi said he wants to return to Belgium with his wife Julie Maes and their two children, who he does not know where they are. "I know well that I will not decide where I will be tried. I am a Belgian citizen and want to return there with my family. If I am to be tried, I should be tried in Belgium."