What happened in Suruç?
Days before the June 24 elections in Urfa's Suruç district, HDP voters were attacked by AKP members. 3 people lost their lives while 9 others were wounded. Chanting "PKK attack" in unison, the AKP media unwittingly made an admission.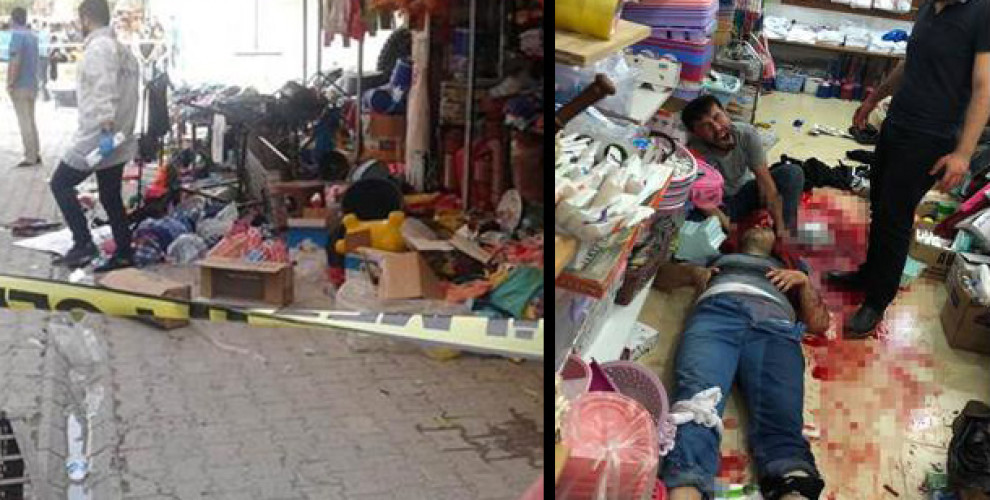 The attack took place yesterday on June 14, Thursday in Suruç, the site of a massacre on July 20, 2015 when 33 people lost their lives and over 100 were wounded.
The Suruç Massacre had been committed after the June 7 elections that year, but this time the attack came before the elections. Guns and rifles were used instead of bombs. The men with the guns were known. The target of their bullets were HDP supporters. This trial-run of a massacre was announced by the AKP media with the same headlines, like it was premeditated and the scenario set beforehand.
Televisions and newspapers called the incident a "PKK attack" in unison, with a script that came from a singular center. People living in this country, people who know this media and this government also know that such stories that come from the singular center in fact amount to admissions and claiming the crime.
WHAT HAPPENED IN SURUÇ?
What happened in Suruç, 10 days before the elections? Eye witnesses and human rights defenders say AKP's parliamentary candidate İbrahim Halil Yıldız went to shopkeeper Hacı Esvet Şenyaşar's shop to ask for votes as part of his election campaign. The same shopkeeper had been subjected to pressure by AKP members for days beforehand. Şenyaşar said, "We have no votes to give you," and the rest of the family who had also been threatened agreed. The MP's brother then slapped Esvet Şenyaşar's brother Celal Şenyaşar, and guns were fired right after. The attackers were the AKP members again. They were campaigning while armed, like thugs or mafia. Their means of convincing people were guns, violence and duress.
KILLED WITH AN OXYGEN TANK IN HOSPITAL
When shots were fired, Haci Esvet Şenyaşar's son Celal Şenyaşar fell to the ground, and he lost his life right there and then. The other two brothers were taken to the Suruç Public Hospital. Haci Esvet Şenyaşar, who had been battered at the scene, went to the hospital for his children and saw AKP Central Executive Committee member, MP and parliamentary candidate Ibrahim Halil Yıldız already there. Yıldız's relatives attacked and, according to eye witnesses, Haci Esvet Şenyaşar was lynched by the hospital's front doors. His son Mehmet Şenyaşar, who had been taken to the hospital wounded, was murdered by being hit on his head repeatedly with an oxygen tank.
MP Yıldız's brother Mehmet Ali Yıldız and one of his bodyguards who were taken to the Mehmet Akif Inan Hospital in Urfa were also reportedly victims to the violence they started.
HOSPITAL CAMERAS DAMAGED
Violent murder wasn't the only crime the AKP members committed. 9 people were wounded during the AKP terror. After the wounded were hospitalized, the hospital's CCTV system was damaged. Local sources say this damage was deliberate, as the AKP members had continued their violent behaviour in and around the hospital.
Human Rights Foundation of Turkey (TİHV) Chairwoman Prof. Dr. Şebnem Korur Fincancı posted a photograph of a damaged camera on her social media account. Fincancı said, "Cameras have been damaged in Suruç, the attack looks deliberate!"
ISIS METHODS: ONE MAN'S THROAT SLIT
There are even more horrific claims. Fincanci posted another message that read, "One of the DBP supporters had his head bashed in with an oxygen tank, another was shot with a gun, and another man was stabbed and his throat slit."
CHP SURUÇ DISTRICT CHAIR: "FATHER AND SON MURDERED IN HOSPITAL"
CHP's Suruç District Chairperson Servet Gören pointed out the violence in the hospital. Gören said Haci Esvet Şenyaşar and his son were murdered in the hospital: "I'm told that İbrahim Halil Yıldız and his brothers entered a haberdashery shop, and when the shopkeeper protested them a gun fight broke out. They attacked. The father and son were murdered in the hospital they were taken to."
IRGIL: DID THE WOUNDED MEN COMMIT SUICIDE IN THE HOSPITAL?
CHP Bursa MP Dr. Ceyhun Irgil pointed out that the attack was perpetrated by AKP members and posed the following questions through his social media feed:
"- Would a man attack a committee visiting his shop with guns?
- 3 people died from the side that supposedly 'attacked', while the 'attacked' have one person dead.
- The alleged 'attackers' were brought to the hospital in a wounded state. So, did they commit suicide there?
TTB: SEVERE SECURITY FLAW IN THE HOSPITAL
Turkish Medical Association (Türk Tabipler Birliği - TTB) issued a statement on the events that transpired in a public hospital and said, "The information that two of the deaths happened in the hospital shows that there is a severe security flaw in the hospital."
HDP ANNOUNCES TWO DAYS OF MOURNING
Peoples' Democratic Party (Halkların Demokratik Partisi - HDP) announced two days of mourning following the attack in Suruç. HDP will not be campaigning in the district for two days.
HDP called on the Ministry of Interior Affairs and the Ministry of Justice for election security and said, "We are calling on the people of Suruç, the democratic public and the whole of Turkey to common sense and composure against provocations."
AKP MEDIA'S SITUATION REVEALS THE PERPETRATORS
News stories on the AKP media following the violent murders in Suruç act as an admission of guilt. The government's propaganda machines who obey the dictator, cover up his crimes and lay the foundation for new crimes wrote in unison that "the PKK attacked".
For people who know this government and its media, the meaning of the following headlines is clear:
Yeni Şafak: PKK attacked AK Party MP
Star: AK Party committee attacked by PKK
Sabah: Treacherous attack against AKP members
Türkiye: AK Party members attacked by PKK
Akşam: PKK bullets at AK Party members
The headline Milliyet used exposed the source of all stories. The front-page news summarized what happened in Suruç with Erdoğan's words: "PKK killed the brother of our MP"
AKP'S MAFIA-MP: İBRAHİM HALİL YILDIZ
AKP MP and MP candidate İbrahim Halil Yıldız's mafia-like dirty practices paint a very clear picture that leaves no room for doubt. Yıldız had attacked a school with 20 of his armed men during the April 2017 constitutional referendum and taken the ballot officers hostage.