What shooters in two Paris massacres have in common
Although their methods are different, there are many points in common between Ömer Güney and William Malet, who murdered Kurdish revolutionaries and activists in Paris on January 9, 2013, and December 23, 2022, respectively.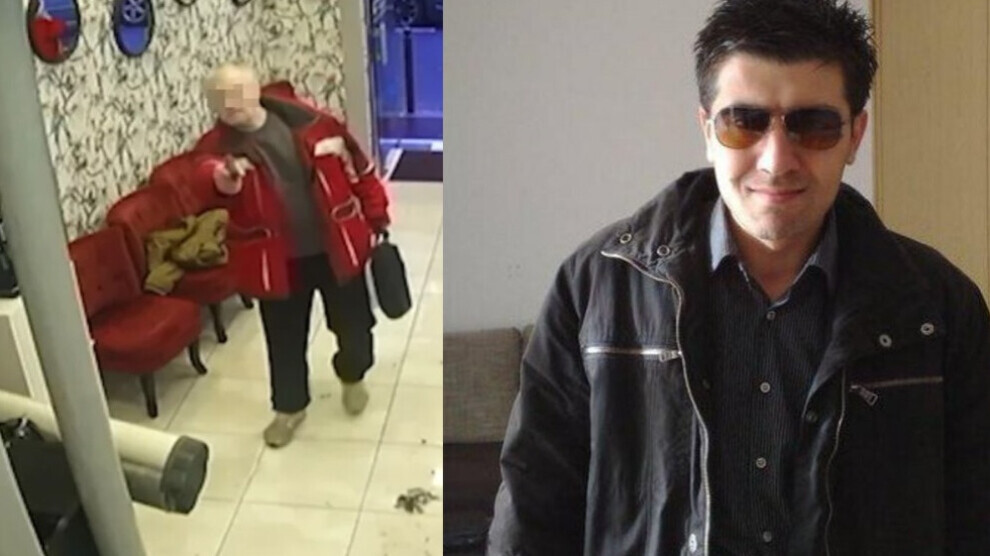 Almost 10 years after the murder of Kurdish women revolutionaries Sakine Cansız, Fidan Doğan and Leyla Şaylemez on January 9, 2013, another massacre of Kurds in Paris on December 23, 2022, deeply affected the Kurdish community and their friends. In the second shooting which shocked the French public, KCK Executive Council Member Emine Kara (Evîn Goyî), artist Mir Perwer and Kurdish patriot Abdurrahman Kızıl were martyred.
The second shooting, which coincided with the 10th anniversary of the triple murder of Kurdish women revolutionaries on January 9, 2013, was organized by the Turkish intelligence MIT, like the first one. While the first shooting was carried out by MIT's hitman, Ömer Güney at the Kurdistan Information Office located near Gare de Nord (North Station) in Paris, the second one was carried out by William Malet in front of the Kurdish Cultural Centre in the Strasbourg Saint Denis district.
The methods chosen in both massacres seem to be similar and there are common features between the two shooters, although one of them is of French and the other of Turkish origin. Here are the common points between shooters William Mallet and Ömer Güney:
THEY DID NOT PREFER TO ESCAPE
After William Malet shot Evîn Goyî, Mir Perwer and Abdurrahman Kızıl in front of Ahmet Kaya Cultural Centre at around 11:40 am on Saturday, December 23, 2022, he fired at a restaurant called Avesta opposite the Kurdish association, then entered the Munzur barber shop which is run by Kurds. He continued to shoot there and was handed over to the police after he was stopped by the customers inside when he ran out of bullets.
Malet was caught with a box of 25 cartridges, a bag with full magazines and a Colt 1911 pistol. He did not choose to escape, although there he had the chance to do that after killing three people. Likewise, Ömer Güney did not run away, although he had the possibility to do so after the 9 January shooting. Güney was handed over to the police by the Kurds like Malet a few days after 9 January.
BOTH ARE PROFESSIONAL SHOOTERS
Shooter Malet said in his first statement that he was racist and hated the Kurds. Güney was known as a Turkish racist in the region where he lived in Germany, unlike the "Kurdish-friendly" Turkish image he created in Paris.
Speaking to ANF after the January 9 massacre, the German owner of the house where Ömer Güney lived in the town of Bad Tölz gave the following striking information about his real identity: "He told me multiple times that 'I am an Ottoman Turk', he was a nationalist and did not like the Kurds."
Güney was 32 when he murdered the three Kurdish women politicians, and Mallet was 69 years old. Despite this age difference, both were professional shooters. Güney did not misfire when he opened fire on Sakine Cansız, Fidan Doğan and Leyla Şaylemez in the Kurdistan Information Bureau.
Likewise, shooter Malet hit all his 'targets' despite his advanced age. He fired a total of 7 bullets. Two bullets fatally hit Evîn Goyî, one Mir Perwer and one Abdurrahman Kızıl, and the remaining three bullets injured those in the barber shop. Like Sakine Cansız, who was murdered in the first Paris shooting, Evîn Goyî, who was murdered in the second, was a leading figure in the women's struggle and spent most of her life in the Kurdish Freedom Movement. The second bullet Malet fired at Goyî at close range after she got injured and fell to the ground is proof that the Turkish state planned an "execution" against this Kurdish female revolutionary.
TRAINED IN SHOOTING GALLERY
In a statement after the December 23 Massacre, the Minister of Interior, Gerald Darmanin, gave striking information about the shooter. Minister Darmanin revealed that Malet had regularly visited the shooting gallery of a sports club and was a "shooter" himself. Likewise, Ömer Güney was a member of a shooting club in Bavaria, Germany, where he lived for many years, and received training there.
Although his friends confirmed that Güney had regularly visited the shooting club, the German police and security units did not carry out any investigation into this club. The shooting gallery in question, which is believed to be located near Munich, still remains a mystery.
BOTH HAVE CRIMINAL RECORDS
Both shooters have criminal records. Immediately after the December 23 Massacre, a prosecutor in Paris unveiled that Malet had three previous criminal records. In 2017, Malet was sentenced to 6 months in prison for possession of prohibited weapons. He was sentenced to another 12 months in prison in June 2022 for committing acts of armed violence in 2016.
While the legal process concerning his conviction was still pending after his appeal, Malet injured two people after breaking into a refugee camp in Paris housing Sudanese refugees in December 2021 with a sword in his hand. Jailed for nearly a year for deliberate racist armed violence, Malet was released on bail on December 12, 2022 with a ban on international travel and carrying weapons.
Likewise, Ömer Güney, shooter of the January 9 Massacre, had a criminal record in Germany. Güney was caught with an unlicensed pistol during a traffic stop in 2005, and in 2011, a forbidden tear spray and knife were found in his pocket. Güney's criminal record, which was not revealed to the public for a long time, was unveiled by the German Ministry of Interior as a result of persistent parliamentary questions introduced by a former parliamentarian of the Left Party, Ulla Jelpke.
FRANCE TOLERATED MALET, GERMANY TOLERATED GÜNEY
Despite his criminal record that included injuries and assaults, William Malet was tolerated by the French security units and not followed after his release. Likewise, no investigation was launched against Güney despite his criminal record in Germany, where he had lived for about 1.5 years until before the January 9 Massacre. Moreover, Güney was involved in some attacks against Kurds in a factory where he worked with Turkish fascist groups.
BOTH SHOOTERS SAID 'THEY ARE SICK'
Shooter Malet told the police that he was psychologically ill immediately after he was caught. When Malet described his illness as "pathological hatred", doctors who examined him concluded that he could not stay under detention. Thereupon, the police transferred him to a psychiatry clinic within the police department on the second day. However, following the objection of a prosecutor, the shooter was taken from the clinic and sent to prison again.
Even though it has been 10 years since, Güney's sickness has always been questioned and has not yet been fully clarified. Güney himself and those who knew him in Germany and France stated multiple times that he had a brain tumour. However, whether he was actually sick or not and the level of his sickness has always remained unclear. Güney died on December 17, 2016, about a month before the January 9 Massacre trial began.
A source that spoke to the French media at the time claimed that Güney, who was kept in Fresnes Prison, had a disease called "legionellosis" due to brain cancer and died of pneumonia in a hospital where he was taken. Güney's lawyers made the following claim: "The condition of the patient who suffered from a brain tumour has deteriorated considerably in recent months. He contracted a lung infection that led to his death." However, the French authorities are yet to announce the cause of Güney's death.