87 journalists will start 2023 in prison
DFG executive Hakkı Boltan stated that 87 journalists will welcome the new year in prison. MKGP Spokesperson Roza Metina wanted society to protect journalists.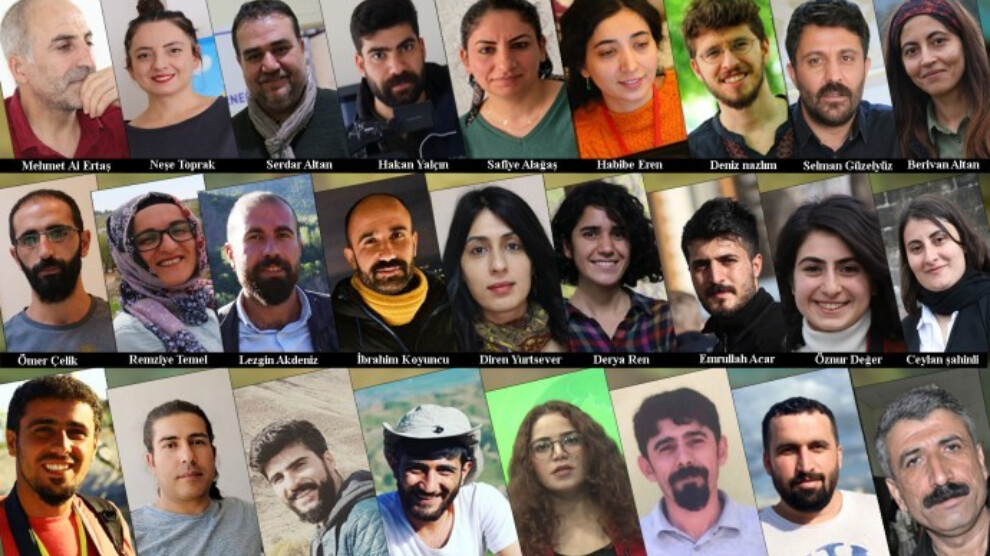 According to the data of the Dicle Fırat Journalists Association (DFG), 87 journalists will welcome the new year in prison. While the repression of the press deepened with the "censorship law", detentions and arrests, especially against the Free Press, continued in 2022.
16 journalists were arrested in Amed on 16 June and the indictment against them has not been prepared for more than 6 months.
On 28 October, 9 of the 11 journalists detained as part of the Ankara-based investigation were sent to prison.
DFG executive Hakkı Boltan and Mesopotamia Women Journalists Platform (MKGP) Spokesperson Roza Metina said that 2022 was a tough year for journalists.
Stating that the pressure on journalists have increased in 2022, DFG executive Hakkı Boltan said: "Journalists face oppression and violence every day. The government does not want the Free Press, which reports on democracy and human rights, and attacks it. Journalists' homes are raided; they are arrested even though there is nothing against them. The government in this way aims at intimidating the journalists who expose its crimes and violations. "Attacking journalists is a classic policy in Turkey," he said.
27 women journalists in prison
Reminding that the attacks on the Free Press are not new, Mesopotamia Women Journalists Platform (MKGP) spokesperson Roza Metina said: "These pressures have increased especially in recent years. The AKP-MHP government is attacking the Free Press in order to control society and not publish news related to violations of human rights and abuse. There is an election coming and the government is attacking to win this election. At the same time, there is an attack against the will of the Kurdish people and women. Women journalists are subjected to sexist attacks and violence. According to MKGP data, 27 women journalists are in prison. In the first 7 months of 2022, there were 161 rights violations recorded against women journalists."