AANES delegation visits French Senate
An AANES delegation met with Senator Pierre Laurent in the Senate building in the French capital, Paris.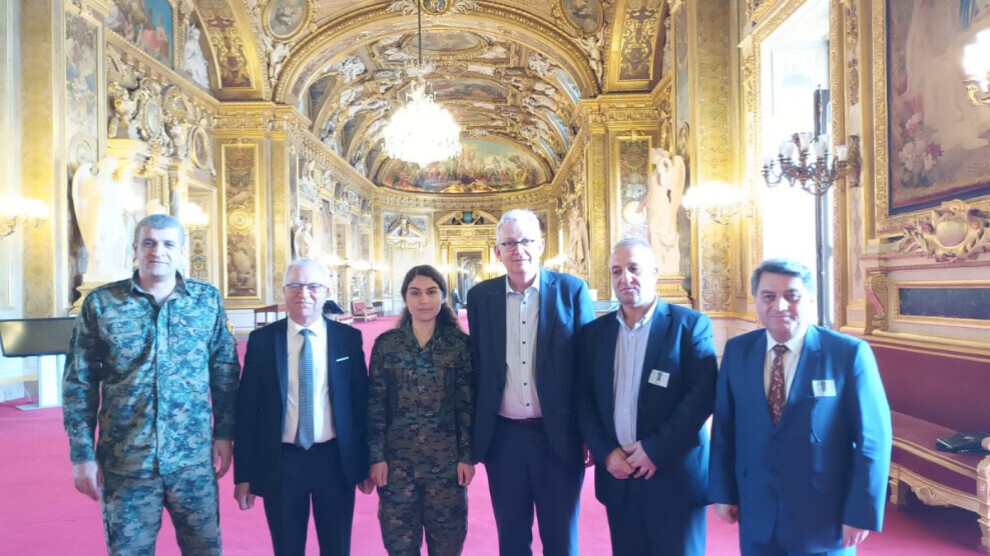 A delegation from the Autonomous Administration of North and East Syria (AANES) paid a visit to the French Senate on Friday.
The AANES delegation was made up of Bedran Çiya Kurd, co-chair of the Autonomous Administration Foreign Relations Department; Abdulkerim Omer, the Autonomous Administration Europe Representative; YPJ (Women's Defense Units) Spokeswoman Rûksan Mihemed; YPG (People's Defense Units) Spokesman Nuri Mahmoud and Autonomous Administration France Representative Xalid Isa.
According to the statement published on the website of AANES, the delegation met with Senator Pierre Laurent in the Senate building in the French capital, Paris.
The meeting dealt with the general situation in NE Syria, and the most prominent challenges after 12 years of the crisis, without any prospects for a political solution, as well as the political, economic, humanitarian and security challenges faced by the Autonomous Administration, and the Turkish threats and attacks that destabilize the region.
The two sides discussed the crimes committed in the occupied areas, including killings, arrests, and demographic changes by mercenaries allied with Turkey, in addition to the killing of four people while celebrating Newroz in Jindires district of Afrin. It was emphasized that France and the international community should assume its responsibilities towards these issues.
For his part, Pierre Laurent affirmed their appreciation for the sacrifices made by the people of North-East Syria against ISIS mercenaries, and offered condolences to the victims of the earthquake and Jindires massacre.
Laurent reaffirmed their support for the Autonomous Administration and the need to strengthen and develop cooperation between the Autonomous Administration and France to confront terrorism and to achieve a peaceful and democratic solution to the crisis in Syria.