CFWIJ: Turkey marks the highest number of threats and attacks against journalists
Seven journalists have been killed and violence against female reporters has almost doubled since the beginning of 2021, according to CFWIJ statement on World Press Freedom Day.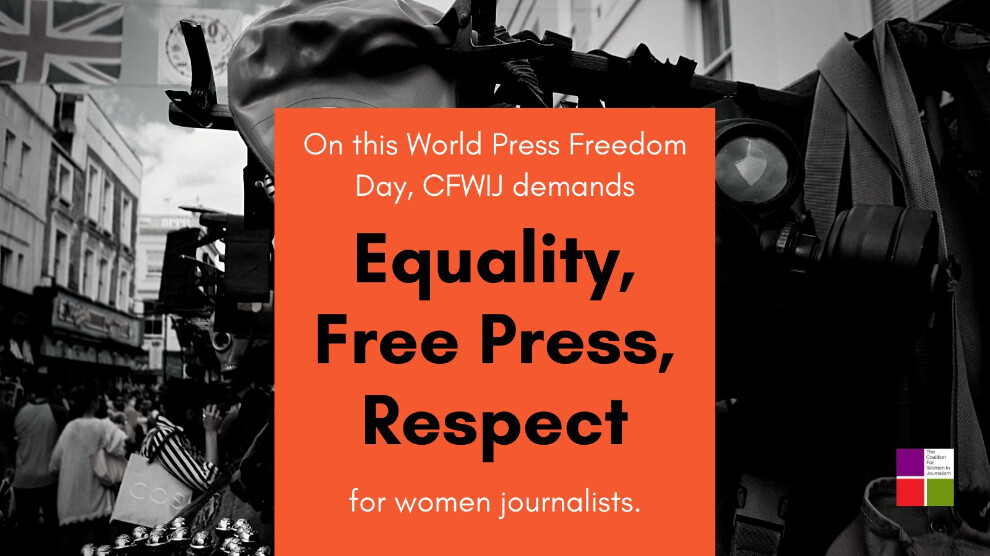 The Coalition For Women In Journalism (CFWIJ) released a statement on World Press Freedom Day as it continues to defend the rights of women journalists document the violations of rights against women journalists, the threats and attacks they face, and the harassment cases against them.
Accordingly, the first quarter of 2021 proved challenging to women journalists yet again, facing more threats when compared to previous years. As in past years, CFWIJ documented several attacks, legal harassment, threats, and rights violations against our colleagues from January to April this year.
"Comparing 2020 to 2021, we observed a 130.34% increase in cases involving women journalists between January and April 2021. So far, we have documented 348 incidents against women journalists in the first quarter of this year. Among these cases were 74 female journalists who appeared in court for allegations relating to their coverage or social media posts."
CFWIJ statement pointed out that since the onset of the Covid-19 pandemic, conditions have steadily deteriorated for journalists. The meaning of press freedom has become increasingly precarious, especially for female journalists.
"The monthly reports we published in 2021 exemplify this disconcerting trend. In January, we documented at least 60 physical assaults, legal harassment, detentions, arrests, and online attacks against women journalists, increasing to 97 in February. In March, with 115 cases, we monitored the alarming violence that female reporters face, which has almost doubled since the beginning of the year."
According to the statement, seven journalists have been killed since the beginning of 2021. CFWIJ documented 45 women around the world who were detained while following the news. Thirty-eight were targeted in organized trolling campaigns, and 37 were attacked while reporting in the field. Thirty-four women journalists were expelled from their jobs regardless of pandemic conditions. Twenty-five were exposed to workplace harassment, and at least 20 women journalists were intimidated since the beginning of 2021. Seventeen female journalists were subjected to sexual harassment, and 16 were physically assaulted. Nine female journalists were sentenced to prison, while eight of them were verbally harassed, and three were targeted with racist attacks. Two female journalists were the target of sexist attacks, four women faced state oppression, and one female reporter was abducted. The perpetrator has yet to be found in the assassination case of a female journalist.
According to CFWIJ, Afghanistan ranks first among the countries where women journalists are most at risk. Three female journalists were murdered in the country since the beginning of 2021. In Jalalabad, Mursal Wahidi, Sadia Sadat, and Shahnaz Roafi from Enikass TV were shot dead. IS claimed responsibility for the attack.
On the other hand, Turkey marks the highest number of threats and attacks against journalists. CFWIJ closely monitored and documented 114 cases of legal harassment, detentions, and attacks in the field across the country. At least 50 women journalists appeared in court to defend the stories they revealed or the posts they shared on social media. In Turkey, women journalists often face defamation or terror-related charges. Three women journalists were sentenced to prison since the beginning of the year.
Oda TV News Director Müyesser Yıldız was among the female journalists sentenced to prison on March 8, International Women's Day. Müyesser was sentenced to almost four years in prison on espionage charges.
Journalists Şehriban Abi and Nazan Sala, who were arrested due to the helicopter news in Van, appeared in court after the indictment was complete. The journalists remained behind bars for nearly six months. At their first session of the trial, they were released conditionally. Women journalists in the field also faced increasing pressure and police violence.
At the Boğaziçi University students protests, the restrictions on the events planned for May 1 Labour Day, and the withdrawal of the Istanbul Convention, brought mass movements sparked by the critical developments in the country. Fourteen female journalists were detained after being subjected to police violence while covering the civil unrest in Turkey.
The full statement by CFWIJ can be found here