DFG: Number of jailed journalists rose to 87
The Dicle Fırat Journalists Association reported that the number of jailed journalists in Turkey rose to 87 and 14 journalists were subjected to ill-treatment in October.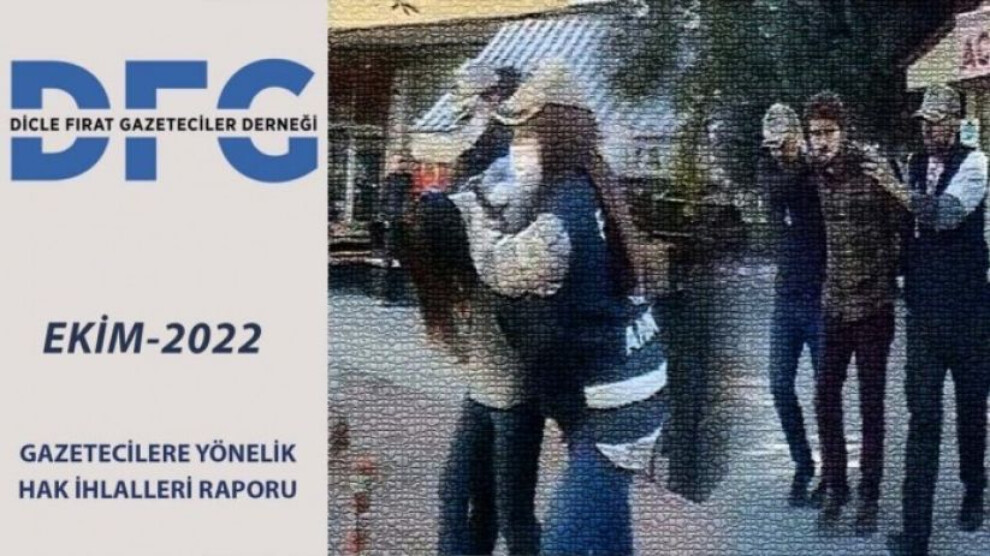 The Dicle Fırat Journalists Association (DFG) released its October Report on Violations of Rights Against Journalists. "Journalists and journalism once again faced murder, arrest, detention and censorship in the month of October. Our colleague Nagihan Akarsel, who worked in the free press many years, was killed and 11 colleagues were arrested, one of whom was subjected to house arrest," the report said.
'THEY GAVE A MESSAGE BY KILLING NAGIHAN'
The report emphasized that in October, the AKP-MHP government resumed its policy of murder, a complete substitute for the notorious '90s.
"Journalist Nagihan Akarsel, an academic and member of the Jineology Research Centre, was assassinated in the city of Sulaymaniyah in the Kurdistan Regional Government on October 4. Through Nagihan, a message was given to those who expose government abuses and violations of rights. After the murder of Nagihan, our colleagues who covered the women-led protests in many cities were also targeted by security forces.
CENSORSHIP BILL AND ARREST OF KURDISH JOURNALISTS
The report also addressed the Censorship Bill recently passed by the Turkish parliament. "Even though professional press organizations raised their voices against the bill most loudly, it is an undeniable fact that the bill concerns all segments of society. With this bill, a citizen's effort to have himself heard against a right violation will be deemed 'disinformation' and blocked. In other words, the bill will prevent the publication and spread of news about crimes, especially those perpetrated by men and state officials."
The DFG recalled that one week after the bill was published in the Official Gazette, opposition JINNEWS and the Mesopotamia Agency (MA) were targeted and, subsequently, 11 journalists were arrested. "The imprisonment of 26 free press workers in a few months could not end the tradition of the free press. However, it showed once again that the government's fear of truth drove it to the verge of its own collapse. The revived versions of the crackdown staged by the governments of the notorious 90s and JITEM will not be able to subjugate the free press."
CALL FOR SOLIDARITY
The report also mentioned the campaign "Bir Haber de Senden" [A Report from You] launched to protest the pressures, detentions and arrests against the free press. "We call upon our colleagues to share their reports with JINNEWS and Mesopotamia Agency to show that journalism is not a crime."
VIOLATIONS OF RIGHTS
The report listed the following violations of rights against journalists in the month of October:
* Journalists attacked: 1
* Journalists whose houses were raided: 12
* Detained journalists: 23
* Arrested journalists: 11
* Journalists subjected to ill-treatment: 14
* Threatened journalists: 2
* Journalists blocked during news coverage: 6
* Violations against journalists in prisons: 23
* Journalists fined: 5
* Journalists on trial: 59
* Number of jailed journalists (as of 1 October): 87
* Violations of economic rights: 2
* Broadcast ban: 1
* Broadcast suspension penalty: 5
 * Closed websites: 4
* Access bans: 49
* Social media bans: 2