DFG releases report on rights violations against journalists in April
The Dicle Fırat Journalists Association announced that 27 journalists were detained and 5 were imprisoned in Turkey in April.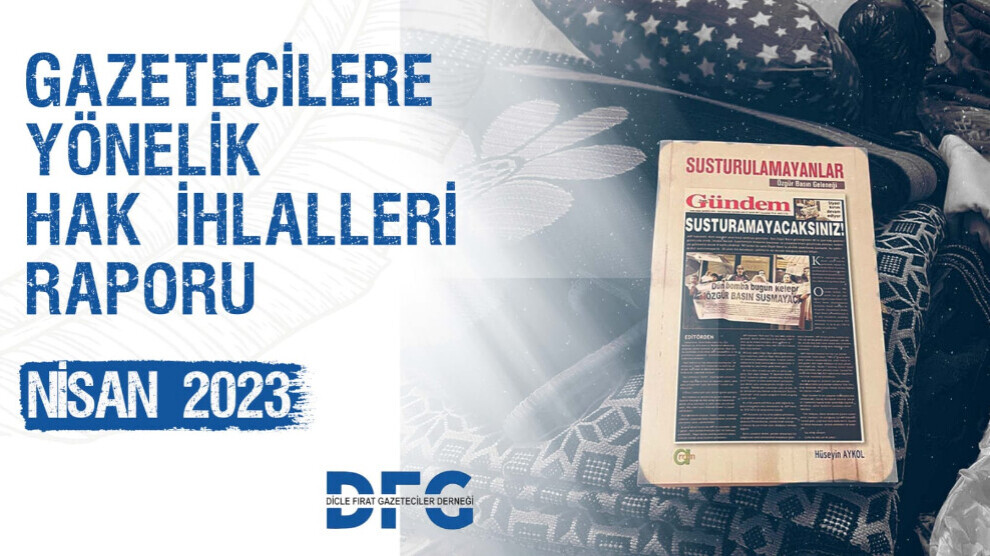 The Dicle Fırat Journalists Association (DFG) published its "April Report on Violations of Rights Against Journalists". The report said that the freedom of thought and expression, the right to receive information and the freedom of the press were being eroded gradually on the eve of the 14 May elections.
The report also drew attention to the reports by the international press institutions and said: "Unfortunately, these reports reveal the fact that press freedom in Turkey is getting worse rapidly. The only way to prevent it is to stop detentions, arrests, violence and censorship against journalists and to make room for the opposition in the digital media. In the month of April, pressures against journalists continued just like in the previous months."
As part of a Diyarbakır-based investigation on April 25, Mesopotamia News Agency (MA) editor Abdurrahman Gök, MA reporter Ahmet Kanbal, Yeni Yaşam Newspaper Editor-in-Chief Osman Akın, publisher of the weekly Kurdish-language Xwebûn newspaper, Kadri Esen, JINNEWS reporter Beritan Canözer, journalists Mehmet Şah Oruç, Mehmet Yalçın, Salih Keleş, Mikail Barut and Remzi Akkaya were detained. Journalists Beritan Canözer, Mehmet Şah Oruç, Abdurrahman Gök, Mikail Barut and Remzi Akkaya were then imprisoned on charges of "membership in a (terrorist) organization".
The DFG report stated that pressures on journalists continued with police raids on April 29 in some cities and the detention of Mesopotamia News Agency editor Sedat Yılmaz and DFG co-chair Dicle Müftüoğlu, as part of an Ankara-based investigation. The report said: "Journalists, Pınar Gayıp, Zeynep Kuray, Eylem Nazlıer, Serpil Ünal, Esra Soybir and Yadigar Aygün were detained after making a statement in front of Süreyya Opera House to protest the arrests of their colleagues."
The rights violations identified by the report are listed as follows:
VIOLATIONS OF THE RIGHT TO LIFE
*Attacked journalists: 4
*Journalists whose houses raided: 13
*Detained journalists: 27
*Arrested journalists: 5
*Journalists subjected to ill-treatment: 2
*Threatened journalists: 2
*Journalists blocked while reporting: 10
*Violations against journalists in prison: 1
VIOLATIONS OF THE FREEDOM OF THOUGHT AND EXPRESSION
*Journalists under investigation: 6
*Journalists sentenced: 2
*Prison sentence: 3 years 4 months 17 days
*Journalists on trial: 34
*Jailed journalist: 86
BLOCKING AND CENSORSHIP
*RTÜK broadcast bans: 4
BANS ON INTERNET-DIGITAL MEDIAS
*Internet sites closed: 1
*News denied access: 88
*Social media content blocked: 30