DFG reports continued detention, violence and obstacle against journalists in May
Dicle Fırat Journalists Association announced that one journalist's home was raided and one was taken into custody, 7 news and 11 websites were banned in May.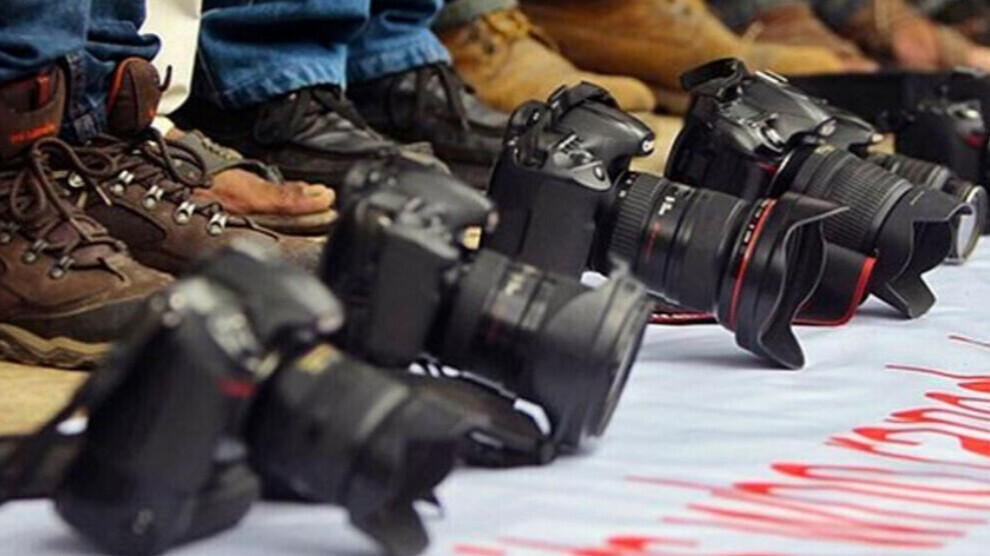 Dicle Fırat Journalists Association (DFG) released a report regarding violations of the rights against the journalists during the month of May.
According to the report prepared, house of a journalist who wrote news about the corruption in municipality tenders in Osmaniye was raided by Turkish special operation police forces and the journalist was tortured. The report stressed that such methods of suppression aim to intimidate the journalists not to make news.
'JOURNALISTS ARE FORCED TO SPY'
DGF stated that kidnapping and imposition for spying activities are among the common methods of suppression journalists. According to the report, Lezgin Tekay, a journalist working for Mezopotamya News Agency (MA) was kidnapped by 5 persons identifying themselves as "intelligence officers", when he was in Ankara to visit his family last month. The report said, "Our colleague was detained for two hours and forced to become an agent. We fiercely condemn these cases. Journalists are not your agents. If you insistently want to be informed, you can follow the true news made by courageous journalists!"
'JOURNALISTS CANNOT BE PRISONED BECAUSE OF JOURNALISM'
The DFG report noted that imprisoned journalists must be treated specifically, saying, "For the first time in the recent period, the number of prisoned journalists has decreased. However, this decrease does not mean an abatement of legal pressure on journalists. This number decreased because our colleagues completed the jail terms ruled for them. In any case, it can never be enough to decrease the numbers of prisoned journalists. We cannot accept the imprisonment of even one journalist, which is unacceptable in terms of the freedom of expression and thought."
VIOLATIONS OF RIGHTS IN MAY
The report announced the details of rights violations against journalists in May as follows:
* 1 journalist was taken into custody
* 1 journalist's house was raided
* 1 journalist was subjected to an assault
* 4 journalists were blocked while following a news case
* 1 journalist faced an investigation
* 1 journalist was sued
* 1 journalist was given sentence
* 18 journalists continued to stand trial
* 1 journalist experienced violation of rights in prison
* 1 journal was banned from advertising
* 7 news sites, 11 websites and 123 social media entries were banned
* 4 journalists were dismissed
According to the report, at least 70 journalists are jailed in Turkey as of May.