DFG: The government wants to prevent journalism
Emphasizing that the government is trying to prevent journalism in the person of Emrullah Acar and Hikmet Tunç, the DFG gave the message that "We are not afraid."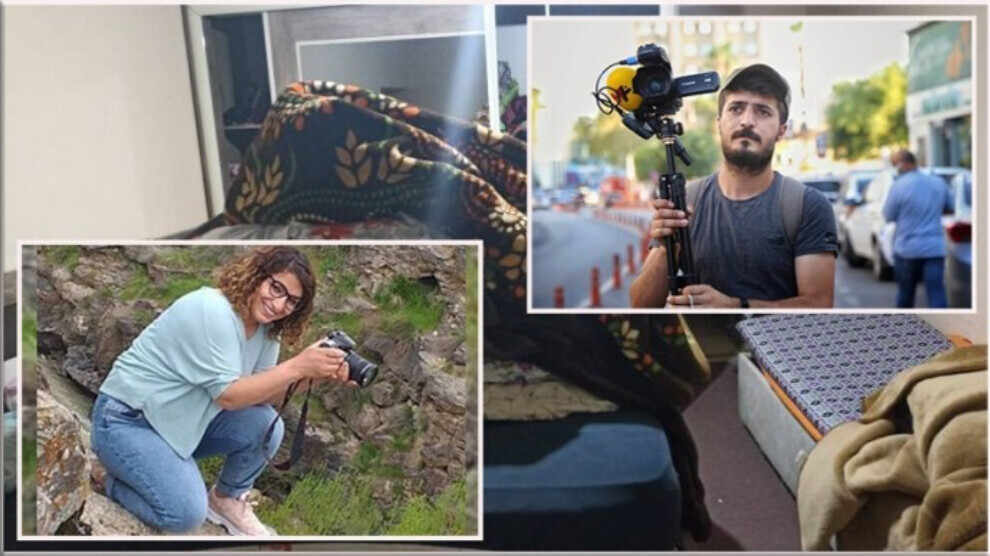 The Dicle Fırat Journalists Association (DFG) published a written statement in response to the search of the houses of Mezopotamya Agency (MA) Correspondent Emrullah Acar and Jinnews Correspondent Hikmet Tunç, who were detained in Urfa early this morning after their houses were raided by the police.
In the statement, it was noted that the pressure on journalists and journalism did not stop and increased, adding, "Every day, a journalist faces house raid and detention for a variety of ridiculous reasons. Raids, detentions, arrests, and threats are used to prohibit them from performing their jobs, writing the truth, and informing the public. It is terrible that one more journalist is added to these reports every day, at a time when the press members' right to report, as well as the freedom of opinion and freedom of speech are addressed in depth, and hundreds of institutions compile and submit reports on these topics every month.
'JOURNALISM IS WANTED PREVENTED'
The house of JinNews Van Correspondent Hikmet Tunç was stormed by plainclothes police and gendarmerie on the basis of "a bomb threat" yesterday evening. The journalists are both targeted and prevented from doing their work for such dubious reasons. "Searching for equipment other than journalistic materials at a journalist's house cannot be explained for any other reason," the statement said, emphasizing that no "criminal element" was discovered in the property during the search.
The statement noted that a raid was conducted on the home of Mesopotamia Agency (MA) Correspondent Emrullah Acar this morning as part of an investigation conducted by the Malatya Chief Public Prosecutor's Office in Urfa. "After a search of the house, journalist Acar was taken into custody.  His computer and camera memory card were confiscated during the house raid. It is obvious that this pressure likewise serves the above-mentioned purpose."
'THEY CAN'T GET ANY CONCRETE RESULTS'
"The effort to recruit criminals from journalists is a strategy that governments have explored for decades with no concrete success," said the statement and added:
"We are certain that those who stormed Hikmet Tunç's home were well aware that there was no bomb or weapons in the residence. Again, those who detained Emrullah Acar know better than anyone that he is only engaged in journalism. The only goal here is to criminalize journalists and remove them from the field. As the Dicle Fırat Journalists Association, we want house raids, detentions, and arrests of journalists to stop, and we emphasize that we as journalists do not accept these actions. We want to make it clear that we are not afraid of these attitudes. And, once again, we want to declare that journalism is a noble profession that defends the right of the people to acquire information; in other words, it is not a crime!"