Dozens of journalists pay tribute to press workers fallen in Girê Spi and Serêkaniyê in 2019
Dozens of journalists paid tribute to their fallen colleagues and friends Dilovan Gewer, Hogir Mihemed and Mihemed Reşo at Martyr Delil Saroxan Cemetery on the anniversary of their martyrdom.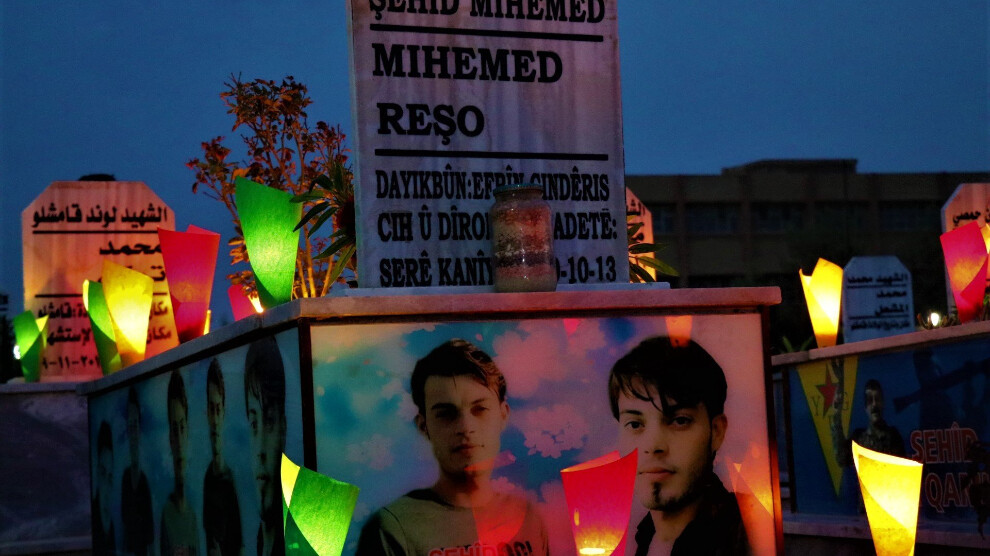 Dozens of journalists gathered to Martyr Delil Saroxan Cemetery to pay tribute to YPJ Press member Dilovan Gewer, ANHA reporter Hogir Mihemed and Çıra TV reporter Mihemed Reşo on the anniversary of their martyrdom.
Journalists gathered in front of the grave of Martyr Mihemed Resho and held a minute's silence after lighting candles.
Speaking at the memorial, Free Press Union co-chair Pangîn Seydo said: "In front of the silence of the world, the Turkish state attacked the people of Girê Spi and Serêkaniyê in 2019. Our fallen comrades documented this atrocity with their cameras. And with their work slapped the world in the face."
Journalist Mistefa Reşo, brother of Martyr Mihemed Resho, said: "We will continue to increase our struggle. It is our duty of loyalty to these martyrs."
Journalist Pelşîn Beritan added: "We will not hesitate to write the truth, no matter what happens."