Jailed journalists mark May Day: "Fascism will be defeated, long live Free Press!"
Journalists sent messages from Sincan Prison to mark May Day and said that "Fascism will be defeated, long live the Free Press."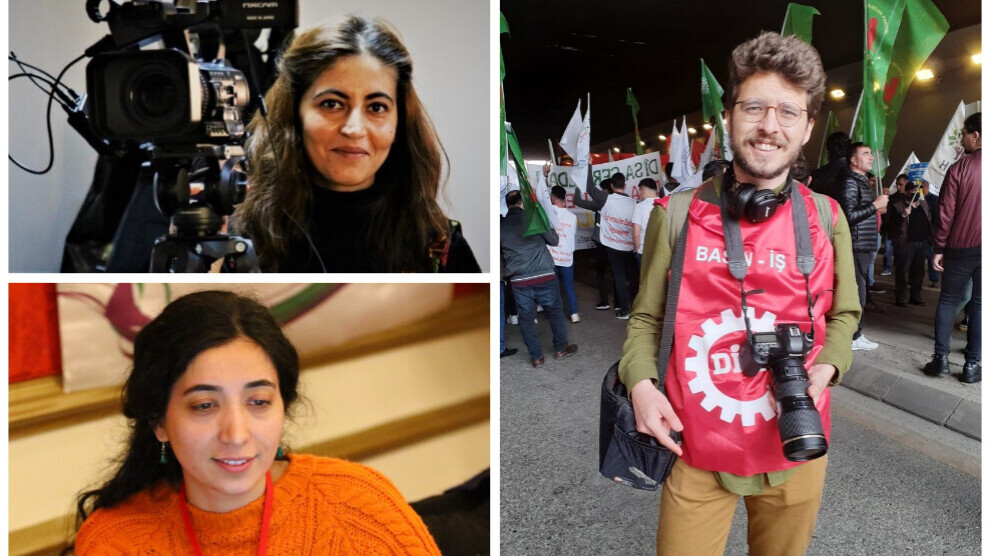 Mesopotamia News Agency (MA) reporters Deniz Nazlım and Berivan Altan and JINNEWS reporter Habibe Eren, who were arrested on October 29, 2022 as part of an Ankara-based investigation, delivered messages to mark May 1. The messages sent by the journalists from the Sincan Prison to the Confederation of Progressive Trade Unions (DİSK) Ankara Office were shared on the union's social media account.
Below are the messages from the journalists:
EREN: THEY MADE A BIG MISTAKE
Habibe Eren: "The legacy and struggle of the peoples, workers and women who have been resisting are resonating all over the world. Even though the fascist dictatorial regimes are trying to undermine the achievements of workers and women, peoples keep raising their voices everywhere. We welcome May Day in prisons. There are daily reports of arrests of our colleagues. Like all segments of society, Free Press workers continue to suffer from the attacks of the government. Those who think that they can silence the Free Press through such pressures made a big mistake and they will lose big. We firmly believe that the legacy of those who fell victim to unsolved murders, those who were killed in the bombings, including Apê Musa (Musa Anter) and Gurbetelli Eröz, and imprisoned journalists will be embraced by their colleagues. Oppression and persecution will not last forever, free days are close."
ALTAN: WE WILL RESIST AND FREE PRESS WILL NOT REMAIN SILENT
Berivan Altan: "We welcome May Day in prisons. The AKP-MHP government, which carries out its election campaign with attacks on the Free Press, continues to detain and arrest our colleagues who remain loyal to the facts. Dozens of our colleagues were detained last week. Journalists Abdurrahman Gök, Mehmet Şah Oruç, Beritan Canözer, Mikail Barut and Remzi Akkaya were imprisoned. Unable to overcome its fear, the government further detained Free Press workers Dicle Müftüoğlu and Sedat Yılmaz. The Free Press, which could not be silenced by massacres and bombings in the 90s, will not be silenced today by detentions, arrests and torture. We believe that workers and our colleagues who flock to May Day rallies today will be our voice and that they will expand the struggle of the Free Press. The free press will not be silenced."
NAZLIM: WE SEEK AFTER TRUTH
Deniz Nazlım: "We congratulate all workers on May Day. We would have loved to take our place in the rallies to defend our rights. However, the AKP government, which wants to keep facts dark, detained dozens of our colleagues last week, and jailed 5 of them. Even though the number of jailed journalists is increasing gradually, there are still journalists who chase the truth and defend the rights of jailed journalists. That's why we feel very comfortable. We believe that the enthusiasm of the thousands joining the rallies today will bring freedom and democracy. As our colleague Abdurrahman Gök once said: "Fascism will be defeated. Long live the Free Press."