Journalists detained in Amed held in solitary cells
The journalists detained in Turkey on Wednesday are being held in solitary cells by the anti-terror police in Amed. It is still unclear what they are accused of. The file is classified as secret.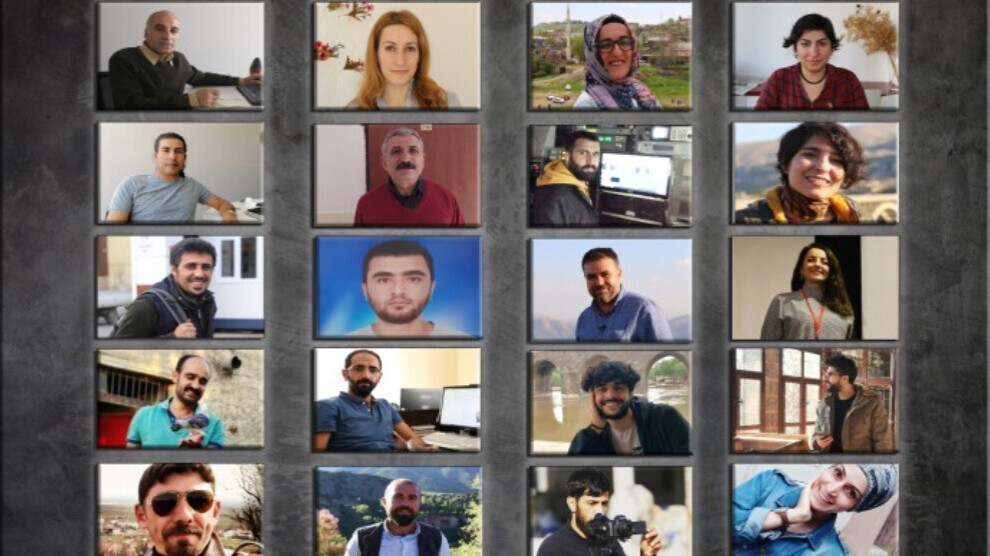 The journalists detained on Wednesday by order of the Diyarbakir (ku. Amed) Chief Public Prosecutor's Office are being held in solitary cells in the police's anti-terror department. Furthermore, it is unclear what the journalists concerned are accused of. The file is classified as secret, and even lawyers do not have access to it.
Colleagues of the detained journalists see the operation as an attempt to silence the free media in Turkey and to prevent reporting on the war in Kurdistan. The journalists' association TGC (Türkiye Gazeteciler Cemiyeti) condemned the arrests of Kurdish media workers as a curtailment of freedom of information in the run-up to Turkey's presidential and parliamentary elections. The association said the operation was an example of efforts to equalise the media world and only allow pro-government reporting. The government must finally understand that journalism is not a crime, said the TGC, stressing that, "In a country without freedom of information and freedom of the press, there can be no question of democracy."
20 detained are journalists are as follows: Serdar Altan (co-chair of the DicleFirat Journalists' Association, DFG), Safiye Alagaş (director of the all-women's news agency JinNews), Gülşen Koçuk (editor of JinNews), Aziz Oruç (editor of the Mezopotamya news agency, MA), Ömer Çelik, Suat Doğuhan, Ramazan Geciken, Berivan Karatorak, Esmer Tunç, Neşe Toprak, Zeynel Abidin Bulut, Mazlum Doğan Güler, Mehmet Şahin, Elif Üngür, Ibrahim Koyuncu, Remziye Temel, Mehmet Yalçın and Abdurrahman Öncü.
In the same investigation, Feynaz Koçuk was detained in Gebze in western Turkey.