MKM organises solidarity night with 16 journalists in prison
The MKM has organized a solidarity night at Şişli Cemil Candaş Cultural Center on Sunday night for the 16 imprisoned journalists and free press.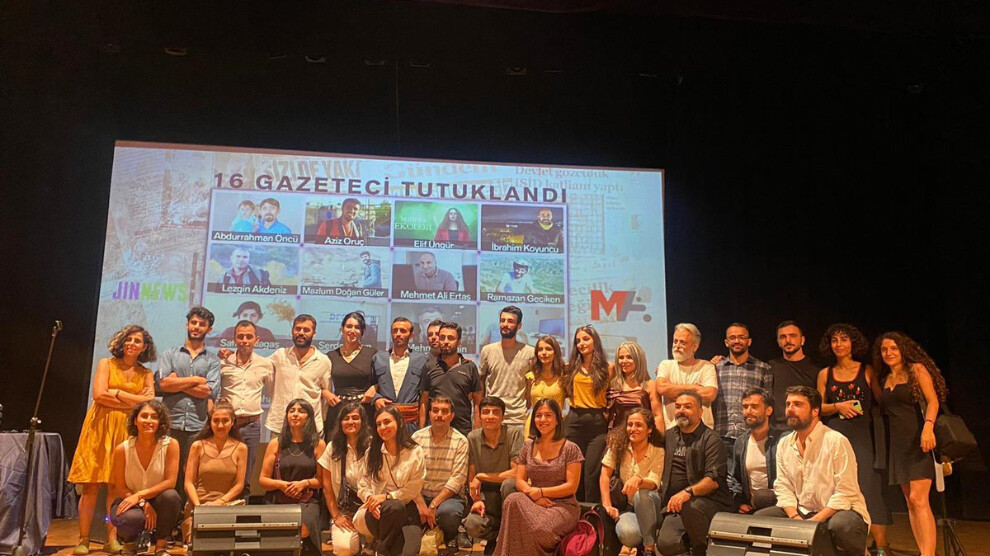 A solidarity event was organised at Şişli Cemil Candaş Cultural Center on Sunday night for 16 journalists arrested in Diyarbakır, and for free press. The event was organised by the Mesopotamya Cultural Centre (MKM).
Many journalists, rights defenders, politicians, deputies, lawyers, representatives of women's organizations, laborers, NGOs, artists, and members of the Peace Mothers Initiative attended the event.
The night started with a minute's silence, followed by Turkish and Kurdish poetry readings. Rugeş Kırıcı and journalist Hüseyin Aykol spoke at the event, while bands such as Bandista, Koma Aryen and Kadir Çat took the stage.
BACKGROUND
On 8 June, six media outlets, including two news agencies, Mezopotamya Agency (MA) and JinNews, and Kurdish-language newspaper Xwebûn, were searched in Amed as part of an "investigation" conducted by the Diyarbakir Chief Public Prosecutor's Office against twenty journalists and two other persons. The production companies Piya, Ari and Pel were also targeted in the operation. The media materials in these facilities were confiscated by the police, and the confiscated cameras were presented to the anti-terror police department as evidence of membership in a terrorist organisation. After 8 days in custody, 16 journalists out of 22 people detained in the operation were sent to prison on 15 June for alleged membership of a terrorist organisation.
The journalists in question are; the director of the women's news agency JinNews, Safiye Alagaş, the co-chair of the Dicle Firat Journalists' Association (DFG), Serdar Altan, the editor of MA news agency, Aziz Oruç, Xwebûn editor Mehmet Ali Ertaş, and Zeynel Abidin Bulut, Ömer Çelik, Mazlum Doğan Güler, Ibrahim Koyuncu, Neşe Toprak, Elif Üngür, Abdurrahman Öncü, Suat Doğuhan, Remziye Temel, Ramazan Geciken, Lezgin Akdeniz and Mehmet Şahin.