PYD's Moslem calls for solidarity with Kurdish TV networks
Yeni Özgür Politika newspaper celebrated the 11th year anniversary of its foundation and vowed to enhance struggle and solidarity against the Turkish state's pressures on the free press.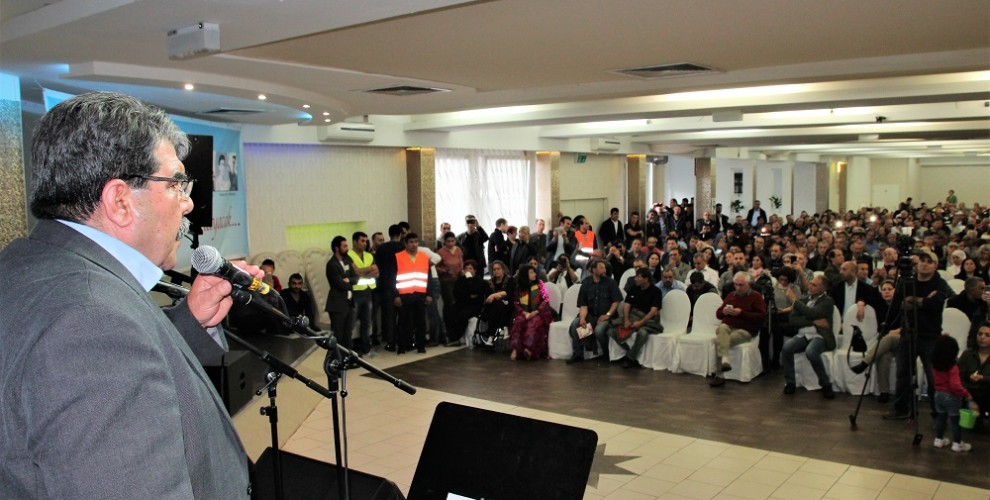 Yeni Özgür Politika newspaper organized a solidarity night with the motto "Free Press" in Mainz, Germany to mark the 11th year anniversary of its foundation.
In the opening speech, Ülkem Zeremya stressed that "Every attack on Kurdish media is an attack on your reality", and said attacks could be overcome with solidarity.
Speaking after, Filiz Koçali, former chief editor and columnist at the shut-down Özgür Gündem newspaper that is currently in exile because of the arrest warrant issued for her, stated that journalists continue the free press tradition against oppression in Turkey at the cost of their lives.
"FREEDOM WAS ATTAINED THROUGH STRUGGLE"
Representatives German press organizations also attended the event in Mainz. German Journalist Union (DJU) Hessen State spokesperson Joachim Legatis criticized the German state's stance toward Turkey and said "Defenders of democracy are being victimized and the German government watches this silently. This silence has reached an intolerable level."
Left Party (Die Linke) Rheinland-Pfalz State Co-president Jochen Bülow said "Human rights and freedom of expression and the press have been attained through struggle. We bow respectfully before those that give this struggle at the cost of their lives and freedoms."
MOSLEM: OUR FRIENDS SHOULD NOT REMAIN SILENT
Participants of the event chanted "Bijî YPG/YPJ" as PYD Co-president Saleh Moslem took to the stage.
Remarking that enemies of truth attacked press to hide the realities, Moslem criticized Europe states for their attitude in the face of Turkey's recent efforts to stop the broadcast of Kurdish TV channels, saying: 
"Don't you see what the Sultan in Turkey seeks to do over the companies of your countries? The Sultan of Turkey is uncomfortable with the truths and puts some people into action. Your company called Eutelsat violates your laws and shuts down the TV channels. If your just laws prevail all across Europe, then why are silent when it comes to the Kurds? Our friends should not remain silent on this unlawfulness."
Recalling that only Kurds stand against ISIS that spreads terror to the whole world, Moslem pointed out that: "Our friends should give the necessary answer to Turkey and Eutelsat trying to shut down our media outlets that provide great contribution to our struggle. Ronahi TV, one of these TV networks, is the voice of all Syrian people. European states should realize these truths and act accordingly. We stand with our press. "
Moslem also criticized Germany's ban on YPG and YPJ flags, and said "How can the German police ban our flags when nobody in Germany can sees the YPG and YPJ as terrorists?"
DİCLE: WE WILL REPEL THEIR ATTACKS
DTK Co-president Hatip Dicle drew attention to the Kurdish free press tradition and said "This fascist and hostile mentality has never been able to wipe out the free voice of Kurdish people and will not succeed today either. It could never stop their resistance and silence their voices."
Stressing Erdoğan's one-man dictatorship is bound to lose, Dicle said "We will stand against the attacks on News Channel, Stêrk and Ronahi TV today just like we stood against the attack on Med Nuçe before. We will definitely repel their attacks."
CALL FOR SOLIDARITY
Journalists that got their share from the attacks on the press in Turkey and continue their struggle also attended the event.
Celal Başlangıç from Artı Gerçek, Hüseyin Narlı from the shut-down TV 10, journalist-writer Ahmet Nesin and Gulê Algunerhan from Stêrk TV also spoke and emphasised that the free press tradition would continue against Erdoğan's fascism. Journalists condemned the attempt to shut down Kurdish TV channels broadcasting from Europe, and said "TV channels are your voice, do not allow their closure."