Six journalists on trial over journalistic activities
Six journalists are on trial in Istanbul and Izmir for their reporting. The defendants are accused of terrorism and defamation of the fight against terrorism on the basis of their journalistic activities.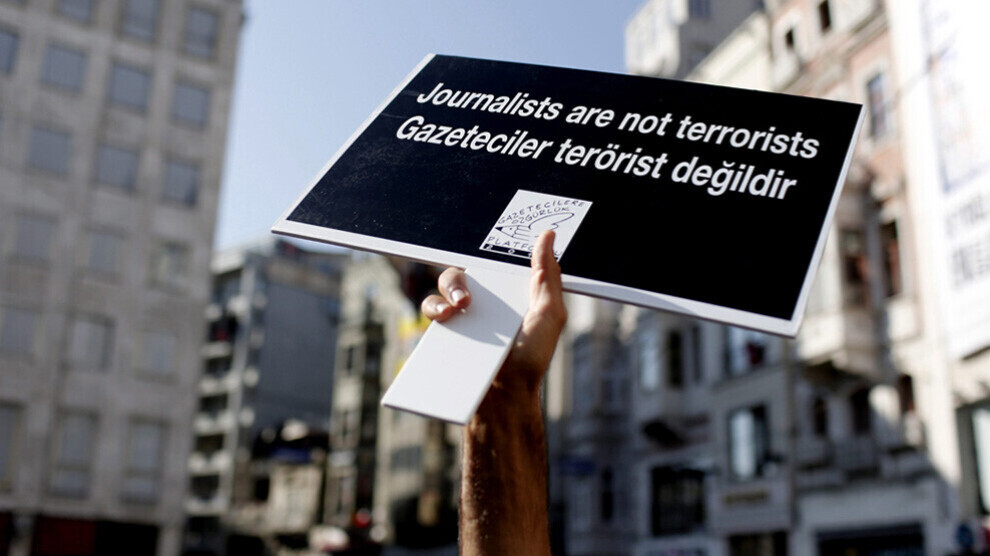 The Turkish state is known for its repression of any form of free expression that contradicts the government canon. Critical journalists are particularly affected by persecution. On Tuesday six journalists stood again before Turkish courts.
Dubious prosecution witness does not appear
Mezopotamya Agency (MA) correspondent Sadık Topaloğlu and journalist Sadiye Eser have been charged with "membership in a terrorist organization" before Istanbul's 22nd Heavy Penalty Court. This is a typical charge with which the Turkish state tries to stifle press freedom. Despite an order to produce a witness, the chief public prosecutor's office was unable to produce a prosecution witness. The lawyers asked the court to make a decision immediately, since the prosecution witness had already been convicted of false testimony in another trial. The court adjourned until September 21.
Three more journalists charged in Istanbul
For their coverage of the death of Berkin Elvan at the hands of security forces during the Gezi resistance, journalists Canan Coşkun, Can Uğur and Ali Açar, have been charged with defamation at the 34th Istanbul Heavy Penal Court. They are accused of defamation of counterterrorism figures. The trial was adjourned until October 7.
Berkin Elvan was the latest victim of repression against the Gezi uprising in 2013. The boy had been seriously injured by a gas cartridge fired by police on the sidelines of protests in Istanbul's Okmeydani neighborhood and was in a coma for 269 days before his death. He died on March 11, 2014, at the age of 15.
Trial of Ruken Demir in Izmir
In Izmir, MA correspondent Ruken Demir was on trial before the 19th Heavy Penal Court on charges of "membership in a terrorist organization." The terror charge was constructed from illegally intercepted conversations with journalistic sources and from articles. Demir was imprisoned for several months and had been released only on March 5 at the request of the defense. The trial was adjourned until October 5.