Turkey continued to crack down on journalists in July
The Dicle Fırat Journalists Association (DFG) has released its July report on rights violations against journalists.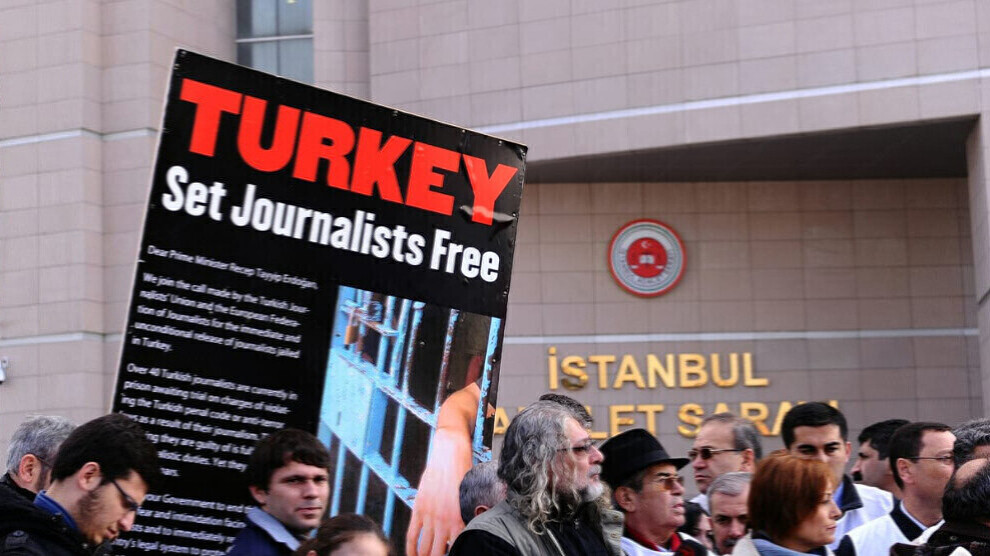 The July report of the Dicle Fırat Journalists Association (DFG) reveals that journalists were arrested, detained and subjected to investigation in July as well. The report said that the police prevented journalists who followed the news and used violence. Journalists were injured as a result of police intervention in Suruç Massacre protests, Istanbul, Ankara, Izmir, Van and Amed.
"In myriad demonstrations across the country, the direct targeting, beating of journalists, preventing them from doing their duty, and especially the attempts to obscure reports is actually a clear indicator of how unfettered the government and law enforcement forces have become. The report pointed out that 2 reporters of JinNews were forced to spy for the government. "This and similar approaches are attempts to intimidate journalists and remove them from the field. Journalists are not informants/agents of anyone. If the government or other organizations want to get information, they should check our news."
'A GOVERNMENT SCARED OF JOURNALISTS'
The report also pointed to an execution list of 55 people, including Kurds, opposition politicians and journalists in Europe. Journalist Erk Acarer, whose name is mentioned on the execution list, was attacked at his home in Berlin and later a threatening message was left in front of his house. Furthermore, journalist Celal Başlangıç has also been warned by the German police that his name is on the execution list. The lynch environment and chaos plans that are introduced in the country appear to be a part of a more comprehensive plan. The government is so afraid of the existence of journalists that it has lost its ability to govern. Journalists are not persons to be feared and eliminated."
RTÜK CENSORSHIP
The report pointed out that the Radio and Television Supreme Council's (RTÜK) demand for censorship and self-censorship from the broadcasting organizations was a "blow to the freedom of the press". "While the wildfires have raged throughout the country, it is a complete carelessness to ask for censorship. We can easily say that no progress has been made concerning the freedom of the press and freedom of thought. The crackdown on journalists is actually a manifestation of the attempts to suppress society. However, all these initiatives do not intimidate journalists and free press workers who are trying to convey the truth to the public."
DETENTION, TORTURE, THREAT, PRISON...
According to the report, 4 journalists were detained in July, 15 journalists were subjected to torture and ill-treatment, and 14 journalists were attacked.
4 journalists were threatened, and spying was imposed, journalists were blocked 12 times during reporting, an investigation was launched against 2 journalists and 1 journalist was arrested.
A lawsuit was filed against 1 journalist and another journalist was sentenced to 11 months and 20 days in prison. Lawsuits against 56 journalists continue.
The RTÜK gave 15 fines to 6 channels, 283 news and 7 websites were blocked, and 1 journalist was fired.
The report stated that as of August 4, the number of journalists imprisoned is 65.