"Under Attack", an exhibition to expose attacks suffered by journalists
An exhibition titled "Under Attack", which describes the attacks suffered by journalists during news coverage, opened at Kıraathane Istanbul Literature House.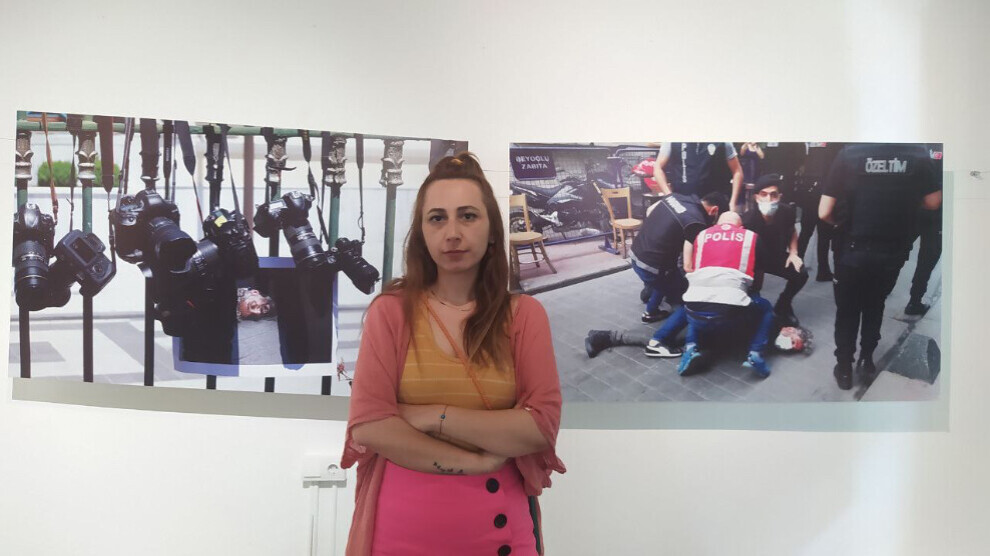 An exhibition titled "Under Attack", opened at Kıraathane Istanbul Literature House. It exhibits photographs showing how journalists who follow news have become targets of increasing police violence. The exhibition is curated by Punto24 Independent Journalism Association President Mustafa Ünlü, journalist Cansu Pişkin from Punto24 and Pelin Sidar Genç from Kıraathane Istanbul Literature House. We talked to journalist Cansu Pişkin about the exhibition, which will remain open until 3 September.
Journalist Cansu Pişkin said that they first made this work as an interactive video, and added that the attacks against journalists increased and became more visible, especially after the 15 July 2016 military coup. "We first made an interactive video documentary with our group Expression Interrupted on 10 January. Working Journalists' Day. Then we decided to open this exhibition because the attacks on journalists became very visible, especially after 15 July military coup. There was violence in the past as well, but it wasn't that visible. For example, if the police intervened in social protests, they intervened against the protesters, but violence has now turned to the journalists covering the demos. For example, AFP photojournalist Bülent Kılıç was thrown on the ground by the police who put a foot on his neck: An image that is fresh in everyone's memory.
In order to draw attention to this violence, we prepared a video by talking to journalists and professional organisations working in the field who are constantly exposed to police violence. Then, we thought about this exhibition in order to draw more attention to the subject. Because this is our job, we know that visual material is easier to remember. That's why we wanted to make violence visible in this way."
Tomorrow we may be killed
Cansu Pişkin said that they are trying to make it visible because violence is increasing every passing day. "Unfortunately, the attacks on journalists disappear in the news flow. Because, one thing we are all taught is that 'the journalist is not the subject of the news.' There are criticisms about this, whether we are speaking about the violence against journalists rather than protests, but we actually need to talk about this as well. Because there is an impunity culture in society. Unless we see it, report it, bring it up, the police will continue to benefit from this impunity.
Today the police beat us, tomorrow they may kill us. Therefore, it is necessary to prevent this and to defend the right of journalists to report and at the same time the right of the public to receive information."
Repression is coming from many places
Cansu Pişkin drew attention to the lawsuits as well as the attacks on the field. She said that many journalists are being investigated. "We follow press and freedom of expression cases at Punto24. I can say that even when there is a judicial vacation, there is always a violation against journalists. They are either investigated, detained or arrested. Repression comes from many places. It's not just the number of arrests. For example, they try to intimidate us with financial pressures. Newspapers get some money from the advertisements they receive, but the Press Advertisement Institution puts pressure on many newspapers, such as Evrensel, Birgün, Sözcü, Cumhuriyet Fikir, setting criteria for accepting ads that are almost impossible to meet."
Pişkin added: "16 Kurdish journalists were detained last month after being held in custody for eight days. Why are they in prison? In fact, when we look at it, there is no reason other than the news they make or the institutions they work for. They criminalize both journalists and the institution they work for. If you work for certain media, you are labelled a "terrorist". Despite the absence of any evidence, these people were arrested only because they wrote for certain media. For example, Ömer Çelik is also on trial in the KCK press case and that case has been going on for years."
Pişkin continued: "According to the list we keep, a total of 67 journalists are in prison at the moment. Of course, there are those who are eventually released. But it is worth noting that these releases do not happen because they were found not guilty or have been acquitted. They can be released because the jail is overcrowded, but the trial continues. The AKP has monopolized the media. First, it tried to silence other media by monopolizing the environment, but it wasn't enough. Then it activated RTÜK. But this is also not enough, the control over the judiciary is not enough, violence is not enough. There is no end to this persecution. That's why we journalists need to fight together against such violence."