5 prisoners on hunger strike in Tekirdağ fear for their lives
5 prisoners in Tekirdağ No.2 F-type Prison, where prisoner Vedat Erkmen died suspiciously recently, have launched a hunger strike due to a lack of life safety in prison.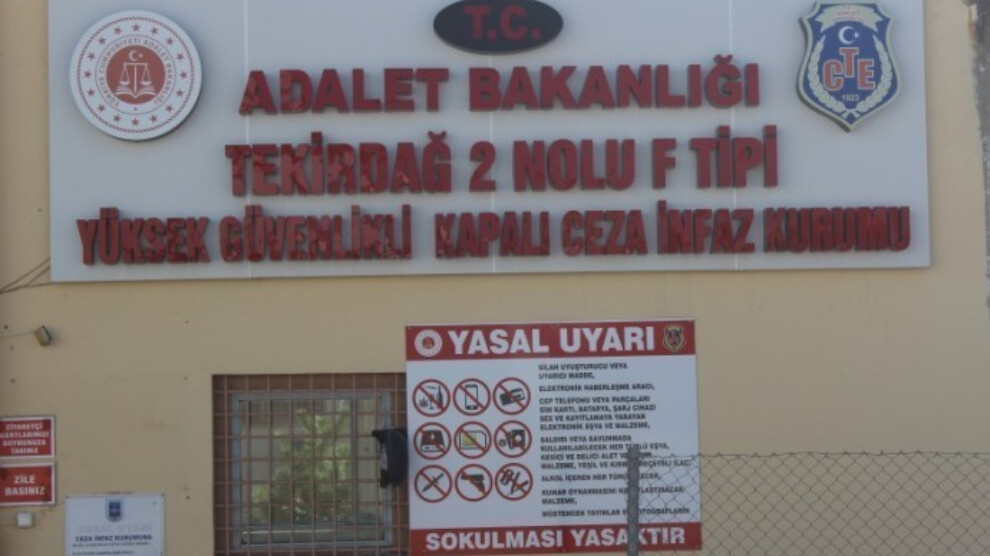 Tekirdağ No.2 F-type High Security Prison, notorious for rights violations, was brought to the agenda once again after prisoner Vedat Erkmen suspiciously died in solitary confinement on 19 December 2021. Although the prison management announced Erkmen's death as a "suicide", the autopsy, which was performed without his lawyers and family, raised doubts about Erkmen's death.
Prisoner Erkmen, during a phone call, had invited his family to the open visitation set to be held on 23 January and asked them to file a criminal complaint against the prison management.
Just before the death of Erkmen, Yasin Eneç, held in the same prison ,was battered on 17-18 December and placed in a sponge room by warders saying, "Vicious terrorist, you and others like you don't have the right to life". Following this incident and the suspicious death of Erkmen, the Peoples' Democratic Party (HDP) MPs applied to the Human Rights Investigation Commission of the Parliament and submitted a research proposal concerning the rights violations in Tekirdağ Prison. They also submitted a parliamentary question on the same issue to be answered by Justice Minister Abdulhamit Gül.
Prisoners launch hunger strike
Prisoners Mehmet Süleyman Uçağan, Turfan İlbaş, Hüseyin Karadaş and two others who were not named launched a hunger strike, expressing that "there is no safety of life in prison" and that they did not believe that Erkmen committed suicide. Prisoners told their families on phone calls that they had launched an indefinite non-alternating hunger strike on 17 January.
Mehmet Süleyman Uçağan, one of the prisoners on hunger strike for 9 days, talked to his brother Kubbettin Uçağan during an open visitation about Erkmen's death and inhumane conditions in jail.
Hunger strike against inhumane treatment
Informing that his brother Mehmet Süleyman Uçağan and other prisoners face inhumane conditions and arbitrary treatments in jail, Kubbettin Uçağan said, "The prison management intended to relocate Erkmen to another ward. Rejecting this, Erkmen and his friend were subjected to physical assault and placed in solitary cells. Afterwards, the prison management announced that Erkmen committed suicide."
Prisoners do not believe that Erkmen committed suicide, and they are concerned for their lives due to the suspicious death of Erkmen, said Uçağan, adding that his elder brother and 4 other prisoners launched a hunger strike on 17 January demanding an end to arbitrary inhumane treatment, strip search, 3-month isolation for new prisoners, arbitrary searches in wards and psychological repression.
Brother Uçağan urged concerned institutions and NGOs to pay attention to the demands of his brother and other prisoners.
Prisoners threatened
Sevgül Karadaş, wife of Hüseyin Karadaş, one of the hunger strikers, reported that her husband and his friends were threatened after they told the Public Prosecutor that they did not believe that Erkmen committed suicide.
Underlining that prisoners went on a hunger strike against inhumane practices, provocative discourse, physical assaults, threats, arbitrary raids and strip searches, Karakaş urged authorities to meet prisoners' demands.