Family of Imralı prisoner Aktaş: End isolation and talk peace
Family of Veysi Aktaş, one of the prisoners in Imralı, said that they were worried as they have no news about him and said that they wanted isolation to be removed immediately and the hunger strike to grow.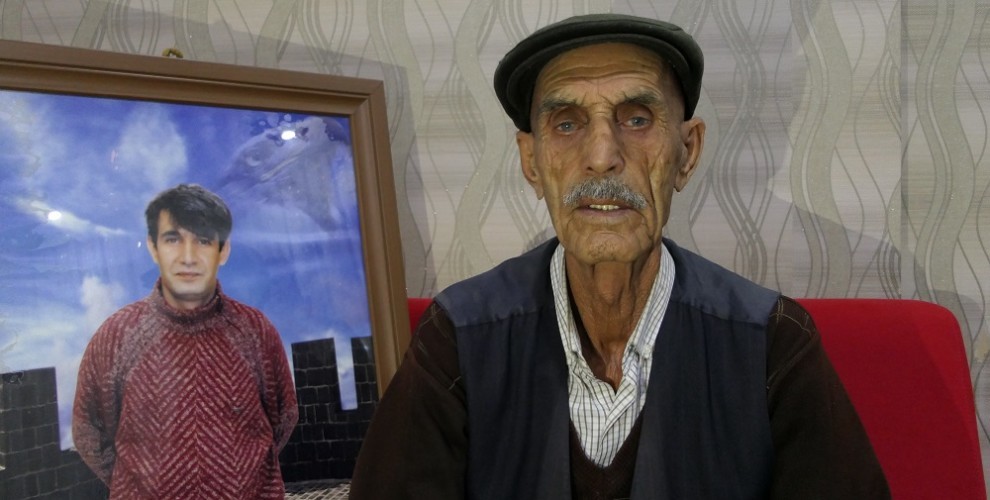 Kurdish People's Leader Abdullah Öcalan has been kept in isolation for 20 years in the maximum security prison  island prison of Imralı.
In 2009, 5 prisoners, Şeyhmuz Poyraz, Bayram Kaymaz, Cumali Karsu, Hasbi Özdemir and Hakkı Alpan, were sent to Imralı.
These prisoners remained with Öcalan until 2015 when they were transferred, three to Tekirdağ F-Type Prison and two to Kocaeli F-Type Prison.
Five other prisoners were sent to Imralı to replace Öcalan's former prison companions.
Many PKK prisoners had written from prison to the relevant institutions and ministries requesting to be sent to Imralı.
The new names were therefore identified and sent to Imralı: Mehmet Sait Yildirimim, Omer Hayri Konar, Cetin Arkas, Nasrullah Kuran and Veysi Aktas.
These men have assisted Öcalan in his work, and have been in Imralı since 15 March 2015.
Since then, one of the prisoners, Mehmet Sait Yildirim, was sent to Diyarbakır D-Type Prison due to health problems.
Nasrullah Kuran and Çetin Arkaş were transferred to Silivri accused of having 'leaked information'. PKK prisoner Hamil Yildirim was then sent to Imralı following a request by Öcalan himself.
No news for 4 years
Ömer Hayri Konar, Veysi Aktaş and Hamili Yildirim have also been subjected to isolation like Öcalan.
Veysi Aktaş has been in prison for 24 years, and for the past 4 years has never been able to communicate with his family, lawyers and guardians.
His family had very little news from him and only knows he has been transferred to many different prisons.
According to his father, Abit Aktaş, Veysi had previously been transferred to Istanbul, Burdur, Adiyaman, Elbistan and Kirikkale prisons.
Abit Aktaş said: "Isolation is a great cruelty. I am 77 and I have witnessed cases of 50 years of hostility ending in peace. Surely you have to sit at the negotiation table some day. The government of Turkey should sit at the negotiation table and discuss this issue and take steps to solve it. On the one hand, Erdoğan says to Kurds 'You are my brothers'. On the other hand, he kills Kurds. Brotherhood and death are very far from each other. Erdoğan should talk to people about peace today and not about isolation and death. Erdoğan is showing the Kurdish people as enemies in order to carry out a genocide. This policy will never succeed and will continue for years."
"The problem will end if isolation is lifted"
Abit Aktaş said that he had been able to communicate with his son before and added: "Every week we were making phone calls. We were happy when he called us. But now we don't know whether our child is dead or alive as we have not heard from him for 4 years. What would Erdoğan do if he had no news from his son for 4 years? No one has the right to impose this sufferance on us and our children. If they really see Kurds and Turks as brothers, then let us see our children.
Our language is Kurdish, our identity is Kurdish, it is true. We never deny it. Even if they behead us we won't deny our identity. Today, those who are on hunger strike are putting their life at risk. The people on hunger strike are people who sacrifice themselves. If isolation against Öcalan is lifted the problem will be solved."
"Lift isolation, take a step forward"
Faika Aktaş, mother of Veysi, said: "I hope that they will remove this isolation and take steps for peace. There is nothing better than peace. There is no pain I haven't felt in these 24 years. Now I'm thinking day and night of Leyla Güven. Her situation makes me very sad. I went to see her."
"Government with no human values"
Sabiha Aktaş said that her brother was kept in isolation in prisons before he was transferred to Imralı, and added: "He had great hope, enthusiasm and joy and I cannot tell you his feelings overtime we had a visit with him. Then he was moved to Imralı, four years ago. And he went there with great hope and joy. Isolation started a week after he was transferred there.
For 4 years we have not heard his voice, nor could we get a letter from him, not even a small piece of paper. There is only one word for all this, persecution. We have already seen in 2015-2016 how we are facing a ruthless enemy. We are faced with a government that has lost all human values."
"Let's step up the resistance"
Nephew Delil Aslan, who said that he could go to visit his uncle before yet he has not heard from him in 4 years, said: "The unjust detention of my uncle and his friends was already a nonsense in itself. They have been in isolation for 4 years. We all know where he is, but we can't see him. I saw him 6 or 7 years ago for the last time. The State does not fulfill its duty on this issue. Therefore, the hunger strike campaign started. We support this process. We would like to take part in these actions. I wish we could enlarge these actions as the whole Kurdish people."