Freedom for Öcalan vigil in Strasbourg in its 326th week
The Freedom for Öcalan vigil held in Strasbourg by the Kurds in Europe continues uninterrupted for 6,5 years now.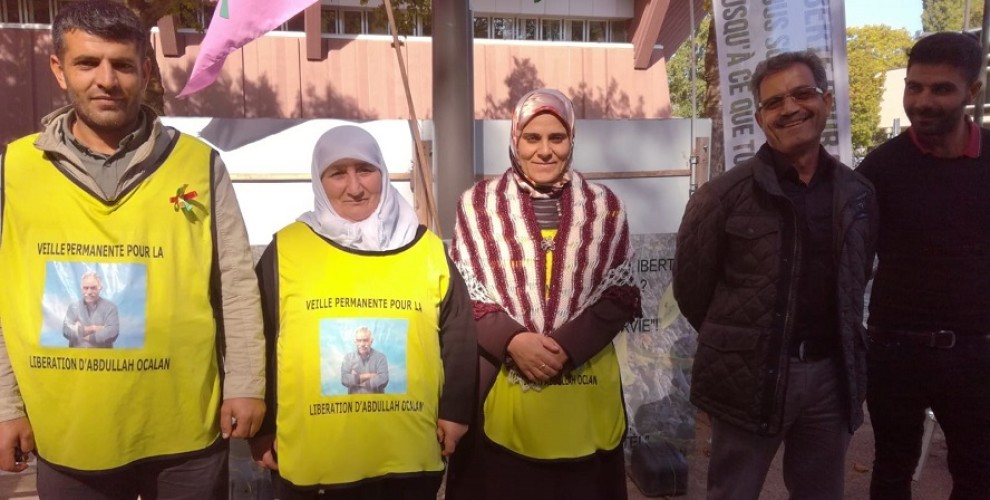 The Vigil for the freedom of Kurdish People's Leader Abdullah Öcalan began on 25 June 2012 and since then has been carried out in front of the Council of Europe, the European Court of Human Rights, the Committee for the Prevention of Torture (CPT) and the European Parliament.
The vigil, run by a different group from Europe every week, has been taken over by a three-person group from the French city of Evry in its 326th week.
The activists criticized the insensitive and unjust attitude of the Council of Europe and the CPT, stressing that Öcalan has not been heard from for more than two years.
Demonstrators pointed out that the voice of the Kurdish people is not heard although they are a folk oppressed by the region's states, and called on concerned institutions to examine the Kurdish leader's situation on-site.
"Nobody hears us. However, everyone should know that we will continue marching on this path till the very end", said the activists.
The Freedom for Öcalan Vigil had started on June 25, 2012 to call for an end to the aggravated isolation imposed upon Öcalan and to raise awareness for his freedom. Before the vigil, a Long March was held from Geneva to Strasbourg in February 2012 and a hunger strike of 52 days was held during the months of March and April. Representatives from various institutions in Europe and politicians had participated in the hunger strike.
The Vigil was launched after these demonstrations, and in the six years since, hundreds of thousands of flyers, brochures and booklets have been handed out and Öcalan's ideas have been communicated to people from dozens of countries throughout the world.
Some two thousand activists have taken over the vigil in 314 groups. Artists, politicians, journalists and European allies have taken part in person.