HEDEP: Education in the mother tongue is a human right
HEDEP Batman MP Zeynep Oduncu said: "Education in the mother tongue is a human right and Kurds should not be denied this right."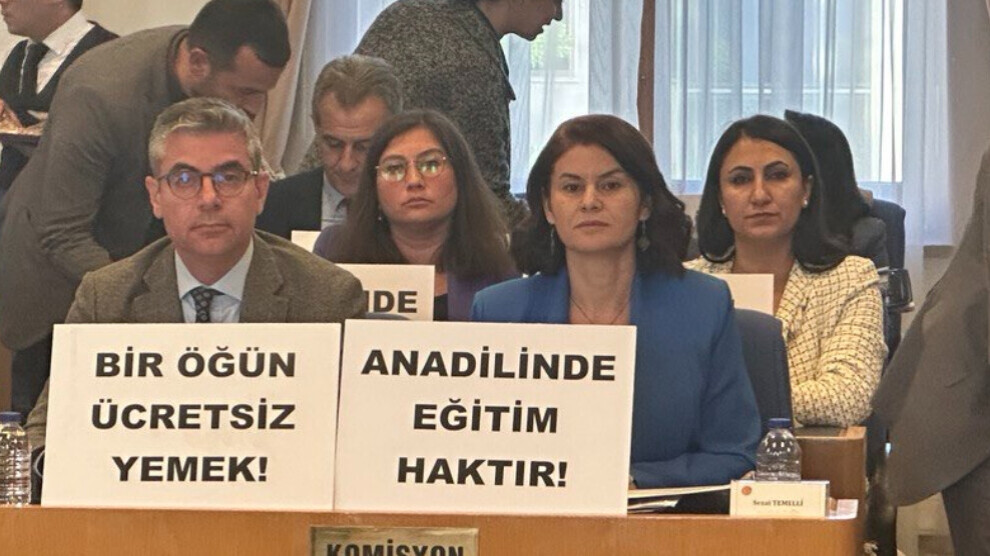 HEDEP Izmir MP Burcugül Çubuk argued that education in the mother tongue and free meals in schools are interconnected, and said that the government cannot put the two rights against each other.
Discussions on the "2024 Central Government Budget Bill", which was submitted to the Presidency of the Parliament with the signature of Turkish President Erdoğan, continue in the Planning and Budget Commission. The budget meeting of the Turkish Ministry of National Education witnessed the protest of HEDEP MPs. The deputies came to the meeting hall with posters saying "Education in mother tongue is a right" in their hands to protest the fact that no resources were allocated to Kurdish and other languages, as well as the lack of any emphasis or expression in this direction. Protesting the abolition of free meals in kindergartens, HEDEP deputies also carried posters saying "One meal is a right".
HEDEP Batman (Êlih) MP Zeynep Oduncu and Izmir MP Burcugül Çubuk spoke to ANF about the reasons for their action.
Budget for education is insufficient
Oduncu said that multiple crises have made the people unable to meet ends and added: "The government promotes and spends money in war policies and continues to ignore the demands of the people. The budget allocated to education is insufficient. Inadequacy in schools and the increase in poverty have brought young people who are worried about the future to the point of ending their own lives. Students who are already sent to school by poor families under difficult conditions give up studying if they also have to pay money for food, dormitory and books. That's why we demand that healthy, sufficient and free meals be provided in schools."
Oduncu said that they draw particular attention to education in the mother tongue, and added: "We underline that education in the mother tongue, a human right and the most legitimate right of the Kurds, should be included. That's why we took action during the budget negotiations.
Burcugül Çubuk said: "When we look at the 2024 budget, we see that in it inflation, hunger, poverty, homelessness, or young people committing suicide are not taken into account." In fact, said Çubuk, the government paints "a rosy picture as if there were no femicides and no war. When Kurdish provinces are mentioned, they get goose bumps, and concepts such as equality and democracy do not come out of their mouths. Naturally, we saw very clearly in this budget that we do not live in the same country as the AKP-MHP fascist alliance. This is a budget that doesn't reflect reality. Education in the mother tongue and free meals in schools are interconnected. The government cannot rule by putting the two against each other."