How many times can a person disappear?
Saturday Mothers in Istanbul asked what happened to student Tolga Ceylan who disappeared in 2004.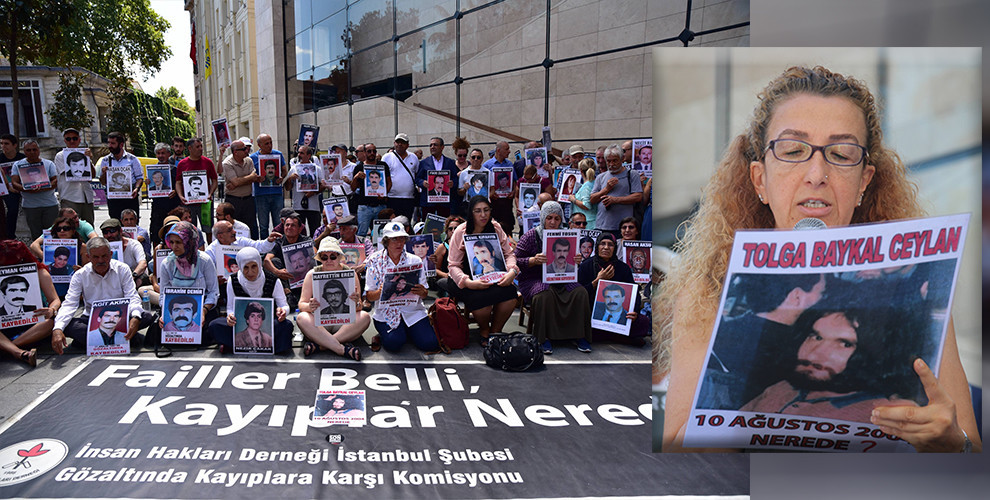 The Saturday Mothers have come together at Galatasaray Square every Saturday since May 27, 1995. They demand justice and truth for the disappeared people of Turkey and Kurdistan.
This Saturday the Mothers, lawyers and citizens came together again, for the 697th time.
This week's action is dedicated to Tolga Baykal Ceylan, who left home, 14 years ago, to go on holiday and was never seen again.
The first to speak at the action was CHP (Republican People's Party) deputy Sezgin Tanrıkulu, who reminded that on Friday the verdict was delivered at the trial for the 10 October 2015 Ankara station massacre.
"Nine suspects - he said - were sentenced to prison 101 times aggravated life sentence each guilty of deliberate killing".
How many times can a person disappear?
Then the mother of Tolga Baykal Ceylan, Kadriye Ceylan spoke.
She said: "I am here to ask once again to the state officials what happened to my child. How many times can a person disappear? Those responsible for the disappearance of my child are still in power and manage to hide the truth".
Meryem Bars on behalf of the Commission Against Disappearance in Custody of the Human Rights Association (IHD) read the weekly statement.
Bars called on the Council of Europe's Committee of Ministers to implement the 2011 Principles and lift the impunity for heavy human rights violations, putting an end to the impunity policy surrounding those responsible for the disappearances of people while in custody.
The story of Tolga
Tolga Baykal Ceylan was a 24-year-old student at Istanbul Technical University. He lived with his mother in Istanbul.
On 7 August 2004, Tolga was going to Kırklareli for holiday. On the same day he called his mother to tell her he had reached the town of İğneada.
But from 10 August 2004, Kadriye Ceylan had no news from her son. The mother went everywhere asking for her son but got no result.
In 2004 the Demirköy public prosecution filed an investigation but in 2006 this was closed as it was decided that there was no room for prosecution.
Kadriye Ceylan went to the Human Rights Association and they filed numerous initiatives, including one to the Turkish Grand National Assembly.
On 9 February 2011 the Assembly's Human Rights Commission set up a sub-commission to investigate what happened to student Tolga Baykal Ceylan.
After four months of investigation, the sub-commission released a report.
IHD executive Bars said: "The report said that it did not find enough evidences to establish whether Tolga disappeared while in state forces' custody. Yet the report was carelessly compiled".