IHD calls for the release of ill prisoner Kaya
Sabri Kaya suffers from a chronic heart disease and his conditions are worsening.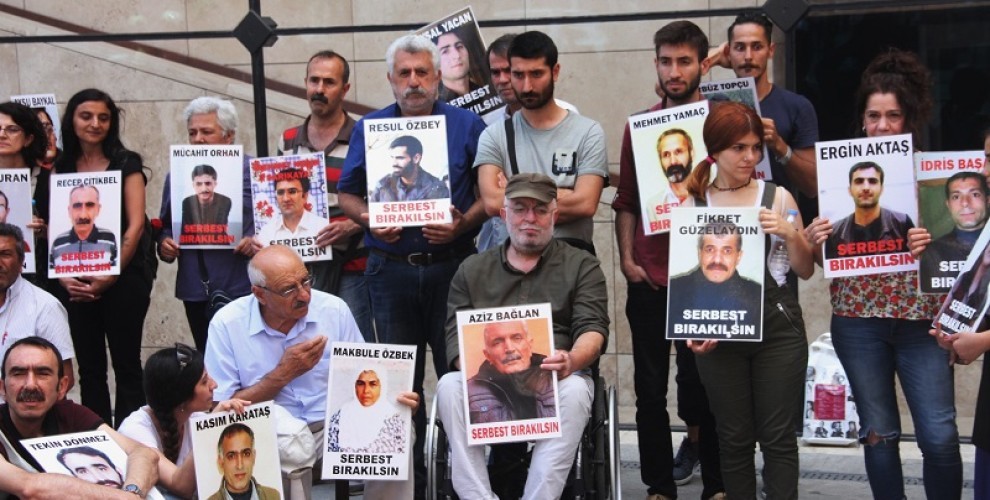 The Human Rights Association (IHD) Istanbul Branch Prison Commission met on Saturday for the 327th time in Galatasaray Square to draw attention to the situation of ill prisoners.
HDP's newly elected Istanbul deputy, Musa Piroğlu, and HDP Council member and spokesperson of the 78' Initiative, Celalettin Can (who was released from prison two days ago) attended the session.
This week the IHD wanted to underline the situation of 55-year-old Sabri Kaya, who suffers from a chronic heart disease.
At the meeting, participants were holding photographs of prisoners with health problems and a banner read: 'Release ill prisoners' in Turkish and English.
Taylan Bekin read the statement on behalf of the human rights defenders who were chanting 'Release Sabri Kaya', 'Right to medical treatment cannot be prevented', 'End the OHAL'.
Bekin pointed out that, even in case of severe conditions, jailed prisoners are not receiving medical care and are prevented from receiving their medicines.
Bekin added that prisoners are suffering from every kind of abuse, especially under the State of Emergency (OHAL), even when they are taken to hospital. They are forced to attend medical examination handcuffed, they are strip searched, they never get regular treatment and have to wait a long time to actually get treatment.
Drawing attention to one of these prisoners, Sabri Kaya, suffering from a chronic heart disease, Bekin said that Kaya's condition is getting worse.
Kaya, who lived in Adana-Ceyhan, was detained and arrested in 2010 and stayed in Adana Kürkçüler Prison for 3 years. He was sentenced to life imprisonment and later transferred to Osmaniye No. 2 F-type prison.
Here Kaya, who has been held in prison for 8 years, has been transferred during this time for 6 months in Kirikkale F Type Prison, 3 years in Ankara / Sincan F Type Prison and 2 years in Karabük F Type Prison.
Before Kaya was taken into custody, he suffered from a chronic heart condition, and after entering prison, this got worse.
"While in Sincan Prison - said Bekin - Kaya was operated twice at his heart valve, in Ankara Numune Hospital in 2013 and 2016. The operation was to stabilize the heart valves. In order to prevent a third operation, which will be quite risky in prison, his doctor told Kaya he had to check the valve battery."
On 25 May 2018, Kaya returned to the hospital for a routine checkup. He reported that he had fainted because of the lack of air.
In addition to chronic heart disease, Bekin noted that Kaya also suffers from stomach ulcers, gastritis, and bones problem.
Despite the report of the Health Board saying that Kaya could not stay in prison, the petition for his immediate release was rejected.